Alexander O'Neal – Live Review – Hull City Hall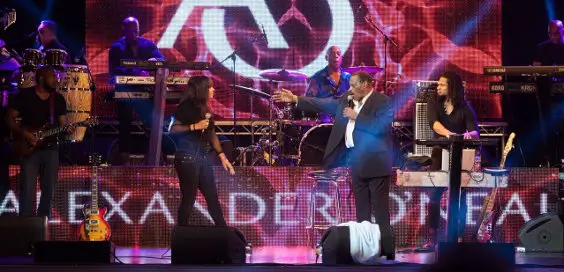 By @Steve Crabtree, April 2018
In 1981, music legend Prince hired someone to be lead singer of The Time, and fired him without him even singing a note. That would be enough to crush some artists. But not this one. This one was a performer from Minneapolis who went by the name of Alexander O'Neal. And it wouldn't be long before O'Neal would go on to be an 80's Soul and RnB, chart topping legend in his own right.
And tonight, the people of Hull are lucky enough to see the star in their own back yard.
We've had a nice warm up to the evening in the shape of X-Factor star Jay James, who's vocals are worthy of a headline slot themselves. But it's O'Neal that the people of Hull have come out to see. As the band get in to rhythm, the house lights dim, and the disco cranks up.
"Unique Voice"
O'Neal enters down the centre of the stage to huge whoops and cheers. Waving his now trademark handkerchief, he goes straight in to the first verse of '(What Can I Say) To Make You Love Me'.
That unique voice reverberates around Hull City Hall with soul and rhythm and starts to infect everyone in the building. Already, people can't stay in their seats, and the aisles are taken up by dancers of all ages, reliving the 80s.
And the main man has a huge grin on his face. He's as delighted as the rest of us to be here, and you can sense that the night it going to be something special. "Hull, this ain't going to be a show" O'Neal tells us, "This is going to be a Sunday night party!"
And party we will. The rest of us jump to our feet and get our groove on to an incredible voice, backed by a brilliant band. The disco lighting adds to the disco atmosphere, the feeling here is good. Everyone's in the mood.
"Alexander O'Neal is funky"
And the mood is funky. Alexander O'Neal is funky. And his voice… well, it's just something else.
He belts out 'The Lovers' and 'What's Missing', all the while moving best he can across the stage. High-fiving those who've made it down to the front. He's a bigger unit these days the 'All True Man', and he occasionally takes to a stool to rest his weary bones. But he's putting on a real show party for us; and he's entitled to a bit of a rest. He might not be as mobile as he was thirty years ago; but his voice is still a gift. "I can't believe a sound like that can come out of one person," my friend says to me.
The hits are out tonight, and the softer numbers like 'Sunshine' and 'If You Were Here Tonight' are delivered exquisitely. They serve as a timely reminder that songs written 30 years ago were so good, they don't date. Whether they're love songs, or dance songs.
O'Neal isn't the only talent up on stage either. He's brought with him a fantastic backing band who not only play the tunes, but get fully in the mood with the rest of us. And Robina, one of three wonderful backing singers joins him in a rendition of 'Saturday Love' which is as near perfect as the song he did with Cherelle, way back in 1985.
"We don't want him to go"
An amazing version of his most famous tune, "Criticize" finished the main set, with everyone singing every word, and every "ooh". An electric, and astonishing performance. It summed up the entire evening.
But we haven't sat down for the entire evening, and we don't want him to go:
"I'd already got back to my hotel. Already laid on my bed. Watching Movies4Men, when I heard you call for more," O'Neal jokes, as he returns for an encore.  He leaves us with an extended version of 'Fake' which goes on and on and on… we'd be happy if he didn't stop. But he blows us kisses and waves goodbye to us one final time. He wasn't lying when he said tonight was going to be a Sunday night party. We've had that, we're all beaming, and we've loved every minute.
30 years after he was in his prime, Alexander O'Neal is still The Man. He's still cool, and still working an audience in to a frenzy. He loves the UK, and we love him back. Tonight's show is right up there with some of the most enjoyable gigs I've ever seen, and he's touring throughout 2018. I'll be there to see him again before the year's out.