80s Classical – Live Review – Millennium Square, Leeds
By Steve Crabtree, July 2022
The 80s gave us a lot of great things.  Knight Rider. The A-Team. The Walkman. Leg Warmers. And as well as that, it also gave us some fantastic music too.  Timeless pieces of music that sound as great today as it did back then.
So, when some of those artists from the 80s team up with the guys at the Orchestra of Opera North, Leeds and perform some of their hits live, you can be guaranteed an amazing night.  And that's just what we got in Millennium Square once again this year.
Iv'e done this event a couple of times before in the past, and always loved it. So, bring on Hue and Cry, Johnny Hates Jazz, Denise Pearson from Five Star, Belinda Carlisle and Kim Wilde. Five groups and singers who were responsible for some memorable hits from over 30 years ago.  And what a line up to play with an orchestra.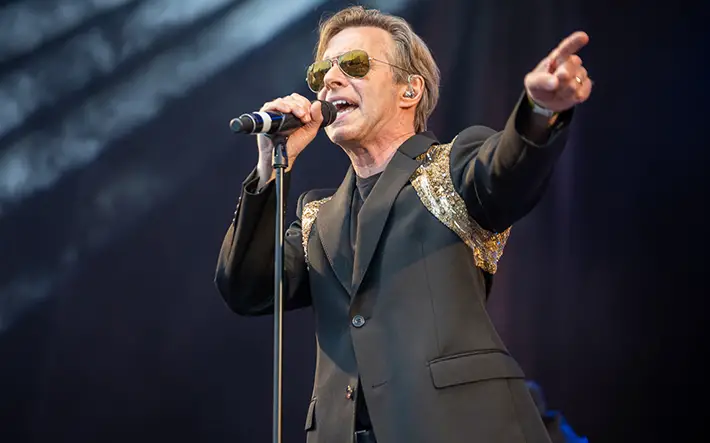 "Open-air fest"
At the end of a week that started with a heatwave, and ended with torrential downpours the sky decided it was going to be kind to the thousands of people who'd descended into Leeds for this open-air feast.  Cloudy, yes – but warm. And when you've got over two hours of music to enjoy, you've got the perfect weather.
We'd been nicely warmed up by DJs Sonic Yootha, and as 8.15pm approached it was time for the big 80s Classical show.  We had Hue and Cry's opening up with their 1988 hit 'Looking For Linda'.  A perfect one to begin the night, especially with that reference to the 'Leeds Central' railway station. (Hey, it doesn't matter that the station closed 21 years before the song was released, and we rely on Leeds City station does it? Not to this pedantic writer anyway!)
The band and the orchestra, many of them neon'd up, played perfectly in tandem, and that was something that was going to happen throughout the night. The sound was great and the crowd were more than happy to join in.  The Scotsmen also performed 'Labour Of Love' which pumped Millennium Square in to life.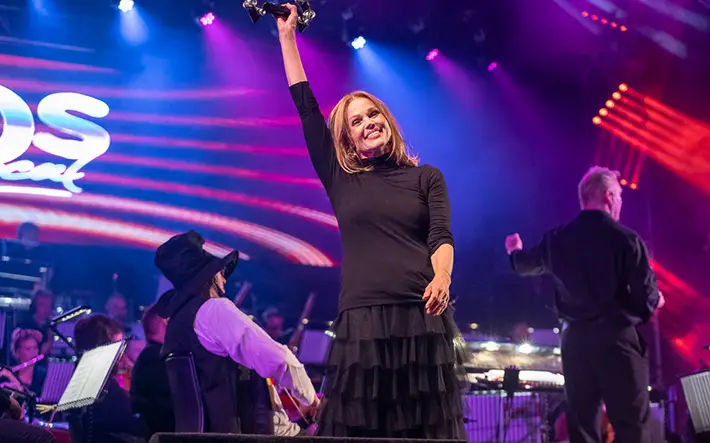 "The highest of spirits"
Johnny Hates Jazz were in outstanding form too. These guys are one of my favourite groups of the late 80s, and their anti-war song 'I Don't Want To Be a Hero' was lovely. They did shatter my dreams by not playing 'Heart Of Gold' tonight, but 'Turn Back The Clock' more than made up for that. Lead singer Clark Dashler led in to that one by praising Leeds College of Music, formerly in the Leeds City Museum building that he pointed at over the road, the place first believed in him. And of course 'Shattered Dreams' was always going to be immense.
We went more poppy when Denise Pearson's of Five Star took to the stage. She looks pretty much the same as I remember her, but she'd left the 80s fashions of Five Star behind as she dressed very Rio-Carnival like for tonight. She sung 'Rain or Shine', 'System Addict' and the highly energetic 'The Slightest Touch'. Her voice has never changed, and she hit all sorts of notes and held on to every single one. I guess some people will have forgotten how good Five Star were until they've heard their songs again.
The audience were in a great mood, and everywhere you looked we had singing and smiling going on.  The bar system was well organised, and there wasn't anyone who I saw that had drank too much. Everyone was in the highest of spirits.
There was lots of space for people to dance around in as well. Even if people are wary in a crowd of thousands after Covid, there was a lot of room to find your own spot and enjoy the night away at this 80s Classical evening.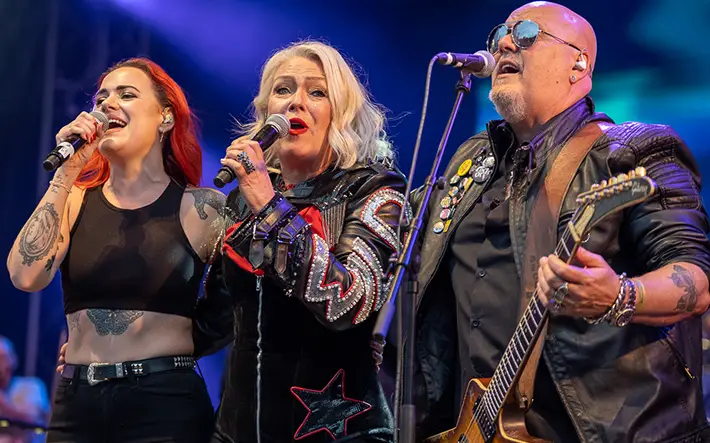 "An 80s Classical high"
For me, the show stealer was the Belinda Carlisle. She still looks like she did when she went solo in the late 80s, and I also think her voice sounds even stronger. She gave us an insanely good version of 'Leave A Light On' which was clearly enjoyed by every single person down the front. 'Circle In The Sand' brought a low tempo to things, before 'Heaven Is A Place On Earth' drove everyone back into a lively sing-a-long.  She sounded excellent, and those three songs could be released today and still be huge hits.
And Kim Wilde turned back the years with a performance to be reckoned with. Flanked by her brother Ricky and energetic niece Scarlett, they put on a real show. You can see why she's been doing things for over 40 years. 'You Came' was a brilliant choice of track, and 'You Keep Me Hanging On' was a huge crowd pleaser.
And of course, you can't have Kim Wilde in the place without her ending the night on 'Kids in America' – and it felt like the whole of Leeds were joining in with that one.
By the end of the night, Millennium Square was a dancefloor. Everyone was on an 80s Classical high, having the time of their lives, and I'm not surprised by that. When great pop music comes together with an orchestra, a different kind of live music feeling comes out. And tonight we'd danced to some tunes that took you back in time, with an added bit of oompf. An absolutely flawless night of entertainment, arranged and conducted once again by Cliff Masterson.
Images: Andy Future & Amelia Furness