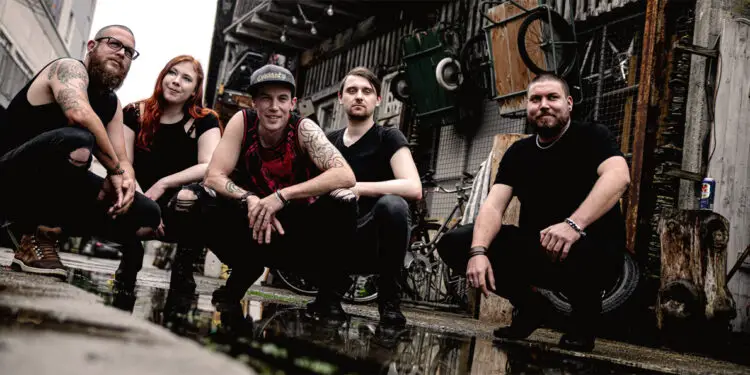 Rising Swiss quintet, influences from death metal to metalcore…
What's the title of your latest release, and what does it mean to you?
The latest single, 'The Demon Behind My Mind' deals with the fact that each one of us has a 'demon' in their head and that there are situations that one would like to deal with differently in one's imagination but cannot do so because of morals and conventions. But it is also a warning that not dealing with one's demon or swallowing situations can at some point lead to psychological overload and a related freak-out. Each one of us has a different relation to this topic. Be it "simple" every day stress factors, dissatisfaction at work, the difficult Corona situation or a big traumatic experience which needed to be dealt with. For all of us it is very important to speak up and deal with those situations with the resources we have instead of swallowing down those situations and risk to at some point "explode". But we also see that for a lot of people it is difficult to speak about things or stand up for themselves and that this in most situations at some point leads to a dissatisfaction which can't be dealt with in a constructive way. So this song should motivate people to deal with whatever causes stress in a constructive way before the "point of no return".
What was the hardest part about putting this release together, and why?
Since this release was combined with a story video the most challenging thing to put together was the storytelling and finding locations to shoot the different scenes, since we were all new to a video shoot. But we had great help from the guys of Talent Network which sat together with us in order to put together a good story telling script. Unfortunately, we had most locations confirmed and needed to change them last minute due to construction work or outstanding shooting permits – but it all worked out well in the end.
Who produced the release – what did they bring to it?
This release was fully produced by Talent Network together with Dan Suter from Echochamber who did the mastering. Talent Network has guys specialised on video and other specialised in recording which was great for us since we could fully rely on their knowledge. Daniel who was responsible for the video helped a lot with the story telling and finding locations whereas Curdin, Yannik and Yvo produced the sound we liked. Since we recorded in another studio before and were really happy about the sound we wanted to keep this standard and they helped us a lot with this.
"Complex and experimental"
What do you want the listener to take away from listening to your music?
The goal of our songs is to take the listener on a musical journey with deep abysses and captivating riffs, get the listeners thinking about different topics and immerse themselves in the music.
How does a track normally come together? Can you tell us something about the process?
We define special rehearsals in which we only jam and focus on writing new songs. When we are jamming we always record ourselves and when something triggeres a feeling in us and makes us say "yes" – we keep this part and start refining it. Besides that, we of course all jam by ourselves when practicing and when someone has an idea he records it and brings it into our jamming sessions and there we then build up the missing instruments and parts. And with most songs we refine it over time and in the studio when we have an idea to make it more interesting.
What band/artists have influenced you the most since you started this project, and why?
For everyone of us, the inspiration comes from another band. Michel (vocals) is mostly influenced by old-school hardcore since he grew up with this. Remo (lead guitar) has more melodic influences such as Arch Enemy. Marco (drums) is especially inspired by Eskimo Callboy and Ghostkid. Corinne (rhythm guitar) loves rhythmic bands such as Meshugga or Goijra even if this not exactly influences our songs and Sandro (bass) loves complex and experimental stuff such as Ice Nine Kills. So we all have quite a different taste in metal which surely influences our songwriting on an unconscious basis. In terms of song structure, riffs, melodies and drive we would say our main influences are As I Lay Dying, Killswitch Engage and a bit of Arch Enemy and Amon Amarth since those bands are like a common ground in our band. Regarding the sound production Parkway Drive, In Flames and Periphery are our role models.
What countries would you like to tour? Are there any standout venues you'd like to play in?
Actually as many as possible but some of the favourites would be the UK, Australia and Russia. Regarding venues there is actually one which we really like to play at in Switzerland: Z7. All bands who ever played there told afterwards that it is one of the best venues regarding sound, catering, organization and the backstage – so this of course would be a dream.
"Ultimate dream"
If you could pick one track for our readers to listen to in order to get a taste of your music, what would you pick, and why?
It would definitely be 'Hopeless World' which you will be able to hear on the upcoming album. It has so many different elements from melodic clean guitar sounds, parts in which you can headbang all your way along, a breakdown and guitar solo – so anything for different tastes we would say. But since this track will be on the upcoming album it is not available yet. So far we would go with our title track 'Ophelia's Eye' to listen to.
What ambitions do you have for the band/your career?
We would love to share our music with as many people possible and of course also be able to play at festivals – the ultimate dream regarding festivals would be Greenfield in Switzerland, Summerbreeze in Germany and of course: Wacken.
Finally, as you leave the stage, what are your parting words?
Thank you so much for having us! To the readers: Thank you for your interest and reading all your way through this! If you like our sound we of course would much appreciate if you share it and support us through buying our music and merch through our website or bandcamp.
For more info visit: opheliaseyeband.com