3 Simple DIY Solar Garden Lights
If you want to spruce up your garden without breaking the bank, some DIY solar lights are one of your best options. They charge up during the day to light up your garden at night. The best part is that you can make some really pretty ones with basic household items like bottles and cans.
Of course, you may have to buy a few solar outdoor lights, but these decorative lights are not that expensive because they aren't very powerful. They do not require high lumen counts, bringing down their price.
That being said, let's dive in.
3 Simple DIY Solar Garden Lights
Here are the three simple DIY solar garden lights you can make at home.
1. Solar Lunar Orbs
A wonderful concept, these glowing orbs will make it look like you have collected a few moons in your garden. Instead of hanging them or placing them above ground, we recommend you to put these on your garden bed for a warm, moonlit glowing effect.
You will find that these orbs are best for filling exposed gaps in your garden. To create these dreamy solar lights, you need the globe lighting covers or shade. There are plenty of inexpensive varieties available online and in thrift stores.
We recommend going for the frosted or partially opaque ones, as they give off the warm moonlit glow we are looking for. That's it. You don't need to work on attaching any parts because you can stake a few solar outdoor lights in your garden and place the orbs on top of them.
2. Solar Bottle Lamps
If you have a bunch of empty wine or whiskey bottles left from a dinner party, why not turn them into solar lamps? You were going to recycle them anyway; this is perhaps the best way to do it in-house. If nothing, you'll get some craft-time out of it.
There are plenty of simple solar lighting kits made for empty bottles. They are inexpensive and easy to set up. Insert the fairy lights or bulbs in the bottles and secure them with the stopper that houses the solar panels.
Some solar bottle light kits even have a hanging mechanism that turns these bottle lamps into lanterns you can hang around your garden. If you want to take your solar bottle lamps to the next level, get crafting and slap some patterned and colored vinyl stickers around the bottles.
Now all you have to do is place them around your garden and patio.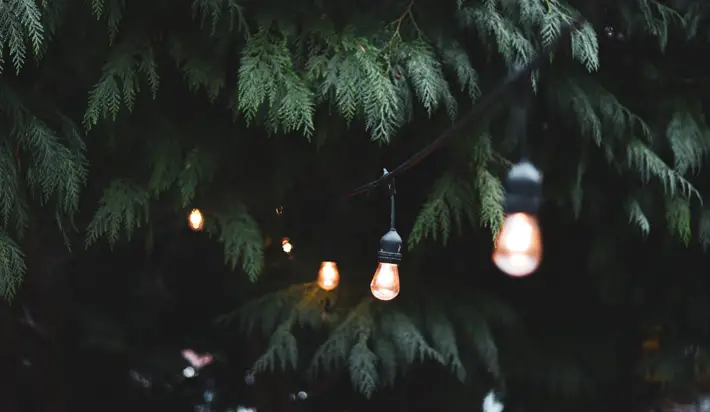 3. Solar Can Lanterns
Before you get put off by the idea of some old, dingy cans in your garden, let us tell you that these can lanterns will exceed your expectations the way they did ours. The trick is to get creative by punching some crafty holes and patterns in the cans.
First, gather some cans, de-label and clean them, and then draw a few patterns on them you can cut out. If you want to keep it simple, an assortment of small and smaller (pinhole-sized) holes can easily do the trick. Just make sure the holes are not uniform or organized, and you do not buckle the cans with too many.
You may need to create small holes on the bottom of the can for rainwater to seep through. Next, add two or three holes around the brim of the cans to run the wiring that will hang them in place.
Then, spray-paint the outsides and the insides of the can to make them look unique and avoid rusting. Lastly, insert some outdoor solar lights in the cans, placing the solar panels up top, and hang them around your garden, patio, and fences using simple wires.
On slightly windy nights, the warm-light movement of these hanging solar lanterns will bring your garden to life.
Conclusion
These simple DIY solar lights are an easy and crafty way to light up your garden without breaking the bank or jacking up your energy bills. We highly recommend them if you are looking for a cost-effective way to light up your garden.
These were just three simple examples, and if you are interested to find out more, we have plenty of ideas to inspire you.