A Q&A with Grace Hayhurst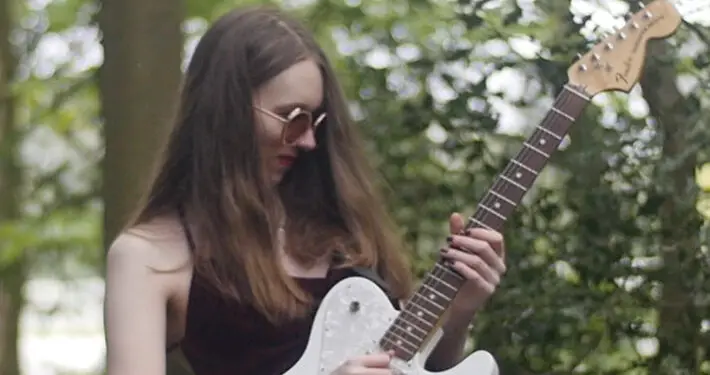 Instrumental sludge metal, from London…
What's the title of your latest release, and what does it mean to you?
'Existence is Temporary' is my debut solo EP that is a creative representation of my battle with existentialism. For a number of years, I've felt like I've been dipping in and out of reality. My surroundings frequently float away from me and turn into distant senses, as if I'm unable physically and mentally to comprehend if anything really exists at all. It's been incredibly cathartic to take these thoughts that have plagued my mind for years, and put them into a concrete piece of art.
What was the hardest part about putting this release together, and why?
Sitting myself down and giving myself the time to finish it. It's been my new years resolution since 2017 to release an EP – and if a global pandemic destroying my social life doesn't give me the space to make it happen, then I thought to myself it simply never would. Even with all the extra time I started to have on my hands last year, I still needed to take a couple of weeks off of work to run through the final recordings and sound design to really nail the final takes. But thankfully I got through it, and have subsequently massively upskilled my music production skills in the time since starting this project which means for what comes next, things will be a little speedier…
Who produced the release – what did they bring to it?
So thanks to the wonderful pandemic, the writing and recording stages were done entirely in isolation. I spoke to Gareth Mason (Slice the Cake/Novena/Fissures) over Discord about mixing my EP whilst I was still in the writing process and they were enthusiastic about coming on board. I then sent Gareth hundreds of audio files including live drums, guitars, bass, samples, keyboards, and more. They went away and performed what can only be described as magic to get the final product sounding fantastic. Whilst I've written music in a band context before, there's something very satisfying about finishing a solo project and being able to say that the creative side is entirely of your own creation.
What do you want the listener to take away from listening to your music?
How you as an individual can make the world a better place. In everything I do, I try to make sure that my participation can only be described as a net positive. No matter how small we may be in the context of time and space, we can still make things better for others – even if it's in a small way. "What will you do to make your mark?"
How does a track normally come together? Can you tell us something about the process?
Usually a lot of trial and error. 'Existence is Temporary' has been guitar first in it's composition. I've always got a guitar near me when I'm at home, so I'm always picking them up and noodling away. If I find something I like, I run to the computer and start recording the riff. If I really like it, I'll start building a song around it adding in bass, drums, and some guitar leads. The storytelling and creative side came as an afterthought when I suddenly realised "I've got a narrative here, I can start telling a story." And through the use of visuals, samples, spoken word, I managed to put these demos together in an order that described my eternal battle with existentialism. Suddenly the music meant something to me – and it was at that point I knew it was ready.
What band/artists have influenced you the most since you started this project, and why?
I certainly have a huge range of influences, but artists like Devin Townsend, Rabea Massaad and Diego Tejeida have probably had the most influence on my styles when it comes to the sonic aspects of the music. When I've seen artists like Steven Wilson, Leprous, Steve Hackett, and Rammstein live – I've always left their shows with an inspirational buzz to get off my backside and start writing and recording. And finally a bit left field, but Dodie Clark who released a singer songwriter album this earlier year has been incredibly motivating when it comes to putting myself out there as an artist. "Make content […] because your art deserves to be seen. Now make some art." – Dodie Clark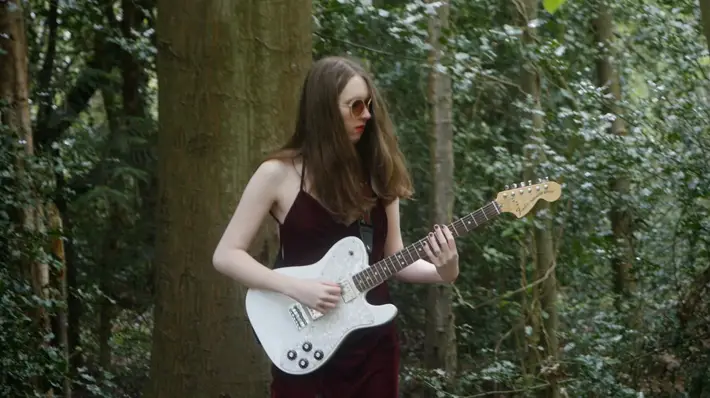 What countries would you like to tour? Are there any standout venues you'd like to play in?
I'd love to tour through Europe. Definitely a big fan of Spain, Italy, Germany, and Austria. I'd also love to get through Scandinavia as that's a part of Europe I've not really explored before. If I had to choose a single venue, it'd have to be the Royal Albert Hall. Although I think I need to be a good 20 years further into my musical career before that becomes viable through ticket sales… Other favourites I've been to include the Leas Cliff Hall in Folkestone, The Underworld in Camden, and the Astra Kulturhaus in Berlin.
If you could pick one track for our readers to listen to in order to get a taste of your music, what would you pick, and why?
I think 'Negative Incline' is the best mix of everything. It's short and sweet, has keyboard solos, guitar solos, and tasty riffs.
What ambitions do you have for the band/your career?
I'm already writing for a second EP, as well as having most of an album written with some other musicians as part of a band project that I can't wait to release! Since writing 'Existence is Temporary', I've learnt so much more about myself as a musician and songwriter that I am genuinely astounded as to what I'm writing now compared to what I was writing 12 months ago when the debut release came to fruition. I absolutely want to try and get some live shows going in support of my EP later this year and have already started working towards putting together a live band. This is just the start of my career – and I can't wait to springboard into the future with everything I've got planned!
Finally, as you leave the stage, what are your parting words?
Peace out homies.
For more info visit: gracehr.st