Why Choosing the Right Colours is Key to Creating a Good Vibe and Improving the Interior Design of Your Home Space
When it comes to arranging your home in a way that gives it a vibrant, warm, cosy, and homely vibe, choosing the right colours that truly suit its mood and colour scheme is important and makes a great difference. There are many luxury home furnishings on offer on the market that come in all different shades, patterns, and colours. These seemingly little slight changes in shades of colour can make a significant difference to the feel and atmosphere of your home living space.
Here we have outlined why it is just so important to get the right colours to make sure that you are able to improve the interior design and look of your home space to the very max!
Wallpaper: What Colours and Patterns Will Suit the Room the Best?
Wallpapers come in a variety of different colours and patterns, and they certainly can make a great deal of difference to the overall feel and atmosphere of a room. Nothing stands out more to the eye than a wallpaper with a terrible and incoherent pattern, or a colour which blatantly clashes with the colour schemes of the rest of the furnishings in the room.
There's plenty of choice when it comes to buying wallpaper. The first essential thing to consider is the room in which the wallpaper will be used. Is it for a bathroom? Bedroom? Lounge? Study or office? Then turn your attention to the colours that are present in the rest of the room. Take a good hard look at the colours of the flooring, furniture, and borders in the room. Pick colours which match the colour palette of the rest of the décor.
Another thing to consider is the pattern of the wallpaper. Should you get a plain or patterned wallpaper for the room? You may choose to replicate a pattern which features in the upholstery on furniture in the room. Or you may choose a tone-on-tone pattern for the wallpaper. Alternatively, you may go for a plain wallpaper without any patterns. Plain wallpapers can look sleek, minimalistic, and provide a welcome break when a room is otherwise heavily decorated.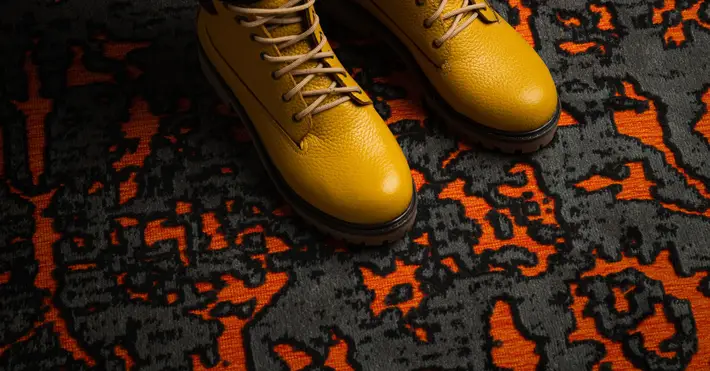 Carpets: What Colour Carpet is it Best to Go For?
There are many top-quality carpets to choose from on sale in today's market with many varying different designs. From classic designs, to vintage, modern, tartan, vivid colours and so on. So how can you choose a carpet which not only has the right design and pattern, but importantly also is a colour which matches and blends in well with the rest of the room?
One top tip when choosing a carpet is to consider your lifestyle and ask yourself who will be using the room in question most of the time? Just yourself? Children? Regular guests? Lodgers? Dogs? Cats? With a hectic and busy household, it would certainly not be a wise idea to get a white or cream carpet which will show any stains very easily.
If you know that you have a busy household you may want to choose to look into getting mid-tones, going with a grey carpet in that case may be an ideal colour selection for you. If you take a look at this luxury range, you'll see how the choice of shades available could realistically suit any room and home. Grey carpet is timeless and will therefore stand out in your home for many years to come.
Another tip is to use neutral colours for your carpets. Using neutral colours such as ivory, beige, grey, and black allows you to then use brighter louder colours in other areas of the room, such as the walls, the furniture, and the cushions. Bright coloured carpets can not only be overpowering and a bit too much, they also often need replacing a lot more regularly, and it can work out very expensive if you find yourself having to replace carpets every few years.
Laminate and Hardwood Flooring
These days, many people choose laminate and hardwood flooring over carpets for a variety of reasons. The two differ given that hardwood is made from genuine wood, and laminate flooring simply is laminate material with a picture of wood on its surface.
So what are the benefits or using laminate and hardwood flooring instead of carpets?
Maintenance and keeping the floor clean
The maintenance for laminate and hardwood flooring is far less heavy duty. Whereas carpets always attract and manage to hold onto lots of bacteria, grime, and dirt. You may even find you have to fork out for a professional cleaner to properly clean your carpet to a respectably high standard.
They are Strong, Durable and Up to Standing the Test of Time
Laminate and hardwood floors are often durable in nature and able to deal with plenty of rough treatment. But carpets on the other hand can easily get torn or ripped and are less resistant to wear and tear, and it can then be very expensive to repair or replace a damaged carpet.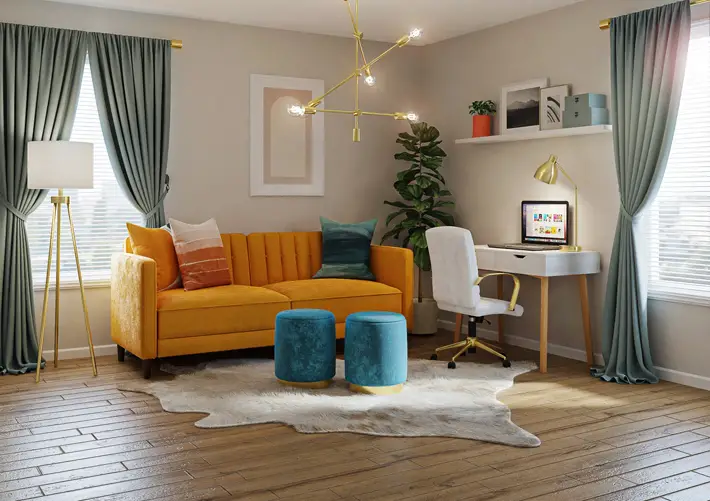 Laminate and Hardwood and the Colours and Patterns Throughout the Rest of the Room
Once again, it's vital to make an effort to ensure that laminate or hardwood flooring does not clash with the colours and patterns of other furnishings in the room such as the wallpaper, borders, furniture and so on.
Lighting and Lamps; What Type of Lighting Should the Room Have?
When choosing to buy lighting for a room there are many factors to consider such as the fixture, choosing hanging or fixed lights, their placing in the room, the intensity and power of the light bulbs, light shades and so on.
It is also crucial with lights to bear in mind the type of room that you are going to be putting the lights into. You may for example have a different type of light in mind to be used in the bathroom than in your lounge. What will the room mainly be used for? Who will it be used by? Will children play with toys in the room? Or will adults be chilling out and watching television there? Kitchens for example require more intense lighting in 'task' areas of the kitchen such as places near to islands and counters where food is be chopped. A ceiling fixture is also a way to evenly distribute light throughout the kitchen space.
Colour Schemes for Interior Design: What Colours Go Well Together and Compliment One Other and What Colours Simply Clash
When decorating your home, a mistake that many people often make is by picking colours which unfortunately clash, do not go well with one another, look pretty confusing, and rapidly become a visual eyesore in the home living space. So, it's important to try and be aware of colour schemes and which colours complement and bring the best out of one another colours when you are trying to decorate your home.
One way to make sure that you use the right in colours in rooms is by trying to think of how to decorate through using colour families. Colours within so called 'colour families' are quite similar, such as navy and turquoise in the blue colour family. Sometimes it works well and looks very nice when two different complementary colour families are used together or closely in the same room. Examples of complementary colour families include blue and orange, and red and green.
So, avoid colour that clash, and try and sticking to using colours to decorate your home that clearly complement one another and make the home a nicer environment to live in.