Modern metal with deep house and trip-hop influences – here's Kevin from Paris's DIZORDER…
What's the title of your latest release, and what does it mean to you?
Yeah, we just dropped SKY//LIGHT which is our last album (12 songs). It deals with the cycle of life through 3 chapters which are The Life, The Death and The Rebirth. Sky/Light talks to those who have suffered and wish to glimpse hope through the skylight. On a theme larger than that of the Moon, our last album is an evil's retrospective of the modern western world and invites people into an escapist universe. It asks the question of what remains of humanity, if not the perception of the world around it. Because this information should reach him from the light, SKY//LIGHT is an open skylight to contemplations and landscapes. It is embroidered with three themes of Life, Death and Rebirth, among which the sensations of flight, relapse, escape and adversity are diffracted. It is through a real prism of emotions that we are trying to break down the light and recompose it to tell our own story.
What was the hardest part about putting this release together, and why?
Actually, no difficulty was encountered about putting it all together in terms of composition and the atmosphere we wanted to apply! This album is the logical continuation of our construction as a modern metal band. The record and mixing were the most challenging parts for us because we wanted to optimise our processes, especially in the song's record. We needed to find effective and creative ways because 50% of the project was born at home!
What do you enjoy most about producing your own material?
Our last album required us to refresh ourselves in technical ways. So, we decided to record the entire project ourselves and I pre-produced all of the songs at home! We produced all the FX (scratch, glitches, atmosphere and others) and Anthony Chognard from CHS PRODUCTION greatly assisted us in the drum production. All the mix was exclusively done by the greatest Vincent Thermidor at studio "La Tour Fine" near Paris (Herblay, France). He provided a real soft touch in our song. This way of working gave us a lot of freedom of writing and technics. It enabled us to look further into the artistic direction with that involved a long-format coherence. This is why we decided to set up the "lyrics topline" together after Chloé previously writing the text.
What do you want the listener to take away from listening to your music?
I think it could be the clash between great atmospheres and brutal parts. DIZORDER comes from "disorder" so this means you have to be ready to rumble with our music.
How does a track normally come together? Can you tell us something about the process?
Actually, guitarists like me or Baptiste provide new ideas and we try to aggregate all the atmosphere and structure together. Then we work together to develop new vocal riffs with Chloé! All the lyrics are generally produced by our singer, so this is a true collaborative work!
What band/artists have influenced you the most since you started this project, and why?
That is not an easy question to answer. There are so many bands! I think about Make Them Suffer, Flyleaf, Deftones or DVSR because of the multiple influences and atmospheres we bring into our music!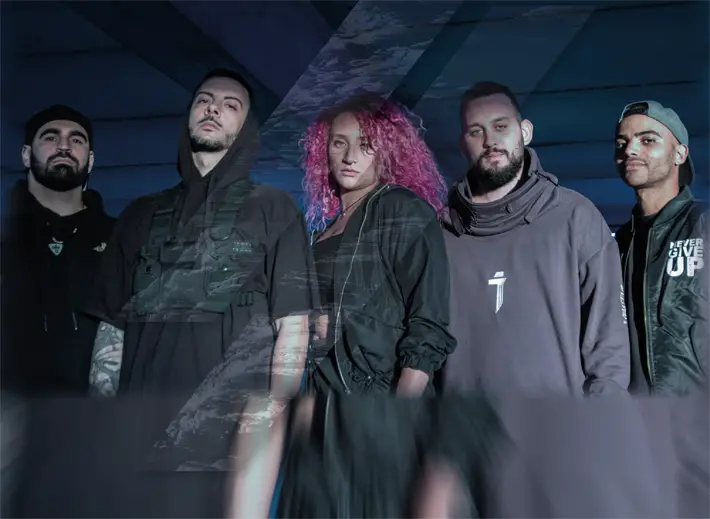 What countries would you like to tour? Are there any standout venues you'd like to play in?
We would like to tour Great Britain and Germany the most! These are the most beloved and important metal scenes throughout Europe. And, for sure, the Royal Albert Hall is our biggest dream.
If you could pick one track for our readers to listen to in order to get a taste of your music, what would you pick, and why?
I would pick 'RE//BIRTH' because you can't be bored listening to it! This song melts heavy breakdown, loud screams and great verses!
What ambitions do you have for the band/your career?
Covid-19 is a nightmare for booking management in Europe, but we are in discussion with a booking manager and we hope to export ourselves as soon as possible despite the situation. We are extremely hopeful about the quality of our last album and are ready to gig around Europe. This is our main goal.
Finally, as you leave the stage, what are your parting words?
I would like to thank On: Magazine for having us and let us talk about our music!
For more info visit: facebook.com/DizorderOfficial