Tontine by Spear of Destiny – Album Review
By Victoria Holdsworth
A tontine was a scheme that originated in the 1700s in France, to which a group of people paid money into, with the cash going to the last survivor. A scheme which, quite understandably, came with its problems.
The album title was inspired by a joke between band members about who would live the longest – after all, Spear of Destiny have been around for 35 years, having formed in '83 after Theatre of Hate split. But Tontine reveals there is plenty of life left in these old dogs yet.
I can honestly say back when I was as a kid I was a fan, but they were one of those bands that I never carried forward with me into my collections as I got older, so I was curious as to what they sounded like after all these years. I wasn't disappointed.
Spear of Destiny have always had an air of mystical darkness and elementally rooted realism to them, all with a splash of tongue-in-cheek satirical humour and diversity. There is no doubt about it, Spear of Destiny, are a classic band. They always seemed to be ahead of their time in the 1980s, but as with everything, things have come full circle.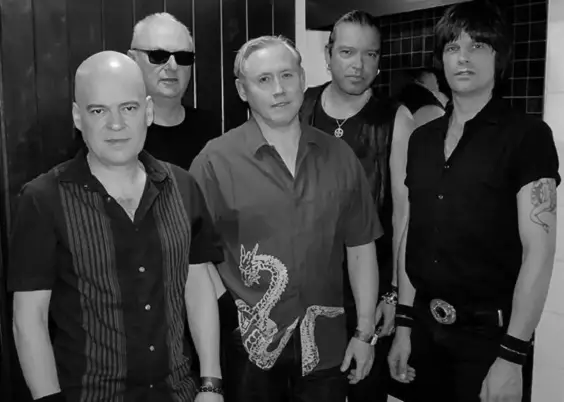 "Simple and effective"
The songwriting is as intellectual and thought provoking as ever, and the opening tune 'Brighton', which will blow you away, has some thundering bass lines and some scare-the-sh*t-out-of-you creepy, sinister string work. The lyrics are scornful and build up like a fight about to explode.
'MK Ultra' reveals another threatening and dark musical style. It is a song about CIA experimental mind control, which has a rebel rousing, football anthem-style chorus.
There are some moving vocals and imagery on 'African Proverb', which tells how when each African elder dies, they lose all of that knowledge that exists; the equivalent of burning down a library. This leads nicely to 'No Other', which has such a delicacy to it, and is a very personal song. An acoustic delight, heart wrenching in its words, with a fantastic pleading vocal from Kirk Brandon. It also introduces some simplistic brass work that sets the whole thing on a completely new edge.
'Monuments In The Sand' is another politically-charged song which has a gentle guitar riff running through it, as though it were the soundtrack to a futuristic western film. The song is essentially about what man has done to the earth, and what the world will be like without natural resources. It is such a simple and effective song, which shows their musical brilliance off superbly and without arrogance.
"Layers of texture"
The two stand out tracks for me come at the end of the album. 'Nothing' shows an even darker and fragile side to Brandon's voice and his lyricism, and the desolation in his voice when he cries: "Are you lonely baby, are you lonely now?" is surrounded by spiralling guitars which fade in and out adding to the atmosphere of the track.
The last track on the album is a belter. 'Peace You Will Never Have' is a striking song and will take your breath away with its remarkable riffs and soothing background harmonies that add layers of texture to the song.
It really was a pleasurable album to listen to, and it feels like the years in between just dissolved into the ether. Spear of Destiny are by today's standards a 'super group' with the line-up of talent they have in their midst. They are still relevant, still voracious and still one of the best bands to have ever come out of the UK.
In fact, they have been overlooked for far too long.
8/10