My Day by Newton Faulkner, Jimmy Sims & Toby Faulkner – Album Review
By Victoria Holdsworth
Singer-songwriter Newton Faulkner returns with a huge twist on his usual offering. My Day, co-written by Newton, his older brother Toby Faulkner and close friend, Jimmy Sims, is a new musical venture designed to bridge the gap between nursery rhymes and pop music, offering collections of songs which are designed to help a child's development.
The venture was started by Newton's sister (and manager) Lottie, the founder of My Moozik. She says, "We wanted to create an album of very high quality music that kids and grown-ups can enjoy together that hopefully also makes those often tough jobs such as making friends, eating greens and going to bed, just that little bit easier."
The album can be enjoyed by both children and parents alike, with no pausing over the mute button, just in case a naughty word pops up or something questionable is sung about.
"Engaging"
Dr. Rosanna Edey, a researcher in developmental neuropsychology, says: "We sometimes forget that children's brains work very differently to adults, which can make simple tasks seem much harder. All through childhood their brains are busily absorbing information from their environments as they build a neural network to help them make sense of everything around them. Music is an ideal way to engage children and help them learn. At around age four, children start to get much better at detecting basic features of music, like tempo and mode, which is why simple nursery rhymes start to get a bit boring! The more complex and varied songs in "My Moozik" is therefore not only more interesting to the developing brain, but it also helps to scaffold a route and teaches some important social lessons."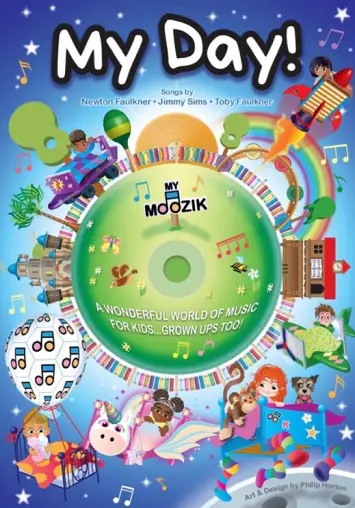 The songs themselves are more relevant, age appropriate, and engaging than the usual constant repetitions of Baby Shark or Old Macdonald, and come with an amazing, beautifully illustrated hardback book, by the talented Philip Horton.
Every song on the album introduces different musical genres, including a breakfast rap, a star studded rock 'n' roll arrival at school, right through to a bath time sea shanty. The album brings with it a musical experience that can help children identify and develop their own personal tastes, inspiring and encouraging them to sing and read along throughout the entire album.
"Important step"
My Day can be streamed and listened to on all the usual musical platforms, however My Moozik also has it's own YouTube channel.
My Moozik had planned to perform and tour children's schools and groups in 2020, providing many children with their all singing and dancing, first gig, however, expected plans were naturally postponed, but fingers crossed, rescheduling is under way to resurrect everything for some time this year.
In the meantime, My Day, provides what all of them hope will be an important step in a child's experience, understanding and, importantly, love of music.
My Moozik will be donating a percentage of the profits to primary schools around the country to help fund music lessons for kids unable to access them
For more info visit mymoozik.com