Crocodiles / Heaven Up Here / Porcupine / Ocean Rain by Echo & the Bunnymen – Album Reviews
By Matt Callard
Here then, never before re-released on vinyl, are the first four albums from Echo & the Bunnymen. Their compact timeline, from 1980's minimal post-punk debut, the whitewashed, dramatic Crocodiles to fourth album, 1984's majestic, widescreen Ocean Rain, ranks as one of rock music's all time great progressions.
In the middle there's 1981's Heaven Up Here – a wild rhythmic-rock masterwork – and the multi-layered art pop of 1983's Porcupine. The albums chart the progress of a band who had the world at their feet, who should have followed U2 and Simple Minds to the megadomes. But by 1987's drab self-titled fifth album (tellingly absent here), they were all but over, mutually dysfunctional and collapsing under the weight of their own steamrolling creative burst. Really, Echo & the Bunnymen were just too good too soon.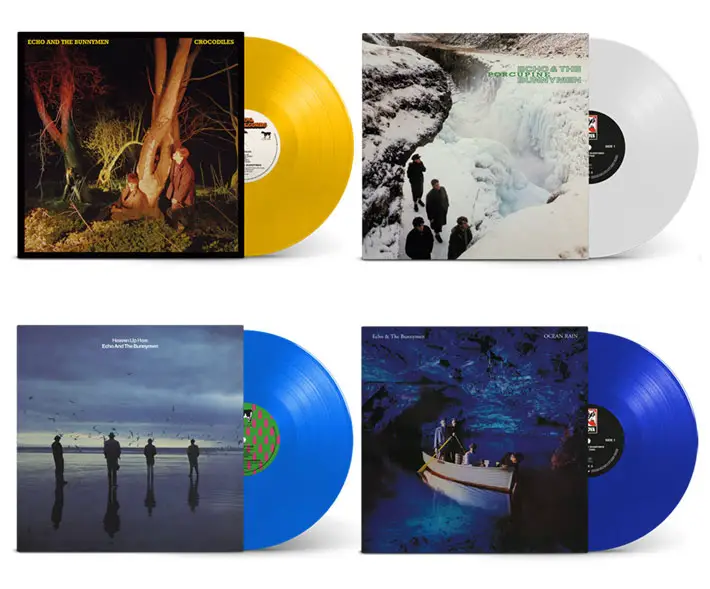 "Uplifting"
But oh my, to be this good. Such skill and audacity, such beauty and invention, where dazzling musical contradictions become the band's stock-in-trade. Take 'Do it Clean' from the debut, propelled by a monstrous Will Sergeant riff, it's a song utterly devoid of commercial appeal, yet capable to this day of filling any alt-rock dancefloor. Take Heaven Up Here's 'No Dark Things' where the off-kilter guitars and Ian McCulloch's impenetrably ambiguous lyrics somehow combine into one of post-punk's unlikeliest anthems.
Or there's the much-heralded opening salvo to Porcupine, where two of the band's greatest, most accessible moments, 'The Cutter' and 'The Back of Love' do a sort of love-dance with pop music, as if the band are welcoming the genre into their sonic arsenal, but on their terms only.
Then there's Ocean Rain's sepulchral title track that somehow manages to become one of the most soaringly uplifting songs in rock history, where McCulloch's obvious musical touchstones, The Velvet Underground, Leonard Cohen and The Doors, are embraced and magically surpassed. McCulloch himself called it the greatest song ever written (the band also claimed Ocean Rain was the greatest ever album) – who's arguing?
"Creative overdrive"
Course, there are other Echo & the Bunnymen records – the band limped on without McCulloch for 1990's Reverberation, before disbanding in 1993. McCulloch and Sergeant briefly re-combined in a heavy psychedelic rock outfit called Electrafixion, before the Bunnymen resurfaced for 1997's Evergreen (without original drummer Pete De Freitas who died in a motorcycle accident in 1989). In the midst Ian McCulloch released a beautiful, elegiac solo album called Candleland. The band still tour and record new material.
But – as is often the case – nothing comes close to the thrill of the opening rush. Four albums in five years, each a giant leap forward. Combined they are a full rock life lived in creative overdrive, with more wit and invention than most bands manage in an entire career.
Forty years ago Echo & the Bunnymen created their own unique musical world – and what a thrill it is to re-discover that it is still heaven up there.
'Crocodiles', 'Heaven Up Here', 'Porcupine' & 'Ocean Rain' are released on coloured vinyl and heavyweight black vinyl on October 22
The band tour in 2022, playing Sheffield City Hall 1 Feb & Leeds O2 Academy 2 Feb
For full tour details visit: bunnymen.com