When The Screaming Starts (2021) – Film Review
Director: Conor Boru
Cast: Ed Hartland, Jared Rogers, Octavia Gilmore
By @Roger Crow
A wannabe serial killer, a warped filmmaker, and a murderous cult on a blood-soaked rampage. That's the premise for this jet-black comedy horror which is tantalisingly close to brilliant.
It centres on Norman Graysmith who is invited into the home of an aspiring serial killer, Aidan Mendle. Norman (think Louis Theroux) believes he has found the subject for the documentary that will transform his failing career.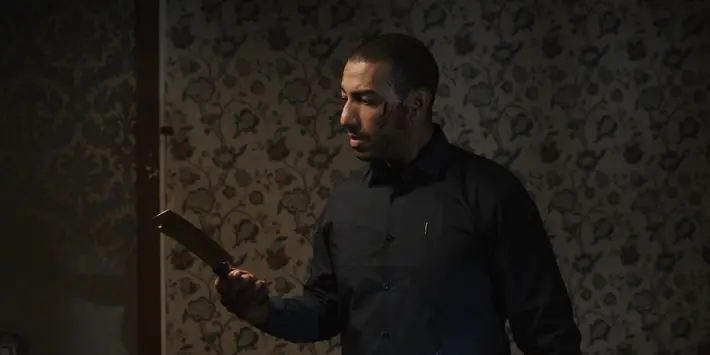 "Tricky thing to get right"
Initially the production goes well with Aidan freely opening up about his desire to kill, but when his early attempt at committing murder falls apart, things begin to unravel.
The problem is a comedy about a serial killer is such a tricky thing to get right. And when said wannabe killer aspires to be as twisted as a notorious psychopath and his brainwashed nutcases, it's hard to empathise. Which is not to say the movie doesn't work. For the most part it's well scripted, lit, acted and the cast of relative newcomers are all on top form.
Ed Hartland, looking like Tim Key but with the odd David Brent-style mannerism, does a fine job as the key anti hero, while the supporting cast generate the odd laugh-out-loud moment.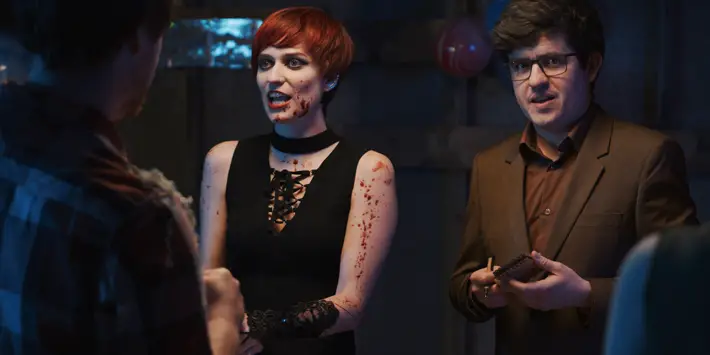 "Cool demeanour"
Octavia Gilmore steals the show as Amy, the alpha psycho killer whose cool demeanour inevitably threatens Aidan's position.
Listen out for a subtle nod to An American Werewolf in London, and don't miss that terrific rock video, which gives you a glimpse of how great this could have been if that level of wit had been maintained for the entire running time.
It becomes a tad muddled in the third act, straying too far into the dark side rather than the What We Do In the Shadows-style lightness. However, like other recent Brit chiller comedy The Parapod, for the most part this is a lot of 'fun', even if the subject matter leaves a very uneasy feeling.
When the Screaming Starts celebrated its World Premiere at FrightFest 2021 on 28th August