Walkabout (1971) – Film Review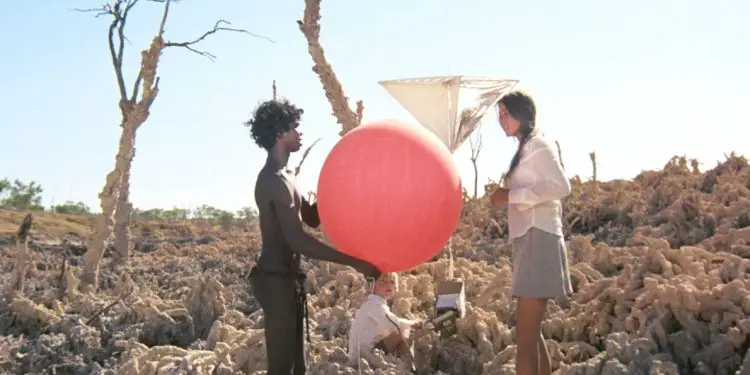 Director: Nicolas Roeg
Cast: Jenny Agutter, David Gulpilil, Luc Roeg
Certificate: 12
By Sarah Morgan
Cinema is a visual medium, a fact Nicolas Roeg understood.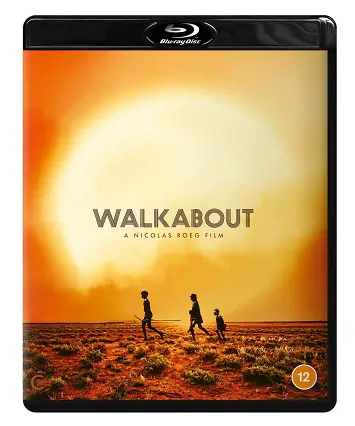 Whether you were a fan of his work or not, you cannot deny that his films, both as a cinematographer and later as a director, look amazing.
"Beautiful and haunting"
His collaboration with Roger Corman on the low-budget director's Edgar Allan Poe inspired film The Masque of the Red Death is extraordinary, and after witnessing his approach to image and colour on that film, it can have come as no surprise when he moved to making his own movies, initially sharing the credit with Donald Cammell on the almost indefinable 1970 offering Performance, starring Mick Jagger and James Fox.
Walkabout, Roeg's first solo directorial effort, came a year later and it remains one of the most stunning films of the decade – never has the Australian Outback appeared so beautiful and yet haunting and frightening.
Loosely based on a novel by James Vance Marshall (adapted for the screen by acclaimed playwright Edward Bond), it stars Jenny Agutter and Roeg's own young son Luc as siblings who are taken into the wilderness by their father, seemingly for a picnic. However, rather than being a treat, it turns into a nightmare – the father tries to shoot them before setting his car alight and turning the gun on himself.
The youngsters wander away from the scene, believing they can walk back to civilisation. However, they soon become lost, but a burgeoning friendship with an Aboriginal boy who speaks no English offers them hope – until it becomes clear they cannot reconcile their very different approaches to life.
Many critics have identified various themes within Roeg's film, drawing parallels between the Outback and the Garden of Eden, and the loss of innocence of the children involved, as well as using the film as a metaphor for the changes thrust on the world by western civilisation. How much of that Roeg intended is anybody's guess, but all of them are present in his work, which can also be read merely as a tale of survival against the odds.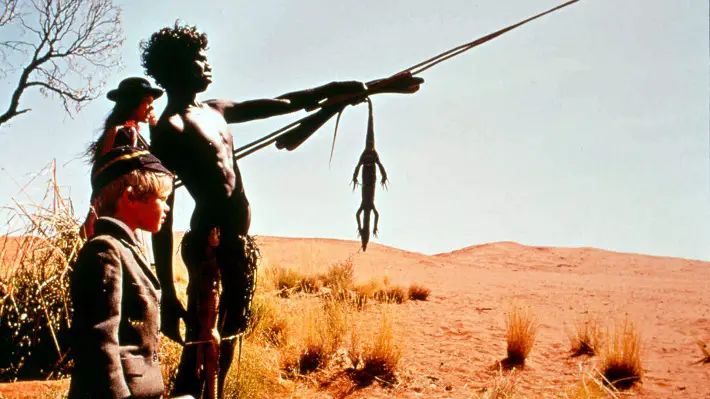 "Continues to pack a punch"
Agutter, fresh from her success in the rather more family-friendly The Railway Children, holds the film together; Luc Roeg (credited as Lucien John) is fine as her younger brother, while David Gulpilil is striking as the Aboriginal boy – then aged 16, he was cast by Roeg while the director was scouting locations; before he took the part, all Aboriginal characters on TV and film in Australia were played by white actors in blackface.
More than half a century later, Walkabout continues to pack a punch. Roeg's depiction of the setting is utterly stunning; each frame is so beautifully composed and shot that it could be a painting – this new 4k scan and restoration makes it look even better than ever before.
The release also has a selection of must-see special features, including modern interviews with Luc Roeg and Jenny Agutter.
Special Features:
● Brand new 4k scan and restoration
● A new audio commentary with Luc Roeg and David Thompson
● Producing Walkabout: a new interview with Producer Si Litvinoff
● Luc's Walkabout: a new interview with Luc Roeg
● Jenny in the Outback: a new interview with Jenny Agutter
● Remembering Roeg: a new interview with Danny Boyle
● 2011 BFI Q&A with Nicolas Roeg, Jenny Agutter and Luc Roeg
● Archive introduction by Nicolas Roeg
● English SDH subtitles for the hearing impaired
Walkabout is released on 4k by Second Sight, £15.99