The Sunlit Night (2019) – Film Review
Director: David Wnend
Cast: Jenny Slate, Zach Galifianakis, Gillian Anderson
Certificate: 15
by @RogerCrow
I'd never heard of Rebecca Dinerstein's acclaimed novel on which this is based, but it definitely has the feel of a novel-movie conversion.
The usual fish-out-of-water themes are there, but at times it feels like a series of memories from an art student's gap year. Which is not a criticism at all. There are times when I think it's one of the best films of the year, and others when I think it's too quirky for its own good.
It follows painter Frances (Jenny Slate) as she leaves her New York life in search of inspiration in the Norwegian Arctic circle.
In a remote village, among the locals, she meets a fellow New Yorker (Alex Sharp), who has come in search of a proper Viking funeral, only to find the Chief (Zach Galifianakis) is nothing but a re-enactor from Cincinnati.
Under a sun that never quite sets, and the high standards of an unforgiving mentor, Frances must navigate between ambition and desire in order to find a way forward.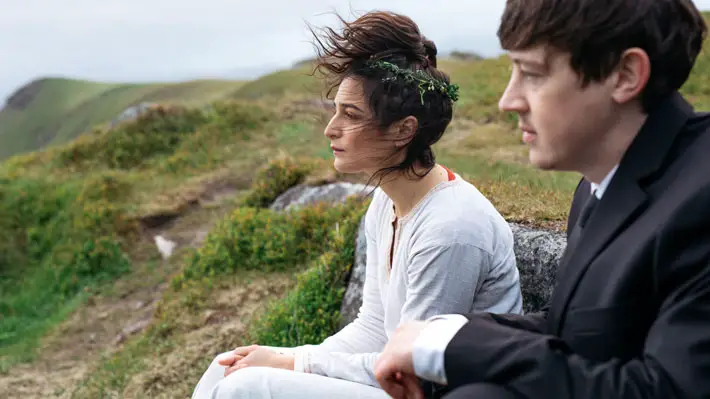 "Often quite beautiful"
From its opening shots in New York City, it starts out as a familiar Big Apple indie drama like Greta Gerwig's Frances Ha, and then heads off to Norway, where it feels like Ben Stiller's remake of The Secret Life of Walter Mitty. Yes, I know that was partly shot in Iceland but the vibe is the same. (Frustrated American finds enlightenment thanks to salt-of-the-Earth Nordic locals).
And wow, what a great character Norway is with its stunning vistas.
Zach Galifianakis and Gillian Anderson lend star power to the feature, while David Paymer chews the scenery as Frances's sweary illustrator dad.
It's funny, sweet, occasionally touching, unusual and often quite beautiful. Structurally it's not as solid as the barn as the centre of the tale, but it's just as colourful, vibrant and enigmatic.
You'll either love it or be annoyed by elements of it, but for this former art student who never got that gap year in Norway, it's a sun-kissed tonic at a very dark time. It never outstays its welcome, and like Monty Python's parrot, it's not long after the credits roll that I'm also pining for the fjords.
Oh, and it also has a great collection of songs, including a cracking closing track which I need to add to my collection ASAP.
The Sunlit Night is available from iTunes, Amazon, Sky Store, Virgin, Google, Rakuten, Chili