The Son of the Sheik (1926) – Film Review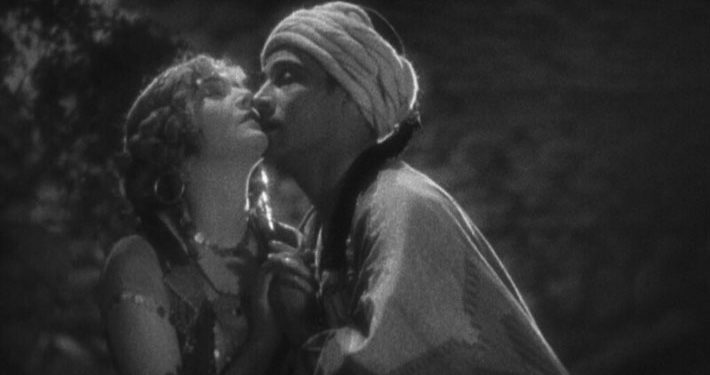 Director: George Fitzmaurice
Cast: Rudolph Valentino, Vilma Banky, Montagu Love
Certificate: U
by Sarah Morgan
Here's a confession – before this week, I'd never seen a Rudolph Valentino movie.
I know, call myself a film fan, eh? I'd seen heaps of pictures of him, knew a fair bit about his standing as Hollywood's original Latin lover, and also that he died prematurely at the age of 31, leaving thousands of female fans heartbroken.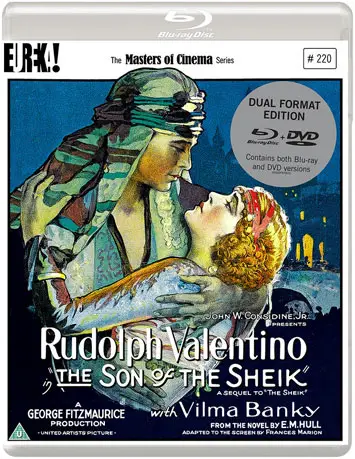 Valentino wasn't the first attractive person to use their looks to good effect on the big screen, and he certainly wasn't the last. Pretty people have always gone down a treat with cinemagoers and probably always will; even those with genuine acting talent are likely to be more successful if they've got the looks to match.
So, was Valentino simply a handsome guy who got lucky, or could he have gone on to become a leading light in film after the introduction of sounds, which arrived just a year after his death?
"Safe ground"
We'll probably never know for sure – although reports that his speaking voice was heavily accented might have caused him problems – but he appears, if The Son of the Sheik is anything to go by, perfectly capable of delivering a believable performance.
The film was designed to be Valentino's comeback following a couple of box office flops. It seemed he was on safe ground too, this being a sequel to his smash-hit The Sheik, released five years earlier.
Here he plays both the original Sheik (now an older man) and Ahmed, his grown-up son. The latter falls in love with Yasmin, a lowly dancer, the daughter of a gang of thieves who use her to kidnap, torture and rob the young nobleman. They also let him believe she was involved in luring him into their trap.
Both Yasmin and Ahmed are left heartbroken by the dramatic collapse of their romance. Can she persuade him that she didn't betray his love?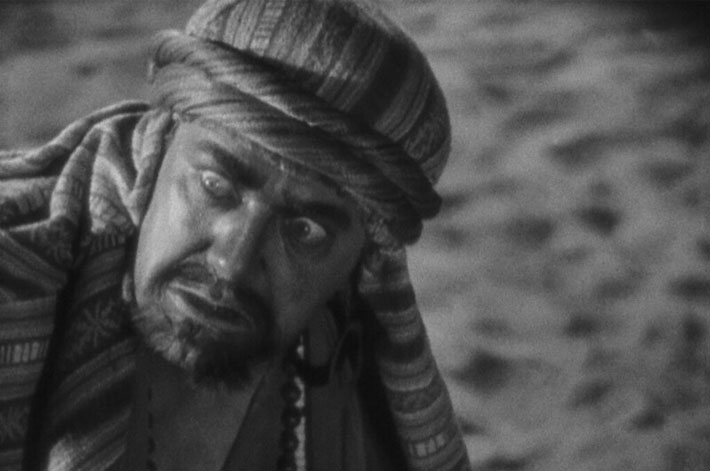 "True star"
Almost a century on from its cinematic release (The Son of the Sheik came out a fortnight after Valentino's death and, perhaps as a result of this, was a huge financial hit), the film looks as creaky and cliched as you'd imagine it to be, and yet there's still something appealing about Valentino's screen image.
Muscular and athletic, he bounds around the set with glee, and although some of the fight sequences are quite badly depicted – they mostly involve him merely waving a sabre in the air – the eye is continually drawn to him; the sign of a true star.
Special features include a video essay by critic David Cairns and, even more intriguingly, an introduction by Orson Welles.
Presented in 1080p from a high-definition digital restoration, with a progressive encode on the DVD
DTS-HD MA 5.1 and uncompressed 2.0 audio options on the Blu-ray
Loitering Within Tent – A brand new video essay by David Cairns
Introduction to the film by Orson Welles
A collector's booklet featuring a new essay by critic and film historian Pamela Hutchinson
The Son of the Sheik is released on Blu-ray by Eureka, £17.99