The Saphead (1920) – Film Review
Director: Herbert Blaché
Cast: Buster Keaton, Beulah Booker, Edward Jobson
Certificate: U
By Sarah Morgan
Old Stoneface is back – and he's as impressive as ever, even if the vehicle he's driving isn't as reliable as his biggest vintage hits.
Buster Keaton remains an icon in big screen comedy, even if some of his gags now look rather out of date. The artistry, however, is undeniable, while his skill at stunts and acrobatics remains unsurpassed.
The films Keaton himself masterminded are the ones still championed today, so it's intriguing to see The Saphead, a feature-length production in which he was no more than a hired hand.
He had been recommended for the role of the title character, the wealthy, well-meaning but completely hopeless Bertie Van Alstyne, by none other than Douglas Fairbanks, who had played the part on Broadway some years earlier. Keaton took it after being urged to do so by his business partner, Joseph M Schenck, who felt it would give the newly formed Buster Keaton Productions the publicity boost it needed.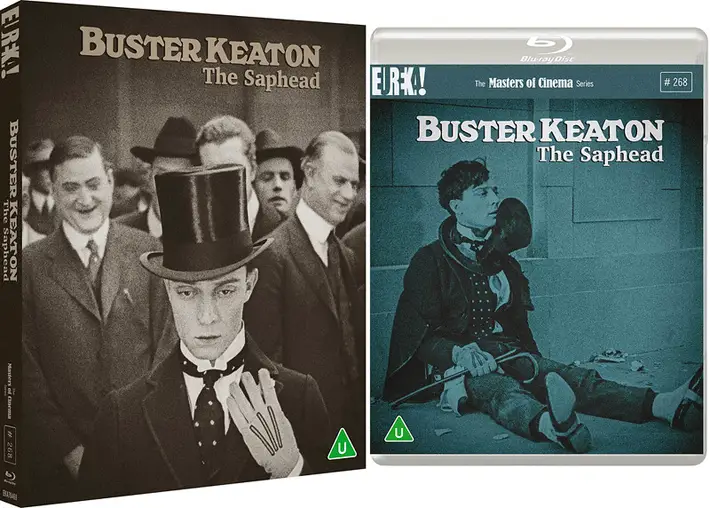 "Likeable layabout"
What Schenck couldn't have foreseen is that The Saphead also gave the star a chance to hone his skills an actor – it's not an out-and-out comedy, but rather a drama with amusing segments – arguably making his later pictures even better.
When we first meet Bertie, he's a likeable layabout living off the wealth of his father, Wall Street legend Old Nick. Bertie is also madly in love with his father's ward, Agnes, and hopes to marry her. However, when he takes the blame for his brother-in-law's cheating ways to protect his beloved sister, Bertie is thrown out of the family and sets about making his own way in the world.
This leads him to the New York stock exchange where, by an incredible stroke of luck, he manages to accidentally save the Van Alstynes from certain financial disaster, and in doing so, wins back their hearts.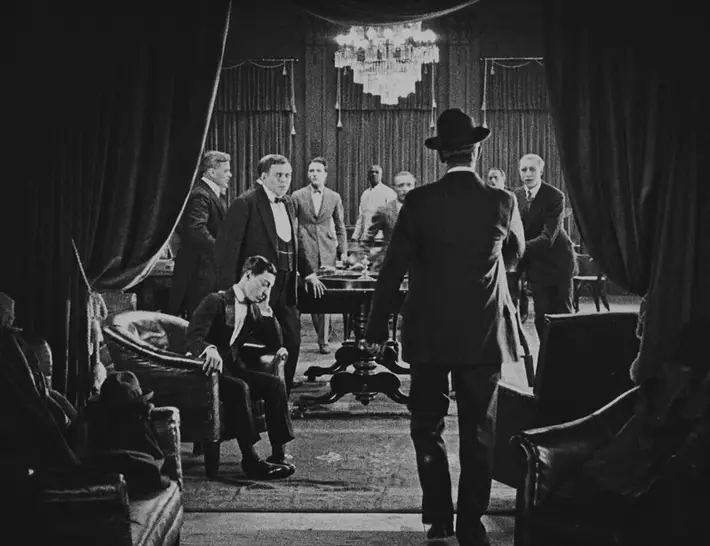 "Must for devotees"
It's not a masterpiece by any stretch of the imagination, but it's nevertheless intriguing to see a rather toned-down Keaton; he's unable to rely on his usual bag of slapstick tricks to get him through – although there is one scene close to the end in which his acrobatic skills do come in handy. Clearly the film's makers knew that anybody going to see a Keaton picture would expect something of the sort and didn't want them to leave the cinema disappointed.
Is, as some critics have claimed in recent years, The Saphead actually a crucial moment in the funnyman's career? Well, that's a moot point, but it does appear to have inspired some of his later works, in which he once again played a hapless rich guy with no common sense who somehow manages to triumph over the odds.
At any rate, this new release is a must for devotees because it appears two versions of the film, as well as expert commentary and a chance to see Keaton late in life but still as lively as ever in a bizarre Canadian information film.
SPECIAL FEATURES:
● Limited O-Card Slipcase [2000 copies]
● 1080p presentation on Blu-ray from a restoration undertaken by the Cohen Film Collection from a first generation nitrate print
● Score by Andrew Earle Simpson (presented in uncompressed LPCM stereo)
● Brand new audio commentary with film historian and writer David Kalat
● Brand new video essay by David Cairns
● Complete alternate version of The Saphead, comprised entirely of variant takes and camera angles
● A Pair of Sapheads – featurette comparing the two versions of the film
● The Scribe (1966, dir. John Sebert) [29 mins] – In his last film role—produced to promote Construction site safety—Keaton plays a janitor who in his attempt to educate workers on safe practices, causes more accidents than he prevents
● Previously unheard audio commentary on The Scribe with director John Sebert (recorded before his death in 2015) and writer / silent cinema aficionado Chris Seguin
● Buster Keaton in conversation with Kevin Brownlow – a 2-hour audio interview with Keaton and film historian Kevin Brownlow from 1964
● 1958 Buster Keaton Interview [90 mins]
● Buster Keaton: Radio Interview [*runtime currently unconfirmed] – a rarely heard interview with Keaton
● A collector's booklet featuring new essays by journalist Philip Kemp and film writer Imogen Sara Smith, as well as an appreciation of The Saphead by film writer Eileen Whitfield
The Saphead is released on Blu-ray by Eureka, £21.99