The Last Matinee (2020) – Film Review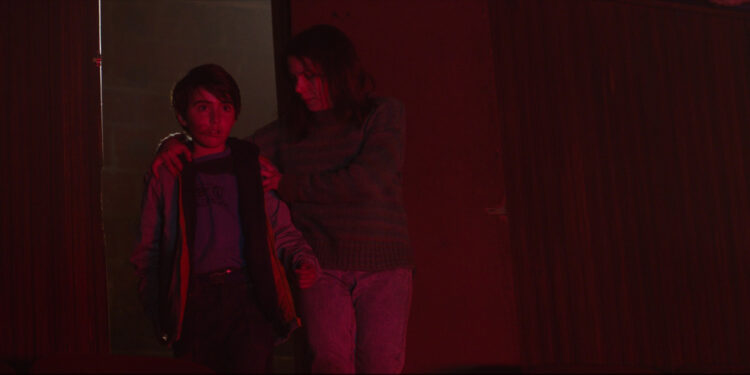 Director: Maximiliano Contenti
Cast: Ricardo Islas, Luciana Grasso, Franco Duran
Certificate: 18
By Sarah Morgan
"Seen any good Uruguayan-Argentinian horror movies lately?" asked nobody ever. It's certainly a niche market, with only one entry I can think of – film-maker Maximiliano Contenti's The Last Matinee.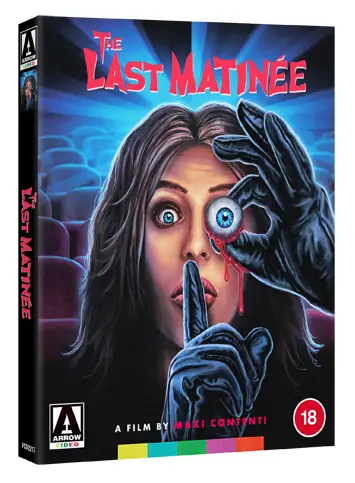 Also known as 'Red Screening' in some parts of the world, it's certainly a curiosity piece. Apart from a handful of street scenes, all the action takes place inside a rundown cinema in Montevideo in 1993.
"Killing spree"
The regular projectionist is not a young man, and he's not at the peak of his health either. To save him from working a double shift, his student daughter Ana offers to take over one stormy night, insisting she knows just as much about loading the camera as he does. Realising she won't take no for an answer, he goes home, leaving her in charge.
What daddy doesn't know is that a crazed murderer, who keeps a jar containing the eyes of his victims beside him at all times, has targeted the place and intends to carry out his next killing spree on the premises – cue the arrival of a disparate group of people you know won't make it as far as the closing credits.
Sure enough, one by one, in a variety of grisly, bloodthirsty ways, he bumps them all off until only a boy who has been hiding out in the cinema, a young female punter called Anglea and Ana herself remain. As is often the case in such movies, the killer is seemingly indestructible, and finding a way out of the dilapidated building is not going to be easy…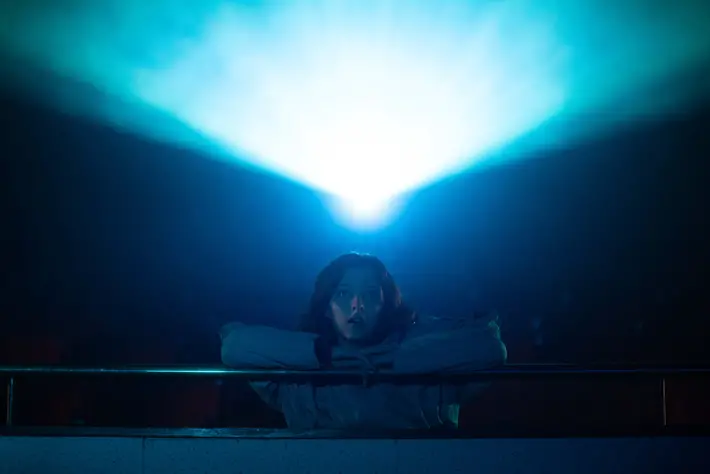 "Tension"
Contenti has clearly had only a shoestring budget to work with, but that's perhaps made him more inventive than he would have been had he had a heap of cash to throw at the project. He manages to eke out as much tension as he can from an equally threadbare plot.
That's not to say that it's a great film full of scares. The Last Matinee is rather forgettable – its origins may be unusual, but it carries too many stereotypes and well-worn tropes to make it stand out in an over-saturated low-budget horror crowd – but while watching, it's a decent enough time-passer.
But be warned – whatever you think of the film, chances are you'll never look at pickled onions in quite the same way again…
Blu-ray Extras:
High Definition Blu-ray (1080p) presentation
Original uncompressed stereo and 5.1 DTS-HD Master Audio sound
Optional English subtitles
Audio Commentary with director Maxi Contenti
Behind the Scenes VFX featurette exploring the special effects of the film
Interview with director Maxi Contenti
Killer Attractions: Maxi Contenti & Ricardo Islas in Conversation, discussion between the film's director and star Ricardo Islas, director of Frankenstein: Day of the Beast
At the Premiere, featurette on the film's premiere
Music video for 'Espada' by Phoro, directed by Maxi Contenti
The Matinee Massacre, a 3 part series of 'mockumentary' shorts exploring the events of the movie as if they really happened
Puppet Pal V, Contenti's first feature film
Six short films by director Maxi Contenti: The Plastic Kingdom (2011) Popping Eyes (2009) Hobby Metal (2006) Les Escaliers Fruitiers (2005) La Galleta aka The Cookie (2003) Miedo aka Fear (2001)
Trailers and teasers
Image galleries including behind-the-scenes and promo stills, concept artwork, storyboards and posters
Fan artwork image gallery
Double-sided fold-out poster
Illustrated collector's booklet featuring new writing on the film by Anton Bitel
Reversible sleeve featuring original and newly commissioned artwork by Marc Schoenbach
The Last Matinee is released on Blu-ray by Arrow, £24.99