Sideshow (2021) – Film Review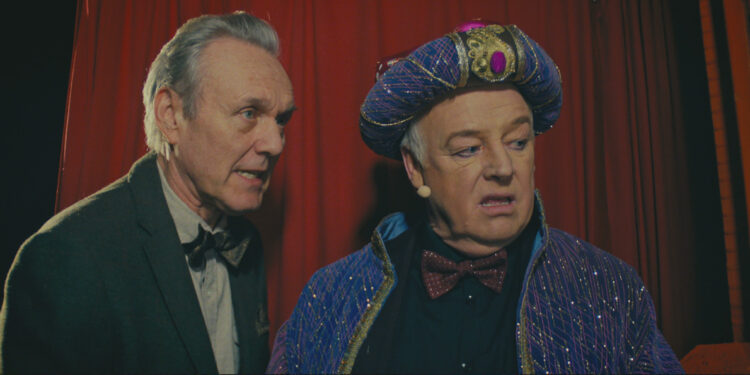 Director: Adam Oldroyd
Cast: Les Dennis, April Pearson, Anthony Head
Certificate:
By Roger Crow
As we all know, Les Dennis has been in the business for decades. Comedian, game show host, an all-round entertainer.
When he joined the cast of Coronation Street a few years ago, many wondered if he could pull off the role of hapless burglar Michael Rodwell. Les proved he could, and after almost 250 episodes, he left the indestructible soap.
In Sideshow, which feels like a feature-length version of Inside No 9, he gives another solid turn, this time as Pendrick, a washed-up psychic.
His character is one of those lecherous types who plays to half-full theatres, and has a fractured relationship with his agent, Gerald (Anthony Head).
When Eva and Dom break into Pendrick's home in search of hidden loot, they get a lot more than they bargained for.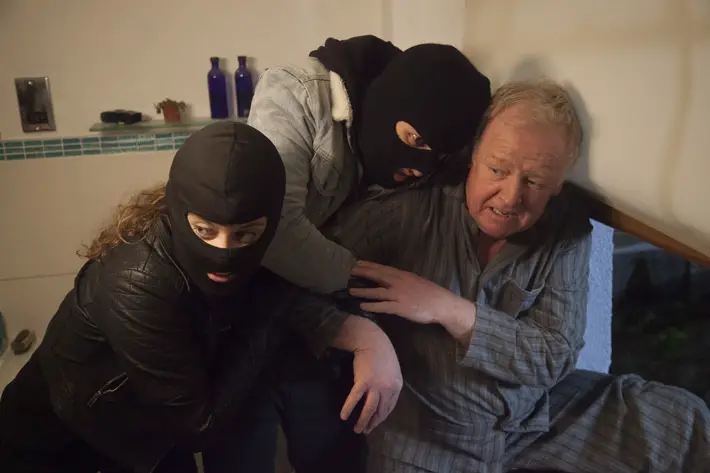 "More polish"
April Pearson is splendid as Eva, whose real reason for invading Pendrick's life becomes apparent. Nathan Clarke is also fine as her not-too-bright sidekick. The ideal sort of bloke to be manipulated by a smarter guy with alleged psychic abilities you might say.
There are echoes of far superior films, like Peter Chelsom's Hear My Song, a movie which never feels like it outstays its welcome and ticks over like a Swiss watch. Sideshow is also like a well-crafted time piece. All the parts are there and it works, but it just needs winding up. One scene with Gerald and Dom in a hallway is so slow it's painful. I love slow-burning movies that take their time, but Sideshow is an hour-long film at best.
Prolonging things are title cards introducing scenes. Heaven forbid we should have a movie this year that doesn't feature them.
On the plus side, the cinematography is fine and the score is okay. While the script could have done with more polish and less gross-out gags involving a lamb bhuna and its inevitable effect on the key character's digestive system, this could have been so much better.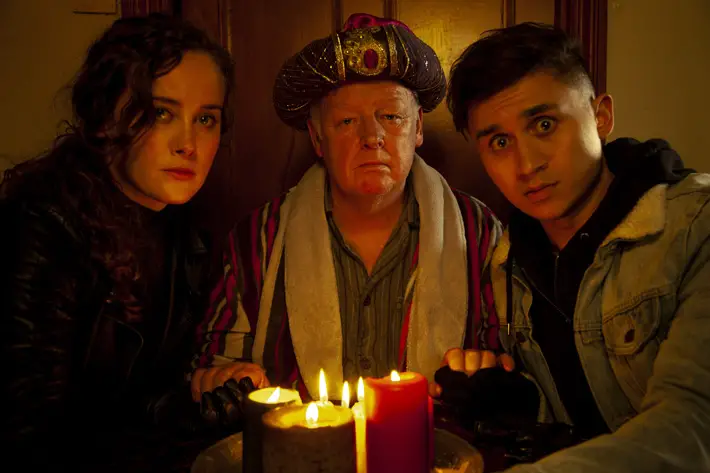 "Detective work"
Like Pendrick's staircase in a certain scene, once a screenwriter relies on bowel movements for laughs, it's a slippery slope. There's a good chance many viewers will raise an arched eyebrow as if to say: "I'm not angry, I'm just disappointed".
(However, if you're 12, prepare to have those ribs tickled).
And that back story involving Eva's background and ulterior motive is so exhaustingly detailed, it felt like an episode of Who Do You Think You Are?. Audiences are far more sophisticated than many screenwriters give them credit for, and most 90-minute movies only need 45 pages of dialogue and 45 minutes of letting the audience do some detective work rather than being spoon-fed everything.
If you remember Mitchell and Webb's comedy-drama Magicians from 2007, then you'll recall it was well put together and the cast did a good job, but it just seem to vanish in the mists of time. Unlike Pendrick, I'm no fortune-teller, but I can see Sideshow suffering the same fate.
Sideshow will be in UK Cinemas from 11th March & available on Digital Download 21st March - preorder here