Director: Julia Ducournau
Cast: Garance Marillier, Ella Rumpf, Rabah Nait Oufella
Certificate: 18
By Sarah Morgan
Like a horror movie you can really get your teeth into?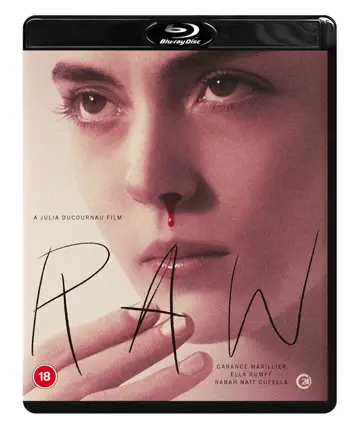 Well, you'll probably find Raw a tasty prospect. It's a low-budget dish featuring all the ingredients needed to sate the appetites of those tired of the usual spooky scares.
There are no supernatural entities to battle here. Instead, the 'monster' could be said to reside inside the belly of the main protagonist, Justine.
"Gripping"
When we first meet her, she and her parents are horrified to find a lump of meat has made it into her meal at a cafe – the entire clan are vegetarians, and Justine has never, apparently, tasted flesh before. But that's all about to change…
Justine's parents are about to drop her off at university, a place that seems to owe more to Lord of the Flies than to an actual esteemed seat of learning – her fellow first year students on a veterinary course are subjected to a series of hazing rituals by their elders, including being force-fed raw rabbit's kidneys.
Justine is understandably reluctant to take part, but her older sister, Alexia, who is also a student, persuades her to do so – it's a move they, and everyone around them, may live to regret because it sparks a desire for raw meat she never knew she had. What's more, her sibling has it too, and before long, they are going to great lengths to get what their heart (or stomach) desires the most.
Although Raw is gripping and compelling, it's not an easy film to watch. When Alexia accidentally chops off her finger and Justine decides to take a nibble, I was left feeling genuinely nauseous. However, the fact I was eating sausages at the time probably didn't help matters…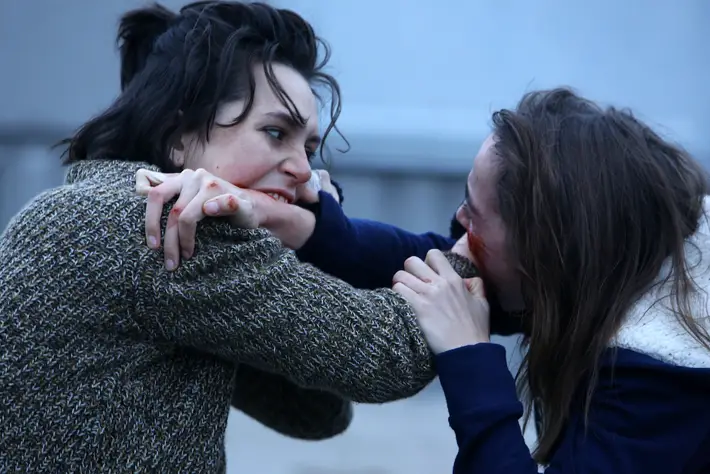 "Confident"
The film's graphic content shocked some cinemagoers on its release in 2016, and it's not hard to see why – it is genuinely disturbing. However, it's not so much the gore that really hits home (there are far more violent and blood-spattered movies out there), it's the cannibalistic element to it, as well as the unsettling atmosphere generated by Jim Williams' score and the direction of Julia Ducourneau, who also wrote the screenplay.
It was the latter's first feature-length project, but it's an incredibly assured and confident debut. It's no surprise that she's gone on to win great acclaim for her subsequent movie, this year's Palme d'Or-winner Titane.
Those who love David Cronenberg's body horror movies will lap this up, as will anyone looking for something that chills to the bone without conforming to the usual genre tropes. Just don't watch it while you're having your tea.
Special features:
• The Girl Can't Help It: a new interview with Actor Garance Marillier
• Making Ends Meat: a new interview with producer Jean des Forets
• New audio commentary by film critic Alexandra West
• Audio Commentary with Julia Ducournau and film critic Emma Westwood
• In the Name of Raw: an interview with director Julia Ducournau
• A Family Affair: a new video essay by film critic Alexandra Heller-Nicholas
• Raw À Votre Goût – featurette with Julia Ducournau & film critic Emma Westwood
• Quick Bites with Julia Ducournau & film critic Alexandra Heller-Nicholas • Genre Matters Panel Discussion
• Australian Premiere Introduction
• Australian Premiere Q&A with Julia Ducournau and Kier-La Janisse
• Alternative opening, deleted scenes, trailers
Raw is released on Blu-ray by Second Sight Films, £15.99