One of Our Aircraft is Missing (1942) – Film Review
Directors: Michael Powell and Emeric Pressburger
Cast: Godfrey Tearle, Eric Portman, Hugh Williams
Certificate: PG
By Sarah Morgan
There is no shortage of classic British films about the Second World War. So many were made both during and immediately after the conflict that it sometimes feels as if it was the only genre available to homegrown movie-makers.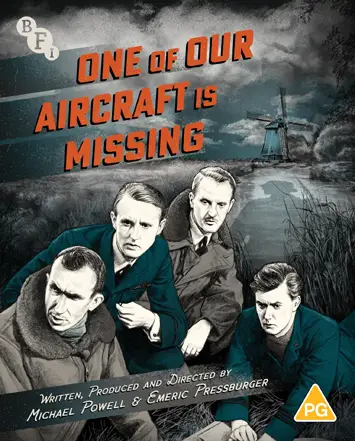 The Colditz Story, Dambusters and Went the Day Well? are just a few of the most memorable, but there was one partnership that produced more than their fair share of extraordinary war films – Michael Powell and Emeric Pressburger.
"Bail out"
They made 24 films together between 1939 and 1972, with wartime classics A Matter of Life and Death, A Canterbury Tale and The Life and Death of Colonel Blimp among the finest examples of their work.
As with 49th Parallel, another of their morale-boosting efforts, One of Our Aircraft is Missing isn't perhaps quite good enough to sit alongside that list, but it remains hugely entertaining, tense and compelling.
The first film made under Powell and Pressburger's banner of The Archers, it's a kind of mirror image of 49th Parallel – where that film follows a group of Germans stranded in Canada, this one charts the progress of the six-man crew of a Wellington bomber after they bail out over the Netherlands.
They're taken in by Dutch villagers, who hide them in plain sight, passing them off as relatives and friends, continually moving them on from village to village until they reach the home of a woman who has the occupying German forces eating out of her hand – but can she really mastermind their escape back to dear old Blighty?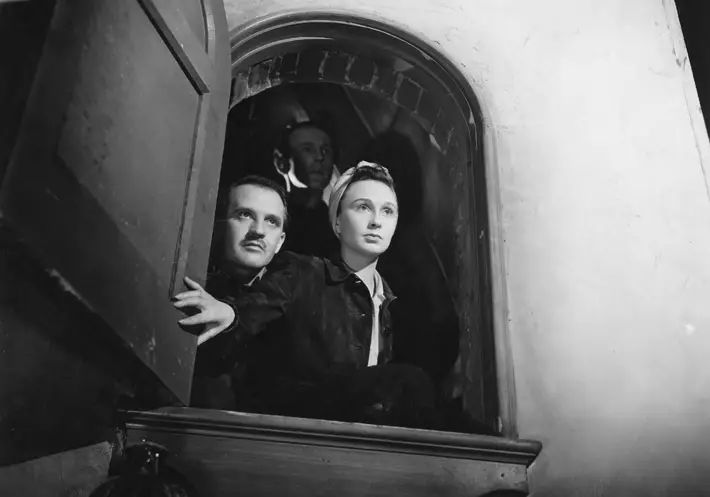 "A delight"
Stiff upper lips abound, most notably from Halifax-born Eric Portman, playing a gruff Yorkshireman here, in stark contrast to the gung-ho Nazi he portrayed in 49th Parallel.
Hugh Burden, Hugh Williams, Emrys Jones, Bernard Miles and Godfrey Tearle make up the rest of the crew, but it's the supporting cast that is of most interest – watch out for short but sweet performances from Robert Helpmann (who reteamed with The Archers for The Red Shoes and gained greater fame for his role as the childcatcher in Chitty Chitty Bang Bang), Alec 'father of Martin' Clunes, and, in his film debut, a young, slim Peter Ustinov. Even Powell himself has a cameo as a dispatch officer.
The entire film is a delight with some wonderful moments and lines, and if you're familiar with the Lincolnshire town of Boston, you may spot a few landmarks – it doubled as Holland in various scenes.
Special features:
· Presented in High Definition
· Newly recorded audio commentary by film scholar Ian Christie
· An Airman's Letter to His Mother (1941, 5 mins): Michael Powell's powerful propaganda short, narrated by John Gielgud
· The Volunteer (1944, 44 mins): an entertaining look at the Fleet Air Arm, directed by Powell & Pressburger and starring Ralph Richardson
· Target for Tonight (1941, 50 mins): Harry Watt's acclaimed documentary reconstruction of a Wellington bomber's mission over Germany
· The Biter Bit (1943, 14 mins): A propaganda short detailing the destructive force of wartime aerial bombardment, produced by Alexander Korda and narrated by Ralph Richardson
· Image gallery
· Includes reproduction of the original storybook based on the film by Emeric Pressburger
· Reversible sleeve featuring original and newly commissioned artwork by Jennifer Dionisio
· First pressing only - Illustrated booklet with essays by Ian Christine and Sarah Street, an excerpt from A Life in Movies: An Autobiography by Michael Powell, a selection of original film reviews, notes on the special features and full credits
One of Our aircraft is Missing is released on Blu-ray by the