Fuller at Fox: Blu-ray Box Set – Review
by Sarah Morgan
It's high time somebody made a movie about the life of Samuel Fuller.
After his father's death, he sold newspapers on the streets of New York. Five years later, at the age of 17, he became a crime journalist, then penned pulp novels. He served as an infantryman in Africa and across Europe during the Second World War, which interrupted his burgeoning career in Hollywood.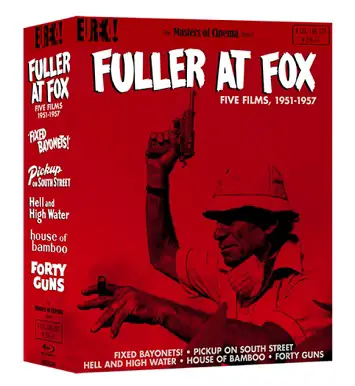 By the time he died, at the age of 85 in 1997, Fuller had enjoyed a long and successful life packed full of incident. And that's without considering his career as a film-maker.
The Fuller at Fox boxset contains five movies he made for 20th Century Fox between 1951 and 1957; they are now considered among the best of his output.
"Audacious flourishes"
Unfortunately, only three of them were made available to review. The best-known of his films from this period – Korean War drama Fixed Bayonets! and spy thriller Pickup on South Street – were absent. Their high reputations perhaps mean they require no introduction.
The remaining three certainly feature Fuller's trademark directorial style in all its glory – they are largely muscular tales with amazing set pieces and often audacious flourishes.
For example, in the western Forty Guns, there is a long tracking shot in which the actors are visibly out of breath when they reach their destination; the scene then concludes with 41 horses and riders zooming by before the camera cuts to another angle.
Forty Guns has been described as a western with a feminist angle, and Hell and High Water is a claustrophobic submarine-based Cold War chiller in which Richard Widmark excels as a commander attempting to scupper a communist atomic bomb plot.


"Artistic vision"
Finally, House of Bamboo tells the tale of a group of ex-cons-turned-GIs who have returned to their criminal ways in 1950s Japan to carry off a series of heists. Robert Stack plays the undercover investigator sent to bring them down from within. The film itself is boosted by a stunning climax filmed at an amusement park built on top of a skyscraper.
Fuller has been described as a master of the B-movie, but that suggests his films were of a lower quality than those of his contemporaries. The truth is, he was far more skilled and had an artistic vision that put many of his peers to shame.
Special features include documentaries about Fuller and Widmark.
8/10
Fuller At Fox, Five Films 1951-1957 (Fixed Bayonets!, Pickup on South Street, Hell and High Water, House of Bamboo, Forty Guns) is released on Blu-ray by Eureka, £47.99