Encounter of the Spooky Kind (1980) – Film Review
Director: Sammo Hung
Cast: Sammo Hung, Chung Fat, Chan Lung
Certificate: 15
By @Roger Crow
If you're a film maker who wants to ensure your movies have a long shelf life, make it a period piece. It also helps if you have a great cast and script of course.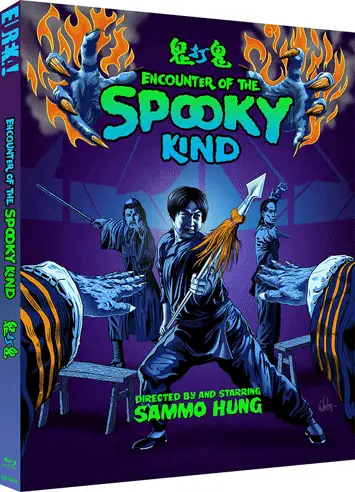 Inspired by ancient folk tales, this offbeat offering from 1980 is a curious beast. An uneasy horror which mixes period fantasy and slapstick comedy. Not always successfully.
Martial arts legend Sammo Hung, who also directed, plays Courageous (Big Guts) Cheung, a man known in his local village for his lack of fear.
"Pretty extreme"
However, when he is tricked into spending the night in a temple full of spirits, zombies and vampires, Cheung's reputation is put to the test.
Fans of Alien may spot a homage to Ridley Scott's iconic movie in the opening minutes. And like An American Werewolf in London, which was released a year later, the violence is pretty extreme, so if the odd scene of flesh chomping is not your cuppa, then best to watch through latticed fingers at times.
If you want to know more about the production, then an energetic commentary from Asian film expert Frank Djeng helps fill in some of the grey areas. The Blu-ray also boasts an old interview with Sammo Hung, and alternate English opening and closing credits.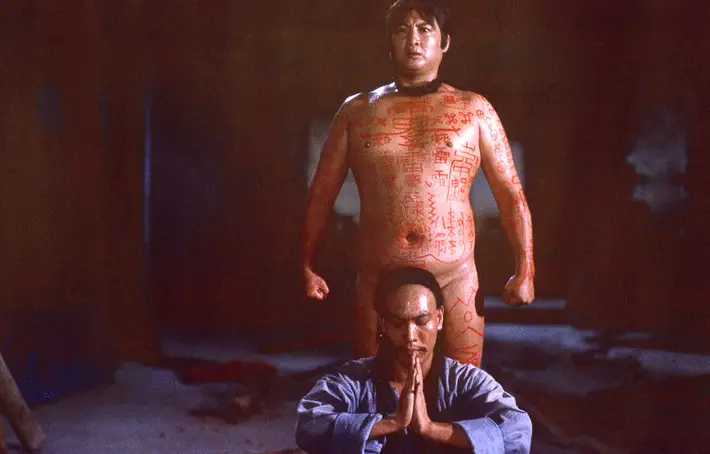 "Something different"
It's not the best genre movie of its type, but there are flashes of interest for lovers of world cinema. I can't help thinking that in the hands of Hung's occasional collaborator Jackie Chan it would have been a better movie.
However, if the deluge of summer sport has left you hungry for something different, and are keen to see something rarely ever on TV, then this is worth at least one watch.
Don't expect too much and it should work wonders.
Special Features:
Limited Edition O-Card slipcase featuring new artwork by Darren Wheeling [2000 copies]
Limited Edition reversible poster featuring the film's original HK artwork [2000 copies]
1080p presentation on Blu-ray from a brand new 2K restoration (worldwide debut of this restoration on home video)
Cantonese audio (original mono presentation)
Rare alternate Cantonese soundtrack
Optional English dubbed audio
Optional English Subtitles (newly translated for this release)
Brand new feature length audio commentary by Asian film expert Frank Djeng (NY Asian Film Festival)
Archival interview with Sammo Hung
Alternate English opening & closing credits
Stills Gallery
Original trailer
Encounter of the Spooky Kind is released on Blu-ray by Eureka, £22.99