Daniel Isn't Real (2019) – Film Review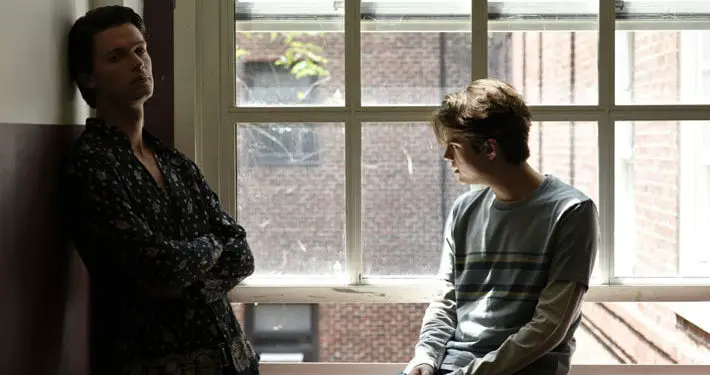 Director: Adam Egypt Mortimer
Cast: Miles Robbins, Patrick Schwarzenegger, Sasha Lane
Certificate: 15
by Roger Crow / @RogerCrow
When troubled youngster Luke witnesses a the aftermath of a mass shooting at a New York coffee shop, he's befriended by Daniel, another boy among the onlookers.
As the title suggests, adults like Luke's mother, Claire (Mary Stuart Masterson), can't see the eponymous character, though he appears real enough to Luke, who is coping with his parents' divorce.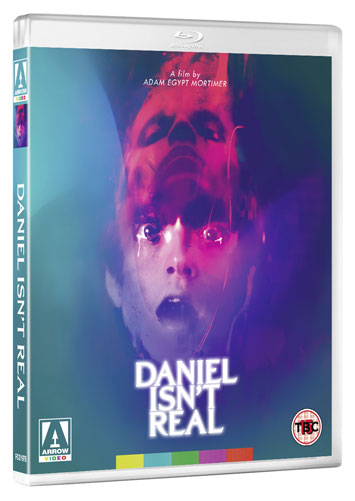 However, when Daniel convinces Luke to blend a bottle full of his mum's psychiatric medication into a smoothie in the belief it will give her superpowers, she nearly dies. Claire wisely convinces Luke to send Daniel away by locking him in her mother's doll's house.
Fast forward to Luke as a young man (Miles Robbins – son of Tim Robbins and Susan Sarandon) and his mum struggle with paranoid delusions and a hatred of her own reflection. His therapist, Dr Cornelius Braun, is afraid he will eventually become like her.
"Tad too bleak"
In a really bad move, while sleeping over at his childhood home, Luke unlocks the dollhouse, and all hell breaks loose
Patrick Schwarzenegger, yes, son of Arnold, gives a good turn as the evil Daniel, and though performances are all good, the tone is inevitably bleak for a horror thriller. It ticks over and is well constructed, but it's hard to sympathise with anyone except Sasha Lane, who also gave good turns in American Honey and the reboot of Hellboy.
Based on the book In This Way I was Saved by Brian DeLeeuw, the wonderfully named director Adam Egypt Mortimer can tell a good story, and it should leave horror fans hooked.
I needed more levity, like the recent Child's Play reboot, so it was a tad too bleak for my tastes. But if you're in your teens and twenties, and fresh to the horror genre, there's plenty here to unpack.
The Blu-ray looks good, and those swirling vortex effects really dazzle in hi-def. Just a shame the rest of the movie is like the wet weekend during which I saw it.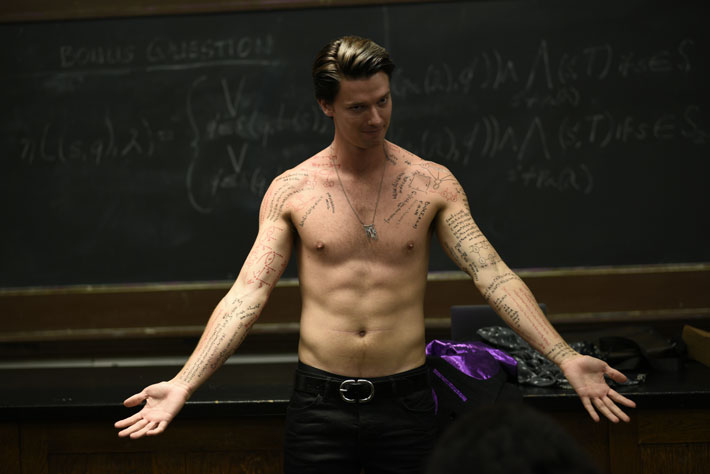 "Great narrator"
Special features include a director's commentary, which proves far more interesting to cineastes like me. It's fascinating to see how much the original (and best) Jacob's Ladder inspired part of the film. (The fact Miles is the son of that film's Tim Robbins – and looks a bit like his dad – gives it a sense of deja vu).
Adam Egypt Mortimer is a great narrator, and he adds a new layer to the movie, which should inspire anyone trying to get their own film off the ground.
Like all movies, you get out what you put in, so a random scene in the first few minutes, such as a play duel with broomsticks that become swords, pays off in the third act, and becomes more relevant on a second viewing.
Horror movies are a great lower rung on the ladder for directors who go on to higher-tiered projects, and I can see a brighter future for Adam Egypt Mortimer than for the characters in this bleak but watchable offering.
• High Definition Blu-ray™ (1080p) presentation
• Original lossless DTS-HD Master Audio 5.1 and PCM 2.0 stereo soundtracks
• Optional English subtitles for the deaf and hard of hearing
• New audio commentary by co-writer/director Adam Egypt Mortimer, exclusive to this release
• Beyond the Garden of Earthly Delights, an exclusive video essay on the film and its themes by author and critic Alexandra Heller-Nicholas
• Deleted scenes
• Alternate ending
• Cinema of Anxiety, an exclusive video interview with Adam Egypt Mortimer
• FrightFest premiere introduction and Q&A
• FrightFest TV interviews with Adam Egypt Mortimer
• Theatrical trailer
• Stills galleries
Daniel Isn't Real is released on Blu-ray by Arrow, £19.99