Bloodstone (1988) – Film Review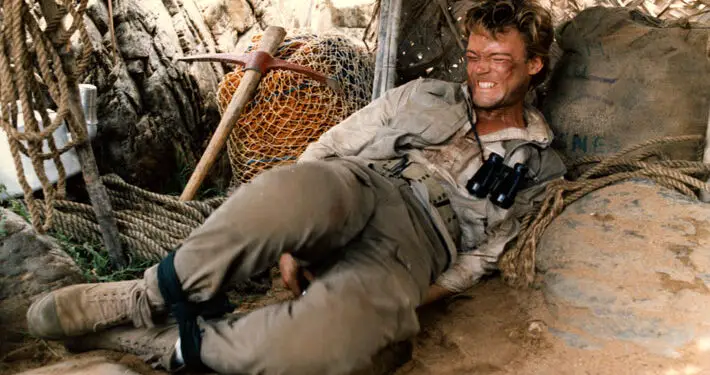 Director: Dwight Little
Cast: Brett Stimely, Rajinikanth, Anna Nicholas
Certificate: 15
by Sarah Morgan
A huge ruby is bestowed with great power by a 12th century Indian princess. Six centuries later, it's stolen by the English. Then, in the 1980s, it's taken again, this time by small-time crook Paul Lorre.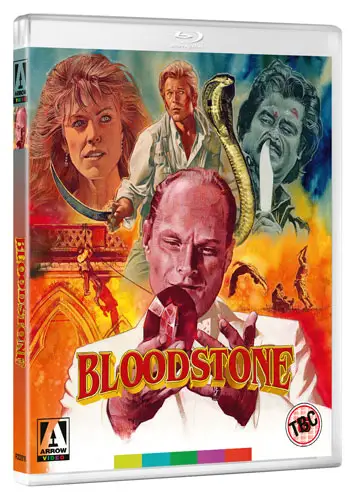 It's the final theft that sets in motion all manner of shenanigans in this light-hearted romp written by Nico Mastorakis, the Greek film-maker whose 1982 horror/adventure movie Blood Tide has also recently received a Blu-ray release from Arrow Films.
"Fast-paced"
Mastorakis seems to be one of those guys who spots and seizes opportunities everywhere; he's made films across the globe, adapting to his surroundings quickly and delivering cheap and cheerful products that are light on intellect but packed with fast-paced lowbrow entertainment.
Bloodstone was clearly inspired by Romancing the Stone and its sequel, The Jewel of the Nile, but with the setting switched to modern-day India – perhaps because that's where backers willing to finance him were based. And also, perhaps, because, thanks to Bollywood, there was a production infrastructure in place that would be inexpensive to use.
After Lorre has stolen the ruby, the rest of the plot focuses on attempts to retrieve it. Lorre was meant to deliver it to international fence Ludwig Van Hoeven, but when the scheme goes wrong, a married couple and a local taxi driver get inadvertently embroiled in a battle for possession of the ruby.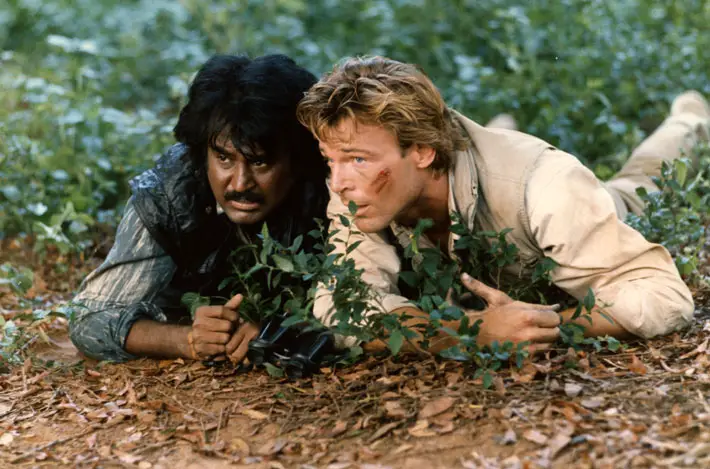 "Undemanding"
The cast is an odd mix of individuals to say the least. Brett Stimely and Anna Nicholas, who play the American couple, will probably be unknown to British viewers – a quick look at their CVs on IMDb shows that while they've continued to work over the years, they've always been bit-part players, popping up in soap operas or one-off episodes of TV drama serials.
However, the Indian lead, Rajinikanth, is a bona fide Indian cinema legend and co-star Christopher Neame is a well-known rent-a-villain in everything from Hammer's Dracula AD 1972 to the Bond flick Licence to Kill. American comedy actor Charlie Brill also pops up with an ill-advised performance as an Indian police chief.
At its best, Bloodstone could be described as undemanding entertainment and, maybe, a stepping stone to diving into the Bollywood world. But, unfortunately, for the most part, it's merely a copycat of a far superior product.
SPECIAL EDITION CONTENTS:
• High Definition Blu-ray (1080p) presentation
• Original 2.0 Stereo PCM Uncompressed audio and 5.1 Surround audio options
• Optional English subtitles for the deaf and hard of hearing
• Optional Greek subtitles
• Brand new audio commentary by Bryan Reesman
• Keeping it to Myself – brand new interview with producer and co-writer Nico Mastorakis
• Brand new video essay on Bloodstone's star Rajinikanth by Indian cinema expert Josh Hurtado
• Trailers
• Image gallery
• Original screenplay [BD-ROM content]
• Reversible sleeve featuring original and newly-commissioned artwork by Graham Humphreys
Bloodstone is released on Blu-ray by Arrow, £24.99