Blood Tide (1982) – Film Review
Director: Richard Jefferies
Cast: James Earl Jones, José Ferrer, Lila Kedrova
Certificate: 15
by Sarah Morgan
The year 1982 was a pretty busy one for James Earl Jones. He got married for the second time (to actress Cecilia Hart), provided the voice of Darth Vader in Return of the Jedi, the then third film in the Star Wars saga, and released two movies – Conan the Barbarian and Blood Tide.
While the first of those has become something of a cult favourite, the latter has been all but expunged from the memory of those who saw it at the time; it has rarely made it onto TV in the years since either.
Jones is, of course, one of the finest actors of his generation, with Golden Globe and Oscar nominations, as well as two Tony Awards to his name. Blood Tide, however, is not one of his career highlights.
"Shifty"
Nevertheless, ever the professional, he tries his best to make his character intriguing and entertaining – if only the script had done the same for the story.
Martin Kove and Lydia Cornell play honeymooners Neil and Barbara who turn up on a Greek island looking for Neil's missing sister Madeline. What they find are locals, led by José Ferrer as the mayor, unwilling to lend a hand (as locals never do in such films) as well as Frye (Jones), an overly aggressive archaeologist/treasure hunter.
Madeline is there too, played by ex-Miss USA and future Dallas star Deborah Shelton. I couldn't make my mind up if the character was meant to be vague because she was having some kind of breakdown, or if Shelton was just terrible in the role.
Eventually we find out why the islanders are so shifty – their ancestors bricked up an ancient monster in a complex of underwater caverns. Unfortunately Frye lets it loose while searching for his fortune and the beast returns to wreak havoc.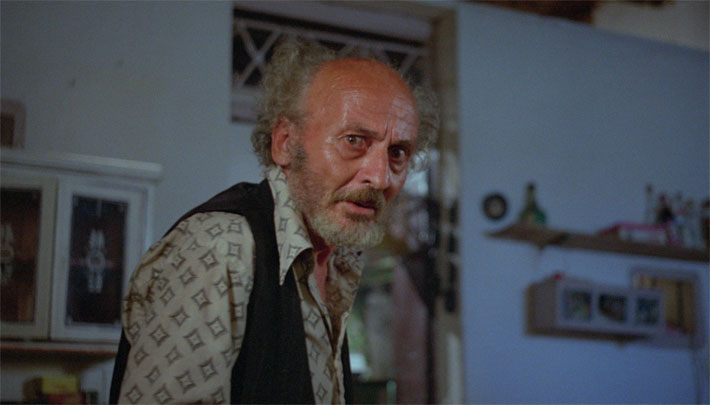 "Oddly appealing"
Blood Tide is never going to top anybody's favourite movies list and the acting is, at times, truly appalling, but there's something oddly appealing about it as long as you keep your expectations low. The Greek locations are impressive too.
What would certainly have improved matters is if we never got to see the monster – the design is pretty awful. In this case, less would certainly have been more.
Special features are few and far between, although there is an extensive interview with the film's producer, Nico Mastorakis.
• Brand new restoration from a 4K scan of the original camera negative
• High Definition Blu-ray (1080p) presentation
• Original uncompressed mono audio
• Optional English subtitles for the deaf and hard of hearing
• Brand new audio commentary with director/co-writer Richard Jefferies
• Newly-filmed interview with producer/co-writer Nico Mastorakis
• Reversible sleeve featuring original and newly commissioned artwork by Graham Humphreys
Blood Tide is released on blu-ray by Arrow, £24.99