Blackhat (2015) – Film Review
Director: Michael Mann
Cast: Chris Hemsworth, Viola Davis, Tang Wei
Certificate: 15
By Roger Crow
Cyber thrillers can fall flat if they slip into the realms of cliché, but thankfully Blackhat, now released on super hi-def 4K UHD, gets the cardinal sin out the way early: assorted close-up tracking shots of data transfer through chips and microscopic tech landscapes.
Chris Hemsworth is terrific as Nicholas Hathaway, the ace hacker released from prison to help the US government find the villain responsible for a nuclear power plant meltdown in Hong Kong.
Chicago's Mercantile Trade Exchange is also hacked, causing soy futures to soar. Okay, less urgent but relevant to the plot, which was reminiscent of 007 epic A View To A Kill.
With the aid of Nicholas's old mate, Captain Chen Dawai, a military officer in China's cyber warfare unit, and his sister Lien, they set off with Hathaway to find their man.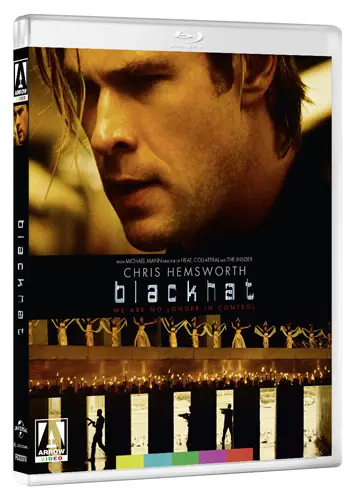 Hathaway is the world's least likely hacker seeing as he looks like a Norse god, but it scarcely matters; viewers will be just itching for the moment he beats up a bunch of assailants in a restaurant.
"Not perfect"
The first act is nothing special as director Michael Mann sets out his stall and lets his tale unfold.
Viola Davis is okay as FBI Agent Carol Barrett, the figure of authority keeping an eye on Hathaway and slowly developing respect for him. (There's a back story about 9/11 shoehorned in to give her a little depth, but she does rather well in a generic role).
Tang Wei, who plays our hero's love interest, is good not great. I'd have preferred Maggie Q or Gong Li in the role, but she looks nice, while the action scenes are okay.
A shootout at a dockside dragged on a bit, but thankfully not as long as the one in Mann's Heat.
For me, Michael Mann peaked with 1992's The Last of the Mohicans, but this is possibly his best work since then.
It's not perfect. There was some confusion over a character's death in the second act, possibly intentional, and an incendiary scene was framed like many exploding car shots: long shot, characters on the left, vehicle on the right. Boom. Textbook.
Just once I'd like to see a car explode behind characters, instead of it being framed to capture the hard work of the pyro experts.
There's also a scene when Hathaway makes his way through a procession with gun drawn, and nobody bats an eyelid. Personally I'd have run a mile.
Blackhat ticks over nicely and sustains the interest. However, without Hemsworth dominating every scene, it would have been a weak rejig of Swordfish.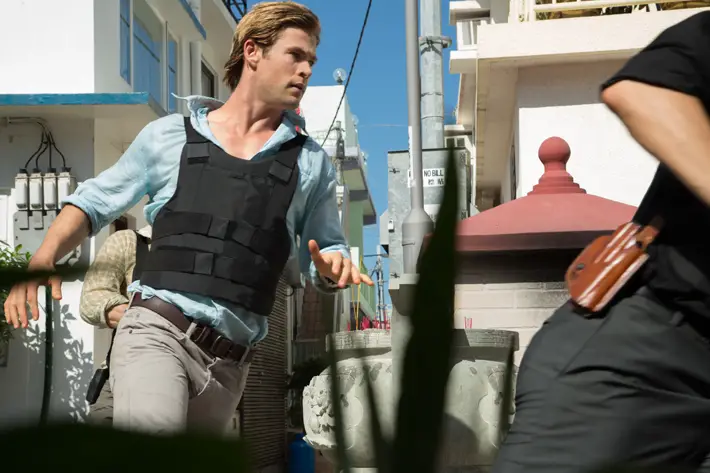 "Breathless"
The 4K UHD version looks terrific, and even if you are bored of the movie, it's worth listening to one of the yack tracks with entertainment journalists Bryan Reesman and Max Evry, who are refreshingly deprecating about the project. One guy sounds like he's had too much coffee and is getting paid by the word as his breathless breakdown of every second is exhausting. However, these guys are often on the money, addressing the opening CG fly-through with a forensic analysis which brings a freshness to the tale. Mann is an A-list director who may have thought he was above cliche doing something which was fresh in 1982's Tron. By 2015, it was more dated than VHS tapes.
Another bonus is the fact you can watch the US version, though as it's eight years since I last saw the UK or European version of the film, I can't remember any differences.
It's not as compelling as The Last of the Mohicans, but few of Mann's films are. However, "handsome hacker Hemsworth", as he's dubbed in the yack track, is always great value for money, and if you soak up those extras, it turns into a better movie than you may have initially thought.
Blackhat is a stupid title admittedly, as was Sneakers, the 1992 hacker thriller which was a more engaging take on similar material. You may not get the urge to watch it twice, but it's well worth listening to a couple of over excited experts bombard you with background info as the drama unfolds.
4K ULTRA HD BLU-RAY LIMITED EDITION CONTENTS:
• 4K (2160p) UHD Blu-ray presentations in Dolby Vision (HDR10 compatible) of both the US and international versions of the film
• Original lossless 5.1 audio
• Optional English subtitles for the deaf and hard of hearing
• Brand new audio commentary by critics Bryan Reesman and Max Evry
• Firewall – brand new video interview with cinematographer Stuart Dryburgh
• Zero Day Threat – brand new video interview with production designer Guy Hendrix Dyas
• The Cyber Threat, On Location Around the World and Creating Reality – three archival behind-the-scenes featurettes on the making of the film
• Image gallery
• Limited Edition slipcover featuring newly commissioned artwork by Andrew Graves
• Illustrated collector's booklet featuring new writing on the film by Andrew Graves
Blackhat is released on 4k by Arrow, £29.99