Beautiful Stranger (1954) – Film Review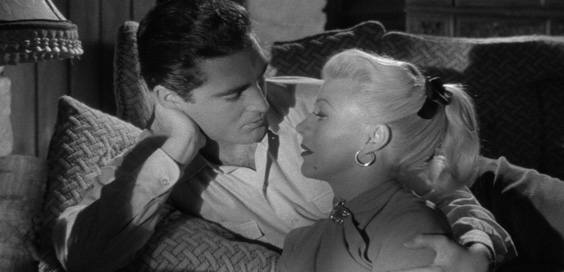 Director: David Miller
Cast: Ginger Rogers, Herbert Lom, Stanley Baker
Certificate: PG
by Sarah Morgan
Madonna fans shouldn't get too excited – this film has absolutely nothing to do with her 1999 hit of the same name which is, incredibly, celebrating its 20th birthday this year. Instead it's a 1954 British and American co-production also known as Lifeline and Twist of Fate – a much better title – set on the French Riviera.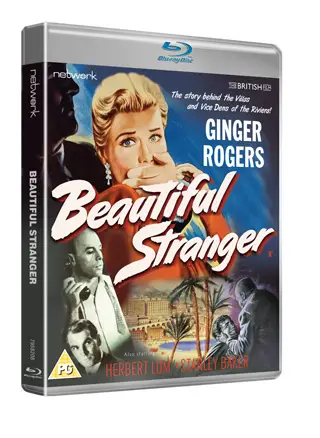 Ginger Rogers takes the lead role of Joan Victor, nicknamed Johnny, an actress and, as we eventually find out, a kept woman living the high life in Cannes courtesy of her businessman lover Louis Galt.
Galt is married and supposedly organising his divorce so that he and Johnny can marry. However, his wife Marie doesn't seem to know anything about it – and it soon becomes clear that Johnny isn't his only extra marital diversion.
"Charming exterior"
It's also obvious that Johnny hasn't asked too many questions about how Louis makes his money. Eventually, while he's away organising his latest scheme, which involves fraud, gold and forgery, she meets and falls for earthy potter Pierre, but when Louis reappears, he isn't going to give her up easily.
Before long, Louis' charming exterior has slipped as he becomes increasingly desperate to hold onto his mistress and his money.
The whole film seems to have been designed as a vanity project for Rogers, then a fading star approaching her mid-forties but playing a young ingenue; Stanley Baker, 17 years her junior in real life, is supposedly her older lover!
"Entertaining if undemanding"
Rogers even had her husband at the time, Jacques Bergerac, cast as Pierre. It was his first acting role and he's surprisingly good; their scenes at a potter's wheel are not quite as alluring as those shared by Demi Moore and Patrick Swayze in Ghost, but they do predate them by 36 years.
The supporting cast is full of wonderful character actors familiar to anyone with an interest in British film and television, from Ferdy Mayne and Roger Delgado as police officers, to Herbert Lom as a weak and penniless associate of Johnny's.
Although not a masterpiece – Rogers' casting gets in the way of that, somebody like Jean Simmons or Sylvia Sims would have been far more effective – Beautiful Stranger nevertheless provides an entertaining if undemanding 90 minutes of entertainment. Plus, it has one of the best taglines ever: "When a dame has too many men on a string – the game could end in a clinch or a killing!"
6/10
'Beautiful Stranger' is released on Blu-ray by Network