Aquaman (2018) – Film Review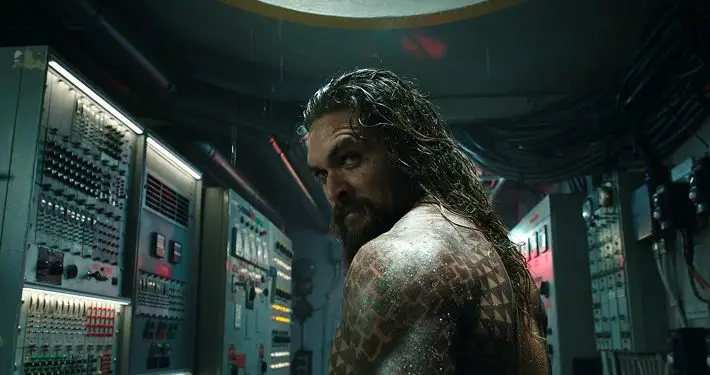 Director: James Wan
Cast: Jason Momoa, Amber Heard, Willem Dafoe
Certificate 12
by Roger Crow / @RogerCrow
I have seen some crazy comic book movies in my time, but nothing prepared me for the sheer lunacy of this much hyped blockbuster. I'm guessing the budget for Aquaman was between $150m and $200m. Of that sum about $50 was spent on the script, $50m on the cast, and the rest on an army of effects wizards.
The story involves a princess of Atlantis (Nicole Kidman) who washes up at a lighthouse keeper's craggy rock; they fall in love (despite zero chemistry), have a son called Arthur, then she returns to the briny depths. What follows is one of the most barking fantasy adventures you'll ever see in which bad guy Patrick Wilson tries to become new king of a watery empire and his terror troops (who all look like action figures) run around blasting everything that moves.
This is a world where an octopus plays the drums. It's a place which looks like Tron and Finding Nemo, and people talk underwater without bubbles emanating from their mouths. In one scene a bad guy arrives by jet pack and looks like he's wearing a joke alien costume. Like an action figure where the head has been removed and an oversized one from another figure has been slotted in its place.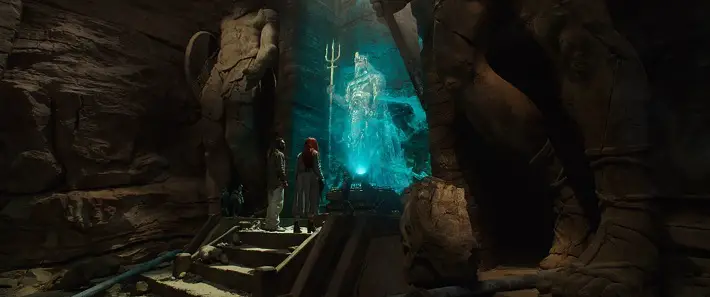 "Visual madness"
While grown up Arthur Curry fends off bad guys and struggles with his destiny, he also has to find a magic trident. (There are flashbacks of young Arthur training with Willem, and the poor lad playing Curry looks like he trained at the Hayden Christensen school of acting. Truly dreadful).
After 90 minutes, I was desperate for the end and took a break. So glad I did because then things ramp up to headache-inducing levels of visual madness as good vs evil.
Threading all of this together is Jason Momoa as the eponymous hero. He was great in Game of Thrones, pretty good in Conan, but here he's really found his niche as the charismatic hero who plays the whole thing with the right amount of tongue in cheek.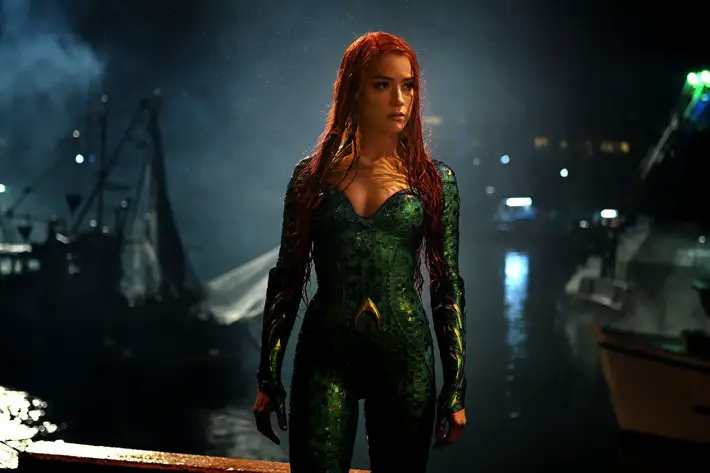 "Energy"
Amber Heard is his alluring love interest, and Willem Dafoe at his earnest best as the obligatory mentor character usually played by Liam Neeson. Oh, and Dolph Lundgren also pops up for some reason. He's totally miscast.
Should we ever forget Zack Snyder had a hand in production, there are slo-mo battle scenes like 300, so it feels about 15 years out of date. Yet the whole thing is directed with such energy by James Wan, there's never a chance to get bored.
Years ago the series Entourage had an Aquaman movie as a running gag, with James Cameron supposedly directing. He's a natural fit for the material, and given the fact Hollywood wants every movie to look like anything that made a serious amount of cash, there's little wonder it looks like Avatar.
"Too many E numbers"
I was exhausted by the end, and wonder if one day the folks at DC movies will ever crack the art of exposition (it has to be done on the move like Terminator, rather than two folks stood around talking). However, while it might be a retina-searing, logic-defying assault on the senses, and looks like the crew did most of their research by studying Finding Nemo rather than real fish, this is quite an experience.
It's easily one of the worst films of the past 12 months, but hard to get angry over. Like a kid who's had too many E numbers, running around making gun sounds while pretending to be a plane, you hope it'll get tired and go for a long nap, but given the billion-dollar haul, and the tagged on credits sting alluding to a sequel, I'm guessing that will be with us in a year or two.
I hope the drum-playing octopus is back if nothing else. In fact he should have his own spin-off movie. That would make a lot more sense.
Compared to this, the Spongebob Squarepants saga looks like a grittily realistic study of marine life. I'm just glad I didn't shell out a fortune to see it at the cinema.
Aquaman is on pay-per-view channels now.