Sandi Toksvig – Live Review – Leeds Town Hall
By Victoria Holdsworth, February 2020
Sandi Toksvig, children's television's best ever landlady, who lived at Number 73 with Neil Buchannan, the host of QI, Bake Off presenter and political pioneer has gone full circle a few times in her career already. Almost a constant in my television and radio preferences through the years, I was intrigued to watch her stand-up show for the first time at Leeds Town Hall.
Apparently the concept for the tour came about after an article on her being a national treasure was relayed to her by a friend, and then seriously misinterpreted by the friend's husband, and so Sandi has now decided to adopt the half misprinted moniker and create this wonderfully inviting, quirky and genuinely hilarious one woman show.
On stage is a large screen projecting PowerPoint photographs to aid her well-thought-out anecdotes, but before she starts, she pleads with the audience to turn off their phones and leave them off. Not because this is a huge problem, or that she feels intruded upon by them, but because the whole point of her wanting to do the show is to get people talking again. She asks that if you cannot switch off your phones that you please set them to the 'sexy setting', of vibrate only.
Sharing her thoughts and experiences about the world, in a stage set like a comfy living room, Toksvig addresses the usual modern day issues, such as social media and how it has taken over people's lives and ability to communicate properly, to the fact that she could have made two poodles from her 22 kg of lost skin cells
We also hear about a great admiration for a lady called Jemima Packington, an 'asparamancer', who can predict the future with the use of one of her favourite vegetables, and the disturbing fact about how she has a phobia of a cow landing on her roof. These are just a fraction of the creative and absurd thoughts that Sandi shares with us.
Once she has everyone eating out of the palm of her hand, she launches into finding her first National Trevor. This is Richard, who is sat on the balcony, who can actually lick his own elbow, and for his efforts receives an official badge for his endeavours.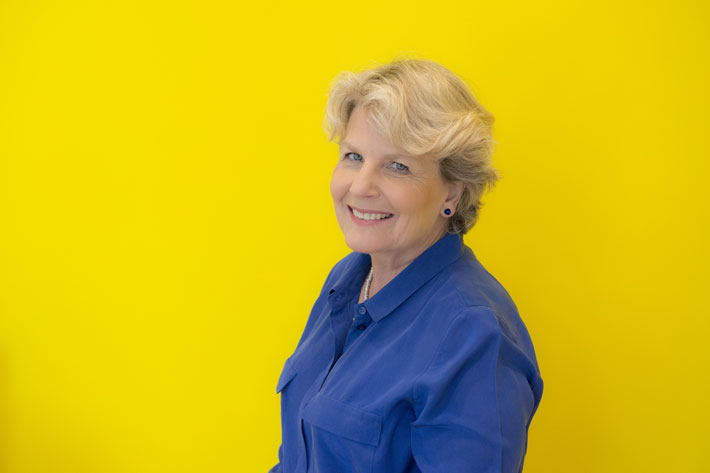 "Armed response unit"
Another change of pace, and we really get to find out more about the diminutive Scandinavian lady, and in an almost reflective conversation, as though she were sat discussing her life story with Michael Parkinson, Sandi shares how she learnt everything she needed to know about broadcasting and being famous from her beloved father, Claus, a Danish journalist, broadcaster, and foreign correspondent and Danish superstar, and how the life lessons that he taught her have stood her in good stead today and provided her with the confidence to want to help others.
Another fascinatingly funny story Sandi regales is how in 2015 she delved into the world of politics and help set up, The Women's Equality Party, which led her to sparking a terror response unit, deployed to the houses of parliament at a late hour.
Whilst projecting their party's logo onto the Houses of Parliament from the back of an unmarked white van with the doors open and a large camera sticking out of the back of it she explains that she waited a whole 15 minutes before the blue light brigade finally arrived with a full SWAT team to arrest her and her band of followers. As Sandi offered herself up suffragette-like, as sacrificial lamb to the approaching officer, the response was not what she had been expecting. We even get to see the photo show from the apprehension, as she beams in all the pictures with assault rifles and armed response unit, who exclaimed, "It's ok, it's only little Sandi."
As we approach the end of the first half of the show, there are some tales of her love of books. Some are adorning her coffee table on the stage – one is called The Gentle Art of Swedish Death Cleansing.
The title is a little misleading. Sandi reads a few excerpts from the book where the author and grandmother, Margareta Magnusson advises that you should clear your bedrooms out before you die, before your kids have to. This is coupled with the staunch advice of saving your favourite dildo – but throwing out the other fifteen.
This then leads to a discussion about Byron, one of Sandi's favourite writers, of who she has a cushion of on her chair. She explains she always has to turn it over, as she cannot bear to sit on his face. We are then treated to some spoken word, as she recites one of his poignant pieces.
"Get people talking"
Just as the audience thinks that that the first half is winding down, enabling everyone to slope off for refreshments, she hits you with a stern and hysterical warning about biscuits. Whilst some of the subject matter and segments of the show may seem a little random, they are indeed perfectly crafted and cleverly interwoven to take you on a journey with a purpose.
The second half flies by as Sandi is on the hunt for more National Trevors in the audience and gets people to share their poignant stories with the rest of the people in the Town Hall, whilst interspersing the story with little bits of her own humour.
Again, Sandi reminds us, that the whole point of the show is to get people talking more – and she certainly achieved this.
There were more personal stories, about being flashed by a young man on a train, and the comedic effect of her taking a closer look to what the man was pointing at, as she didn't have her glasses on, to another young man on a train, who was watching QI whilst sitting next to her, and never recognised her. All these little tales are included in Sandi's latest book, Between The Stops: The View of My Life from the Top of the Number 12 Bus, which my friend heartily recommends.
The remainder of the set is a Q&A session, with the Sandi encouraging people to ask her anything, although most of the questions remain disappointingly safe.
There is also a true or false quiz, in which all audience members have to stand and answer questions, until there is just one person standing. After we eventually find a winner, we go back to the screen on stage, which has some life questions we all need to know the answer to, like how did a man write a book about 'everything he learnt about his wife, he learnt from a tractor', and does God ever speak to us through cats?
There is more spoken word poetry from Byron at the very end of the set, before Sandi announces that we are all going to end the show together, and join with her to conduct Beethoven's 9th Symphony, as crazily as we like. Our host dons a small conductor's jacket as the lights are dimmed, and the screen in front shows pictures of bursting stars, in time with the music, whilst everyone in the hall flails their arms around wildly.
I think it is safe to say, that when Sandi Toksvig describes her stand-up as less of a show and more of a chat, she is absolutely right.