Ricky Gervais – Live Review – Sheffield City Hall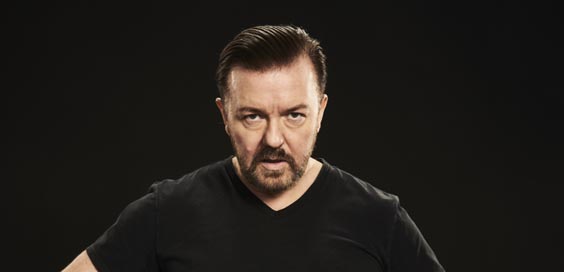 By Richard Jones, April 2017
Ricky Gervais has come a long long way since his slot as a regular reporter on Channel 4's The 11 O'Clock Show in the late 1990s. His act, giving his opinion on recent world events, was near-to-the-knuckle, and even puerile, but the comic current affairs show effectively launched his career, in the same way it did Sacha Baron Cohen's.
However, it was BBC workplace comedy The Office in 2001 that made everyone stand up and take note of the comedian, actor and writer from Reading. His depiction of Wernham Hogg's antihero middle-manager David Brent is now seen as a high watermark in British comedy.
Since then he has gone on to write and star in two more memorable TV comedies – Extras, in which he explored the concept of fame, and Derek, the Channel 4 dramedy about an awkward middle-aged nursing home employee with a heart of gold.
Gervais has also appeared in a hugely popular podcast and TV projects with frequent collaborators Stephen Merchant and Karl Pilkington, as well as a handful of moderately successful Hollywood films, including The Muppets and Night at the Museum franchises.
"His angriest yet"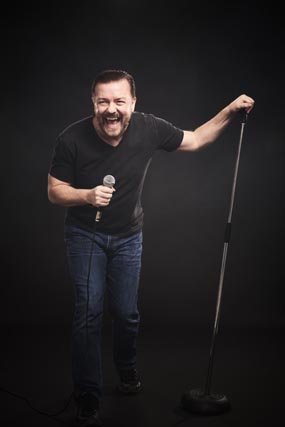 Such is Gervais' popularity in America, he has also found a niche as a no-holds-barred awards show host and he caused quite a stir when he fronted three Golden Globes ceremonies from 2010.
However, 2017 has seen the star return to his first love – stand-up comedy. With four sold-out tours under his belt (Animals, Politics, Fame and Science) as well as the accomplishments listed above, Gervais, now 55, has nothing to prove, and financially he doesn't need to work again (as he often points out).
So it says a lot about how much he enjoys performing and making people laugh and think about the world that he's embarked on another tour this year. In 2016 he resurrected his most famous character in the film David Brent: Life on the Road, and his co-star from that film, the likeable comedian and rapper Doc Brown, opens for Gervais on this tour.
Unlike most comics of his stature, Ricky is not playing stadiums or massive arenas, but smaller venues like Sheffield City Hall. Much of the material in his new show Humanity, which Gervais has described as his "angriest yet", wouldn't have been out of place on The 11 O'Clock Show all those years ago.
"Explains why no one has the right to take offence at his jokes"
When defending his routine, he posted on Twitter: "Warning: My stand-up mentions AIDS, cancer, paedophilia, famine, race, terrorism, rape, murder, drugs, death and even food allergies." Nevertheless, despite its potential to cause offence, Gervais's first new live show for seven years makes me gasp with laughter and is arguably his best show to date.
There are a lot of personal elements to it, especially towards the end as he discusses his Uncle Reginald's wig, prankster brother Bob, japes at their mother's funeral, and life growing up on the Whitley council estate in Reading.
The theme of Humanity is Gervais' belief that "we're all just animals," but thankfully, his sarcastic, mischievous side is never far away, as he gloats about his wealth, talks about Hitler as a dinner party guest, Caitlyn Jenner's sex change, IRA vs Isis, and how social media depicts idiots.
Gervais makes numerous pleas to the audience, explaining why no one has the right to take offence at his jokes, and states that if you think something is funny, you should say it.
"The same fire in his belly"
He recently posted on Twitter: "Offence often occurs when people mistake the subject of a joke with the actual target. They're not always the same.
"Jokes about 'bad things' don't have to necessarily be pro those bad things. Surely, a joke that's anti bad things is a good thing, no?" Whether you agree or disagree with that summary is your choice.
But what you can't deny is that since bursting on the scene 20 years ago, Gervais has consistently been one of our finest comedians, actors and writers. Despite his enormous wealth and star status, deep down, he hasn't actually changed that much and still has the same fire in his belly as he did on The 11 O'Clock Show.
Just like his most famous creation, Mr Brent, Humanity proves that, the hard-hitting comic isn't a 'chilled-out entertainer' just yet.