You Never Said Goodbye by Luca Veste – Review
By Sarah Morgan
There's nothing like keeping busy, is there?
Since 2013, Luca Veste has published eight novels, a novella, edited several anthologies, had work featured in a number of collections, set up the podcast 'Two Crime Writers and a Microphone' with his friend Steve Cavanagh, helped organise the online crime writing festival Locked Up and been a part of the band Fun Lovin' Crime Writers.
Okay, so when it comes to producing actual books he isn't in the same prolific league as Georges Simenon or Alexander McCall Smith, but he's doing alright.
Although perhaps best known for his series featuring DI Murphy and DS Rossi, Veste's latest is a standalone thriller with an ordinary guy at its centre.
Sam Cooper's life has not been easy. When he was nine, his mother and younger brother were killed after the family's car veered off the road and into a raging river while they were in America for the funeral of his mother's father. Sam was then left alone with his embittered father, whose heartbreak left him unable to connect with his son.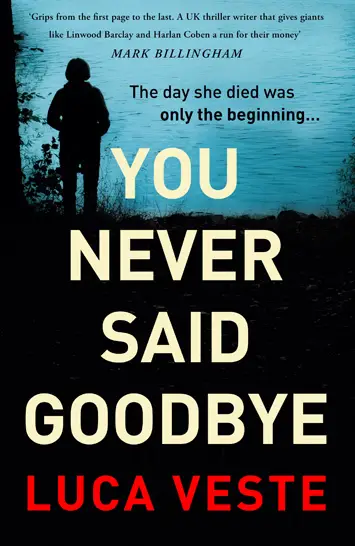 When we first meet Sam, he hasn't been home for years, but returns on hearing that his father is dying. It turns out that as well as having cancer, David Cooper had been attacked in his own home by mystery men clearly looking for something.
"Inner strength"
Sam has one final conversation with David, who claims the mother he thought had died 25 years earlier is still alive. This prompts him to journey back to the States in an attempt to find out if his old man was telling the truth.
It may sound like a spoiler to say that mum Laurie is alive and kicking, but thinking about it, she's got to be, otherwise the tale would be really flat and pointless. But the reasons for her disappearance are far more interesting than Sam's quest and the numerous hurdles he faces along the way.
Frankly, I felt he was a slightly undercooked character, a bland everyman who, one suspects, wouldn't really have lasted more than five minutes when faced with the relentless thugs on his trail.
Laurie, however, has had to have inner strength to cope with her ordeal, and I've have preferred to have read a book about her experiences and mindset.
Much of the action is set in the Eastern US, but I never really felt a sense of place, it could have happened anywhere.
Nevertheless, Veste has produced a decent page-turner that was never boring. Some critics have called it his best book yet. Personally I think the jury's still out on that one – perhaps the best is yet to come. And as Veste clearly likes to be occupied, you get the impression it won't be long before he's launching a new project.
'You Never Said Goodbye' by Luca Veste is published by Hodder & Stoughton, £20 hardback