The Best Electric Vans for Long Journeys
Electric vans are not the most obvious choice for long journeys – even the best examples can't travel as far on a charge as a diesel van can travel on a full tank, and there are not only fewer places to recharge them it takes much longer as well. However, if you want the most environmentally friendly van possible, an electric model is the way to go. So let's consider the top long-distance electric van options, then you can go get yourself a Parkers car valuation [https://www.parkers.co.uk/car-valuation/] to make sure you're getting the best possible price on your part-exchange.
The Best Small Electric Vans for Long Journeys
Small vans have traditionally been the most popular choice for electric models – they're the cheapest, and ideal for driving around cities and towns while producing zero emissions. Being so small doesn't leave much room for batteries, but the latest models are pushing closer and closer towards 200 miles per charge on paper.
If it is a small electric van you want, the clear leaders at the moment are four vans all based on the same underlying technology: the Citroen e-Berlingo, Peugeot e-Partner, Toyota Proace City Electric and the Vauxhall Combo-e. These offer a WLTP [ https://www.wltpfacts.eu/what-is-wltp-how-will-it-work/ ] driving range of up to 171 miles per charge, and they can be recharged relatively quickly, too – if you're prepared to pay the price at a suitably powerful public fast charger.
Better still, they're comfortable and good to drive, with decent payload ratings for small vans as well. Of the four, we'd choose the Proace City Electric, as Toyota has a strong van dealer network and offers up to 10 years of warranty cover. Impossible to beat in this sector.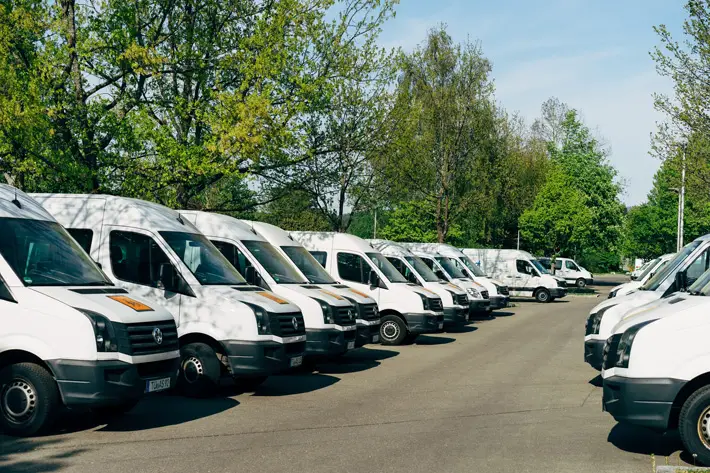 The Best Medium Electric Vans for Long Journeys
If you don't need a larger load area and long-distance driving is your priority then you don't need to read any further right now – the best electric vans for long distances are all medium-sized models.
In fact, they're all versions of the same van as well – the Citroen e-Dispatch, Peugeot e-Expert, Toyota Proace Electric and Vauxhall Vivaro-e all being based on the same van platform and the same electric motor and battery technology. They're also all offered with two battery pack sizes; choose the bigger one and you'll get an official WLTP driving range of as much as 211 miles per charge. No electric van available at the time of writing will go further between top-ups.
Again, of the four, we'd pick the Toyota. However, just to throw a slight curveball, these vans aren't great at going a long way at higher speeds – put them on the motorway and their driving ranges tend to plummet. So if you've got a lot of fast roads on your itinerary it might also be worth looking at the Maxus e Deliver 3. While the max on-paper range of 151 miles might not be as impressive, this is a purpose-built EV rather than a converted diesel model and in testing we've found it utterly unfazed by faster driving.
The Best Large Electric Vans for Long Journeys
Until recently, no large electric van would have been much use for long distances, with most struggling to get even close to 100 miles per charge. This all changed with the introduction of the Fiat E-Ducato and the Maxus e Deliver 9, which claim to be able to reach 175 miles and 185 miles per charge, respectively.
To achieve this, you have to opt for the largest battery capacity available in each one, which will also reduce the available payload. But while this Maxus is only offered as a single variety of panel van, Fiat will sell you an E-Ducato in a wide selection of different variants, giving buyers the opportunity to create a vehicle exactly suited to their needs.
Given the choice, we'd still opt for a medium electric van for ease of use – they fit better into parking spaces and are easier to manoeuvre. But if you need the space only a large model van give you, it's good to know there are now finally some properly versatile electric solutions.