An Interview with Patricia Hodge & Nigel Havers on 'Private Lives'
Gate-crashing a tea break during rehearsals to chat to Patricia Hodge and Nigel Havers, Vicky Edwards finds out more about a brand new touring production of one of Noel Coward's most effervescent and enduring comedies…
Reviews for the original production of Noel Coward's Private Lives saw critics bandying around words like 'tenuous, thin, brittle, gossamer, iridescent and delightfully daring.' All of which, quipped Coward, "connotated to the public mind cocktails, evening dress, repartee and irreverent allusions to copulation, thereby causing a gratifying number of respectable people to queue up at the box office."
But there's much more to Private Lives than pure comedy, which is surely why, almost a century on, it continues to delight.
"It's endured because it is one of those plays that examine the human condition. Unlike a play that makes some sort of sociological comment, and therefore can lose its relevance over time, Private Lives is about relationships and emotions; a couple who can't live together and can't live apart," observes Patricia Hodge, one of our best-loved and most critically acclaimed actresses, who will play Amanda.
Ever-suave and charming, Nigel Havers, who plays Elyot and is also one of the play's producers, agrees.
"It's a very funny play about love and friendship, so I hope audiences are going to enjoy themselves. Goodness knows I think we're all really ready to enjoy ourselves."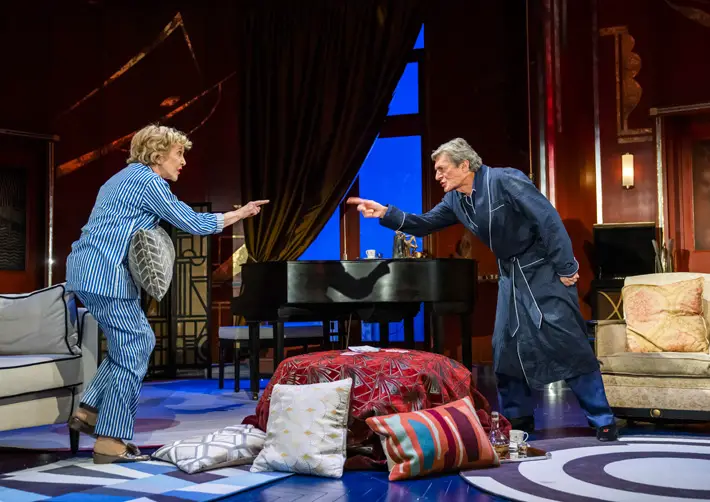 "Emotionally pleasurable"
Certainly Covid has amplified our appetites for almost anything that cheers the heart, so master of wit and repartee Coward is a perfect antidote to pandemic life, isn't he?
"Yes, absolutely," says Patricia, adding: "And think of the number of people who were stuck together for far too long! The central act is quite suffocating; two people in a room together. The interaction between them is like poles that constantly attract and oppose. I think there will be a lot of recognition, and laughter is recognition. It's the absurdities of human behaviour and the comedic element of that."
The inaugural show for The Nigel Havers Theatre Company, completing the cast of the UK Tour are Dugald Bruce-Lockhart as Victor, Natalie Walter as Sibyl and Aïcha Kossoko as Louise. A scintillatingly witty and scathingly vitriolic study of the rich and reckless in love, Elyot and Amanda, who were once married, find themselves in adjoining rooms in the same hotel on the French coast, both on honeymoon with their new partners. Their initial horror quickly evaporates and soon they're sharing cocktails and a romantic serenade.
Directed by Coward connoisseur Christopher Luscombe, the decision to take the show out on the road was a very deliberate one, as Nigel explains.
"Taking a play anywhere is a risk at the moment, but in my experience the regional audiences are generally better; more appreciative, than they are in London. Fortunately I don't mind touring, and my wife always comes with me. She always says that she can only see the play once, and so after she's seen it she goes off sightseeing. There are so many wonderful towns and theatres. You do get to see such lovely places on tour.
"And regional theatres are making such great efforts to ensure that they are as safe as they possibly can be, so I say come and feel safe and enjoy."
"There is something so utterly emotionally pleasurable about playing regional theatres," adds Patricia. "You feel as if you are speaking directly to the audiences."
Talking of regional venues, Sheffield is a particular highlight for Patricia.
"I was brought up in Grimsby and Sheffield was somewhere you could reach if you wanted to do some more high level shopping experience! It also means that my friends will come from Lincolnshire, and of course I have played there a lot and love the theatres."
"A wonderful play"
Delighted to be working together, it is with some surprise that I discover that Private Lives is Nigel and Patricia's first ever stage production together.
"We've worked together in television before, but never on stage," confirms Patricia, who says that a play like Private Lives, which is centred on a relationship, has a distinct advantage if the two leading actors know and like each other.
"You have to have a rapport with the person you work with. We've known each other for ever, so we knew we'd be OK."
The charming Mr Havers nods his agreement (there is clearly great respect and friendship between the pair) but also confesses that as well as being his first on-stage appearance with Patricia, the show also marks another career milestone.
"I've never done a Coward play before," he confesses. "So many wonderful actors have played these parts and so I've always managed to avoid it. But as you get older you don't care so much [if comparisons are made] and I just thought let's go for it. It is such a wonderful play."
"It is," agrees Patricia. "The repartee is so fast and so clever, but as an actor you can mine it for such truth; you can enjoy it as pure entertainment, but it's so rich and you can find so much more. I do think that because of the ages that Nigel and I are that it reads slightly differently, for instance."
"Goodness, Coward would love all this attention after nearly 100 years!" says Nigel.
Preparing to return to the rehearsal room he adds: "Which is a mark of how good his plays are."
Or as Coward himself once famously said: 'I'm an enormously talented man, and there's no use pretending that I'm not.'
'Private Lives' is at Sheffield Lyceum from Tuesday 22 – Saturday 26 February
images: Tristram Kenton