Streetcore quartet from Vercelli in north west Italy – here's singer Johnny Wesson…
What's the title of your latest release, and what does it mean to you?
Our debut album will be released on April 22 on vinyl, CD and Digital and it's called Stand Our Ground. The name is inspired by a sentence in the single 'Our Warzone', this sentence: "Your friends are beside you, you feel the strength of the crew, your family won't let you down, together we stand our ground". Basically it means keeping hold in the difficult moments. We all get through bad times, the last two years have been particularly hard and the songs in the album are what came out from that.
What was the hardest part about putting this release together, and why?
Well, a bit obviously the hardest part has been the pandemic. We couldn't rehearse all together for several months and the discontinuity influenced the tightness of the band a lot, and this slowed us down when we could finally came back to play together. That apart, we didn't encounter many other problems. We were in a good creative moment and the songs came together one after another.
Who produced the release – what did they bring to it?
We produced the songs ourselves with the help of Giulio Farinelli of Everybody on the Shore recording studio in Milano, that is where we recorded. He gave us a lot of help to find the exact sound that we wanted for this release. Also it is very easy to work with him. He understands exactly what we want and how we want it. For the master of the album instead we hired Bart Van Lier from High Lake Hill studio in Belgium. He did an amazing and really professional job and we are super satisfied of the result.
What do you want the listener to take away from listening to your music?
I care a lot about the lyrics – I work hard on them. I don't have this big talent for writing 😅 so I have to compensate with hard work. So I would like that people notice that we really have something to say and we are not saying things just to fill the music. Also I like to hide in our songs some easter eggs, small quotes of other bands that I love and things like these… I hope that somebody notices that, haha.
How does a track normally come together? Can you tell us something about the process?
I write all the lyrics, but the music is a collective work. It usually starts from a guitar riff and we build the song around it. Then I see which one of the texts I have fits better and I adapt it to the music. It sounds simple but in reality there is a lot of work behind that, haha.
What band/artists have influenced you the most since you started this project, and why?
Litterally hundreds. If I have to pick some names I'd say Blood for Blood, Ramallah, Bruisers, Madball, Agnostic Front, Warzone, Cro-mags, Biohazard, Toxpack, Slapshot, Business, Cock Sparrer, Rancid… I could go on for hours haha. Also Fere and Fax (bass & guitar) are super Misfits fanatics. All these bands had a great influence in our lives not only in music, they all are great musicians and developed their personal sounds and style, and also the mentality and all the stories from the streets inspired us.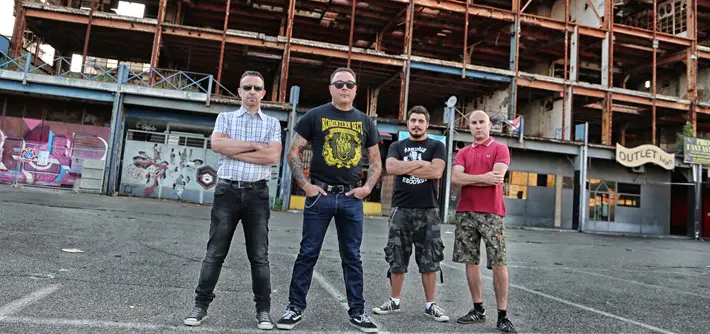 What countries would you like to tour? Are there any standout venues you'd like to play in?
A USA tour would be amazing, I never had the chance to go out of Europe. I already played in many other European countries and my favourite is Germany. But I like all the other countries too, one of the best things of being in a band is to have the chance to travel. I would like to visit and play in all the countries of the world. More than venues there are some festivals I'd like to play in, like Rebellion, Punk & Disorderly, Mighty Sounds, Revolution Calling and many others… Also Wacken and Hellfest, but these two look like a shot too far for the moment 😅
If you could pick one track for our readers to listen to in order to get a taste of your music, what would you pick, and why?
I would pick the new single 'Street Core Worldwide'. It is the first extract from our upcoming album and, despite I think that in our album there is a good variety of influences, it is probably the perfect example of our style in this moment.
What ambitions do you have for the band/your career?
I would like to play more than 100 gigs a year, being (almost) constantly on tour and travel everywhere with the band. Dream or goal we'll see in some years from now, haha.
Finally, as you leave the stage, what are your parting words?
Thanks a lot for coming…We are No Restraints, and you ain't seen nothing yet.
For more info visit: facebook.com/norestraintscore
images: Francesca Cortese