An Interview with John Connolly
By Sarah Morgan
When talking to John Connolly, you get the impression there's no time to waste. He's a man with a lot to say, and he's going to say it in the most eloquent way possible.
Whether the Irish-born writer is fully aware of that is unknown, but for those held in his thrall during his appearance at the Theakston Old Peculier Crime Writing Festival in Harrogate, it was a delight to hear him in full flow.
He speaks quickly and with purpose, something which translates into his work – Connolly's books about the detective Charlie Parker are bestsellers around the world thanks in no small part to the excitement contained in every page.
He's in Harrogate to publicise the latest tome, The Furies, which is actually two novels for the price of one; included within it is The Sisters Strange, which was part of a writing project formed during lockdown.
"We forget now how frightening the start of lockdown was, and like a lot of authors, my book's publication was postponed," says Connolly. "So I thought, 'what can I do?' and came up with something online.
"It was 600 words a day, because I can't do more than that. But it became bigger than I thought. Readers in other countries wanted translations, which was a nightmare to do on a daily basis. But people got to see a work in progress."
The project lasted 64 days and the result is a fascinating story involving criminal Raum Baker. The accompanying title story focuses on Charlie Parker's efforts to protect two women who think they're capable of taking care of themselves.
But the book is not Connolly's only recent work. He's also written Shadow Voices, a factual insight into 300 years of Irish genre fiction. He explores detective stories, ghostly tales and groundbreaking women's fiction; you get the sense he felt that addressing the latter was particularly important.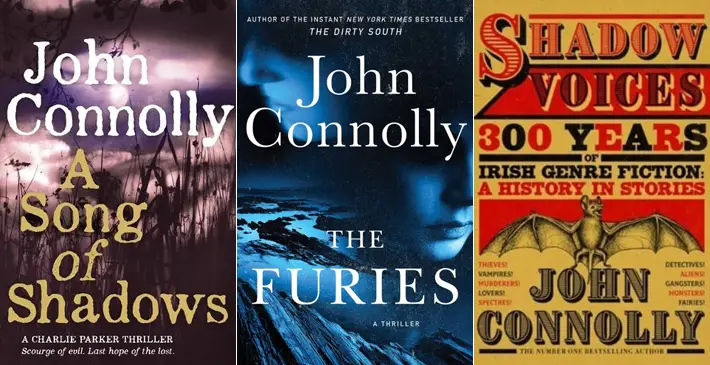 "The idea of moving into another world is wonderful"
"Genre fiction is often dismissed, and women write a lot of genre fiction. They write very interestingly about horror, romance and crime, as seen through their experiences.
"When I began writing, there were very few contemporary Irish models to follow. Genre was just dismissed. It was also regarded as very English, so not seen as something we as a nation wanted to be involved with."
He adds: "As a young person, I didn't want to engage in the Irish situation. Many young people didn't; they wanted to escape to America or Australia or wherever. I escaped through writing.
"In Ireland at that time, a lot of crime was tied up with terrorism because it paid for their activities, and so for your own sake, you didn't want to go there as a writer. So some Irish writers moved their stories to England, but I chose America."
Parker is a cop-turned-private eye based in the US, whose cases often take a spooky turn.
"Some people don't like mixing crime and the supernatural, but that intermingling is quite typical in Irish fiction," claims Connolly. "I grew up on the stories of MR James. What I liked was the intrusion – the central characters are dusty academics with regimented lives, but after their experiences, they can never see the world in the same way again. I was raised Catholic, so I've always found rationalism to be a narrow way to view the world.
"The idea of moving into another world is wonderful. It's escapism – there's a real pleasure in that, which is why I dislike it when people dismiss genre fiction, because that's what's amazing about it."
It's now 30 years since Parker tackled his first case, and there appears to still be plenty of life left in him – Connolly isn't retiring yet anyway, although he admits, "I know the title of the last book and how it ends, but I'm not going to tell you what it is! It's not what people expect anyway."
Instead, he's happy to plug away, admitting that despite having the same crises of confidence that all novelists seem to endure, he still enjoys the process – something which, like Parker's cases, appears to have a touch of the supernatural about it.
"I've lived with this character for 30 years and I've begun to see the world through his eyes," laughs Connolly. "I don't know how it works, but I'm glad it does."
Top image: Mark Condren