A Conversation with James Patterson at Theakston Old Peculier Crime Writing Festival, 2019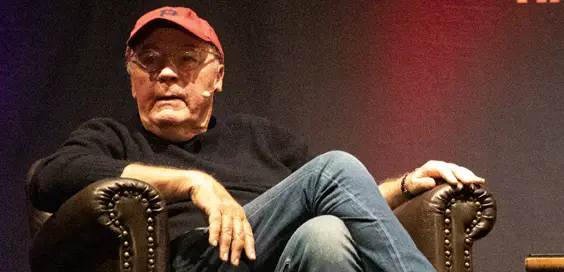 By Sarah Morgan
He's worked in a mental hospital and as an ad man. But you're more likely to know James Patterson as one of the world's most prolific writers.
He's published more than 100 books, but there are some out there – including Stephen King – who have questioned his authorship due to the number of collaborations he's entered into over the years.
Patterson is open about his work with others. On receiving his Outstanding Achievement award at the Theakston Old Peculier Crime Writing Festival on Thursday evening, he claimed in his acceptance speech that he has a team of minions locked in his basement, churning out stories in his name.
Now he says, "No, that's accurate!"
Patterson clearly doesn't give a monkeys what other people think – why should he? He's sold more than 300 million books. What he does care about is promoting literacy, particularly among children, which has prompted him to enter into a partnership with Asda.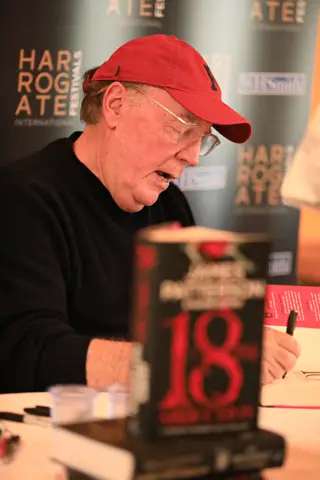 "Basically, if you go into the supermarket and buy a book, you give a book," he explains. "So if you buy one of my books, a book will be given to a family that needs one.
"It's irresistible to me, I love that they do it. I love companies that act in a responsible way. I don't get paid for it – I paid for this to happen."
"I don't write as a job, I just enjoy it"
It's not the only collaboration Patterson wants to talk about. He's currently promoting The President is Missing, a novel he's written with none other than Bill Clinton, who could clearly help out with some of the finer details.
"He's a huge reader, he reads about a book a day," says the writer of the man who was once the most powerful on Earth. "He doesn't sleep much but he remembers everything – remembering people's names is like a parlour game with him.
"We would go back and forth on the story. The main thing he supplied was the facts, what would happen in terms of the President. I think that's what makes the book special."
As for his other works, Patterson describes himself as having a "torrent of ideas", and for each book writes "a 60 to 80 page outline. One year I wrote thousands of words in drafts. It's what I like to do – I don't write as a job, I just enjoy it."
He currently has around eight projects on the boil, including books involving the estates of Einstein and Muhammad Ali.
"I prefer to write with dead people – there's less trouble!" he laughs.
images: Harrogate International Festivals