Harlan Coben in Conversation at Theakston Old Peculier Crime Writing Festival, 2019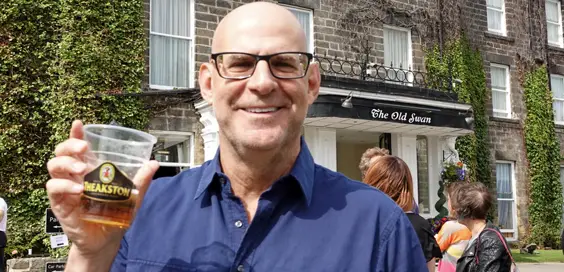 By Sarah Morgan
He's one of the best-selling writers in the world, but Harlan Coben is like many of his characters – he's running scared.
He claims there are three elements to his writing process: "Inspiration, because you have to have an idea. Perspiration, because it's hard work getting down. And, most importantly, desperation – I can't do anything else. I have no other discernible skills, so there's always that fear that if I didn't write, I'd have to get a proper job!"
It's hard to imagine the American author, who's attending Theakstons Old Peculier Crime Writing Festival in Harrogate, worrying about such matters – not when his books sell like hotcakes and there's a queue of people waiting to meet him who think he's the bees's knees. However, he doesn't take success for granted.
"I still feel lucky every day," he claims. "I get asked a lot, 'what's the downside of being a bestselling author,' and I say, 'nothing! It's great!'
"But if I take a day off, I feel guilty. My muse – the voice in my head – isn't pleasant, so I have to get on with it. I mean, a plumber can't suddenly say, 'today, I just can't do pipes!' You have to treat writing as a job."
"There's that voice in my head telling me I have to write"
Coben claims he usually starts his books by asking "what if…" about a certain set-up. For instance, the plot of his most recent work, Run Away, came to him in a very mundane way.
"I was sitting in Strawberry Fields in Central Park in New York and some busker was mangling a John Lennon song," he recalls. "I thought, 'what if I looked up and it was the daughter I hadn't seen for six months?' And that became my starting point.
"I want you to feel what that person feels, rather than it be a police procedural. I want you to put yourself in their place."
Coben is currently working on The Stranger, a TV series set in the UK which is currently filming in Manchester with a cast that includes Richard Armitage and Jennifer Saunders in her first dramatic role. But fans will be pleased to know he'll be returning to writing novels soon.
"Whenever I finish a book I think, 'that's it, no more ideas'. I put all the ideas I have into that one book, and then I've got nothing left. But what else am I going to do but write? I have nothing else in my life now my kids are grown. I have no hobbies.
"Besides, there's that voice in my head telling me I have to write. So if you have any ideas for me, let me know…"
images: Harrogate International Festivals