The Making of The Damned United
David Peace's extraordinary 2006 novel 'The Damned United' was lauded by critics on its release, described by Rick Broadbent from The Times as "probably the best novel ever written about sport." As the movie version is released, we hear from the film's major players and reveal the extraordinary transition from print to screen…
SYNOPSIS: Set in 1960s and 1970s England, The Damned United tells the confrontational and darkly humorous story of Brian Clough's doomed 44-day tenure as manager of the reigning champions of English football, Leeds United. Previously managed by his bitter rival Don Revie, and on the back of their most successful period ever as a football club, Leeds was perceived by many to represent a new aggressive and cynical style of football.
An anathema to the principled yet flamboyant Brian Clough, who had achieved astonishing success as manager of Hartlepool and Derby County building teams in his own vision with trusty lieutenant Peter Taylor. Taking the Leeds job without Taylor by his side, with a changing room full of what in his mind were still Don's boys, would lead to an unheralded examination of Clough's belligerence and brilliance over 44 days.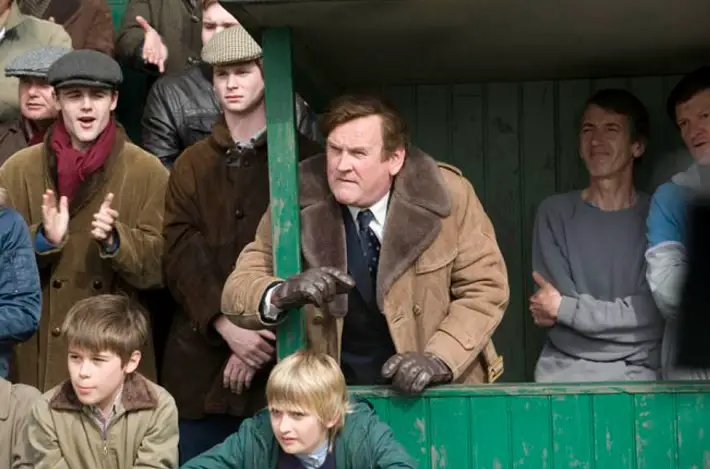 "Impudent, dynamic"
INSPIRATION: When screenwriter Peter Morgan is passed The Damned United by Brit director Stephen Frears, he devours the book in a couple of days and is invigorated by what he reads. "I felt really excited when I read what David Peace had done, I felt that another writer is on the same sort of journey as me. Really, I felt collegiate. I really felt the way he was fictionalising real events and allowing himself to write Clough like a fictional character and mix that with the careful research that he'd done, I suddenly thought wow, this really fits in with what I do, I felt very creatively connected to him."
The novel presents Peter with narrative challenges as a lot of the story is told through Brian Clough's repetitive, paranoid inner monologue. But what excites Peter and became the focus of his screenplay was the 'love triangle' between the impudent, dynamic Brian Clough, the loyal assistant Peter Taylor and the dour, superstitious but extremely successful Don Revie.
Taking the story out of Clough's head gives the chance to alter the tone and neutralise some of the criticisms that the novel has received from Clough's family and friends in inaccurately portraying Clough as a haunted, paranoid, chain-smoking obsessive man, consumed with anger.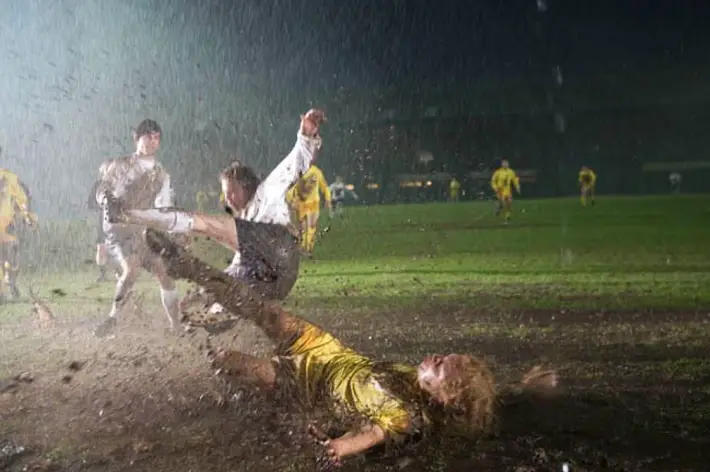 "Interior voice"
As Producer Andy Harries expands: "We needed to make a slightly different take on Brian Clough than David Peace's and I think what Peter has done is a script that is altogether lighter, it's more entertaining, but because you're not seeing the film as told through Brian Clough's mind we were able to push a lot of the darkness out."
Director Tom Hooper had just won an Emmy for Elizabeth and he was instantly attracted to the project: "I loved Peter's script. It's a great story about friendship between men at its most intense, about this incredible working partnership between Brian Clough and Peter Taylor and this compulsive rivalry with Don Revie which breaks the friendship up. You can almost see the film as a kind of love triangle between three men – Revie, Clough and Taylor.
It tells a universal story about one of our great British personalities in a way that I found completely accessible, moving and funny. Hooper goes on to explain: "The next thing I did was read David's book which is such an achievement – the interior voice of Clough that David imagined and created. It's authentic, it's powerful, it's surprising. It's Clough like you've never seen him before. Peter and I both had a real common desire to do justice to the book."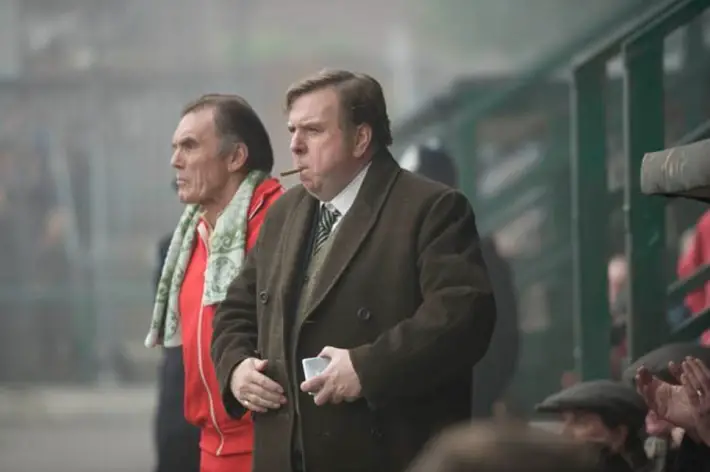 "An acute eye"
CASTING: With Michael Sheen lined up as Brian Clough who by now had revisited his role as David Frost in Ron Howard's film adaptation of Peter Morgan's Frost/Nixon, Tom Hooper and Andy Harries set out to cast the three other principal roles.
For the film to succeed and be bought by audiences and critics alike, the physical likenesses have to be as strong as possible. With a script based on real life people set in the not too distant past of which there is good deal of archive material around, there would be close inspection from all quarters when casting is announced.
Thankfully, the casting was fairly straight forward and simple. Each of the final selection being the first and obvious choice of the production team. The role of Sam Longson had been earmarked pretty much from the outset. Although out of the four principal roles there was the least amount of archive material on Longson. It was evident in the pictures and footage that there was around, that Longson bore a striking facial resemblance to Jim Broadbent. Jim had recently won a Golden Globe and TV BAFTA for his titular role in Longford for which Peter Morgan wrote the screenplay, Tom Hooper directed and Andy Harries executive produced.
It was a mere formality that Jim could work with a team that helped him produce arguably one of his finest performances. Through working on Longford with Tom, Jim is delighted to renew his working relationship with the young gifted director: "Tom's great with actors. He has a very acute eye. He watches very carefully what's going on and cares a great deal about the shot and about the performances. Which is what you want and need as an actor. It stops you slipping into the easy route."
"Sense of loyalty"
In the early days when Peter was working on the preliminary stages of the script and the production team were looking through all the archive material there was around, it was evident from the material on Peter Taylor that he bore a great deal of physical similarities to one of Britain's greatest character actors, Timothy Spall.
It was obvious that Spall "had all the qualities we were looking for Taylor. Warmth, heart, a sense of reliability and loyalty." Rounding out the casting of the four principals was Irish actor Colm Meaney. He secured the role of Clough's nemesis Don Revie. Andy Harries explains: "Colm Meaney was such a dead ringer for Don Revie it was a no-brainer. He is also a terrific actor. So the key casting was very straight forward. Once all their other commitments are sorted we are on."
CHOREOGRAPHY AT GARFORTH TOWN!: A fortnight before the shooting started open auditions for the rest of the Leeds and Derby team players were held at Garforth Town, the semi-professional football club based near Leeds, owned by the film's Football Co-ordinator and Choreographer, maverick chairman and erstwhile employer of past-it football greats Socrates and Cafu, Simon Clifford.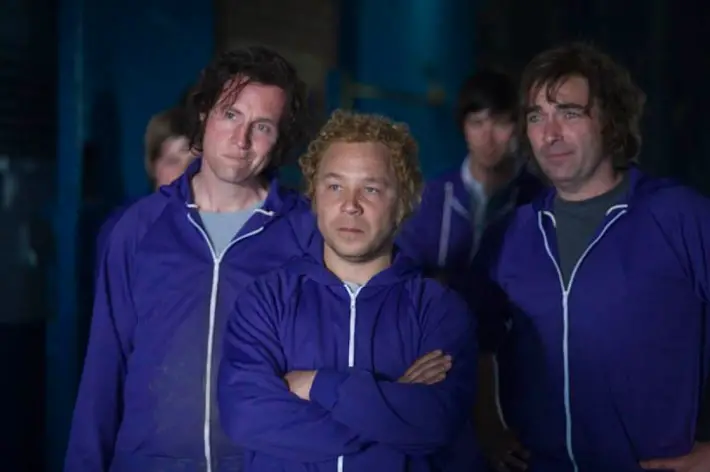 "More physical"
The key criteria to casting was twofold. An ability to play football to a sufficient standard to skillfully recreate and mimic the archive footage of the games featured in the film. Also imperative was as close a physical resemblance as possible. Gradually the parts of the legendary players are filled. Finished off by the wonderful coup of casting Stuart Gray, Leeds legend Eddie Gray's son, as his father.
All of those cast as Leeds or Derby players then went through a two week training camp. Here football choreographer Simon Clifford, who was part of Clive Woodward's set up at Southampton FC and whose previous credits as football co-ordinator on films included the hit comedy Bend It Like Beckham, took the actors and semi-pro's through their paces. He trained them up to play football, 1970's style.
Simon had immersed himself in videos and DVDs of football from the period. He notes: "Some of the movements which players use to beat opponents were not used then. It was a little bit more physical, a little more direct. If the football doesn't look right the whole film can fall flat." With the football scenes rehearsed ready for shooting, Tom Hooper and Andy Harries were making the final casting decisions for the film.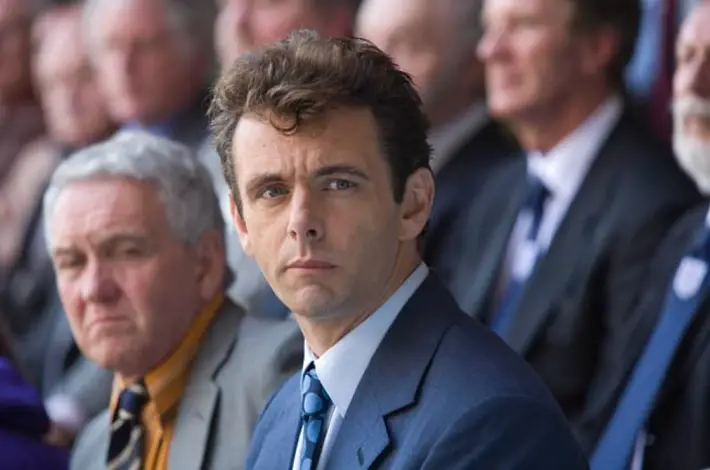 "Throes of commercialism"
ACHIEVING THAT AUTHENTIC 70's LOOK: Shooting commenced in the football close season on Sunday 25 May 2008 at Saltergate. The ground doubling as the Baseball Ground, Derby County's home ground in the 1970s. Saltergate, home of Chesterfield FC is generally regarded to be one of the oldest football league grounds still in use. It had its inauguration in 1871. Saltergate offered the production unique criteria essential for the shoot. A football pitch to re-enact all the matches on, terracing for standing supporters behind both goals which the Baseball Ground had at the time and finally, and arguably the piece de resistance, was the wonderful wood panelling. Installed in the 1960's and unaltered since then it ran through the boardroom, tea room, offices and lounge.
The main work that Eve Stewart, Production Designer and her team had to undertake at Saltergate was to replace the Chesterfield blue across the terracing, seating and stadia entrance points with a coat of dark green paint to replicate the Baseball Ground. The modern 21st century goals are replaced with period goalposts and netting. The current advertising hoardings which circle the pitch are of course removed. They are replaced with more discreet period adverts for 'Havoline' and 'Texaco'. The game was not at the full throes of commercialism as it is now. After two weeks production moved to Leeds. Utilising the current ITV Yorkshire Studios to film the two Calendar News interviews that bookend the script and film.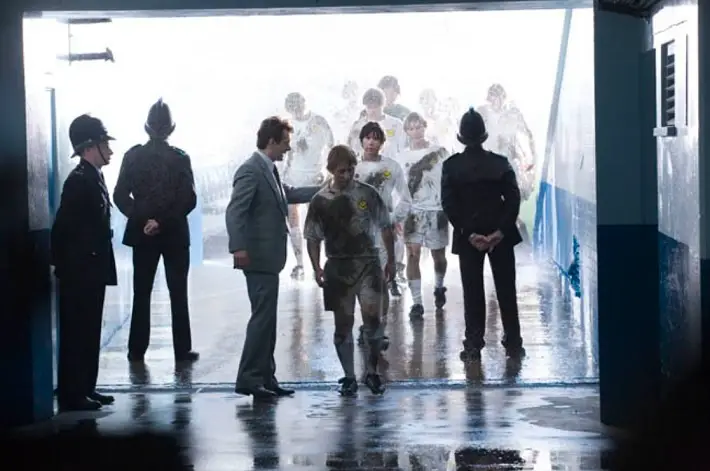 "Skilfully recreated"
In a coup for the production, Leeds United granted the use of Elland Road for the film. Elland Road, unlike Saltergate, is a stadium that during the 1990s and the advent of the Premiership saw a lot of modernisation. However the South West corner remains largely untouched. It is the original 1970's entrance to the ground, as evidenced by archive footage. Production designed and replicated the 10' x 30' Leeds United A.F.C. period signage. Then they erected it in this corner to complete the look.
A training pitch of turf is laid in the exact location where it stood in the 1970's. It is right next to the ground by the industrial estate. The only scenes that are not shot at Elland Road are the Boardroom, Players Lounge and Manager's Office. But these are skilfully recreated in a disused police station in Bradford. Carefully chosen locations in Scarborough are chosen to double as Peter Taylor's Brighton residence. Then a wonderful untouched property in Saddleworth is used as the Clough family home. The shoot culminates in Majorca where Clough and Taylor take a holiday on the Brighton Chairman's expense to ruminate over whether to take the drop down to the Third Division following their resignation from Derby County.
Filming in Majorca with a reduced crew took place over two days at Santa Ponca. The shoot wrapped on Friday 4th July 2008. The shoot length was just a couple of days shy of Brian Clough's actual reign as manager at Leeds United.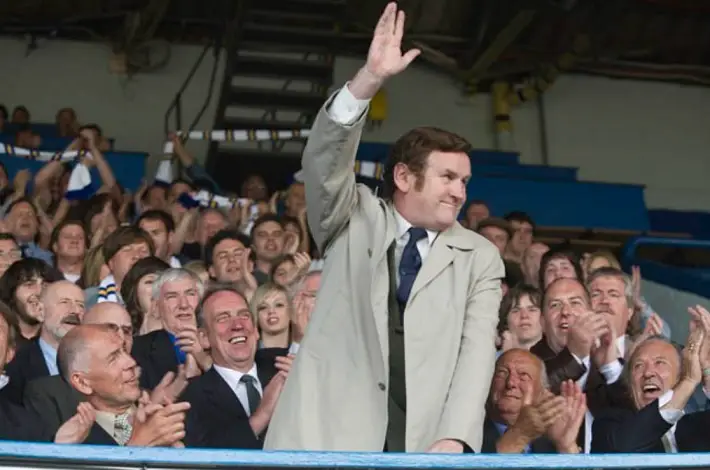 "Incredibly complex"
WHEN IS A FOOTBALL FILM NOT A FOOTBALL FILM? Criticism that football films never succeed and that you can never recreate the unscripted drama of sport are countered by producer Andy Harries. "Part of the trick is to not feature football too much. We've chosen judicious moments. We're playing a lot of it off reaction shots off Clough and Taylor. So you're watching football, you're seeing football but you're not emotionally involved in the game. You're emotionally involved in their watching it. Through their reactions you know what's happening on the pitch."
So it's a film about football. About men who live, breathe, eat, sleep, football. But yet it's not. It's about so much more than that. As Tim Spall accurately explains: "It's a very interesting exploration of ambition, single–mindedness, a sporting marriage, and a great rivalry. All these aspects which are universal."
Michael Sheen agrees: "I think the relationship between Clough and Taylor is incredibly complex. It's codependent. It's also one that changes over time. Taylor says that they were very incompatible people. That they had nothing in common other than an obsession for talking, watching, analysing and dreaming about football. But this brought them incredibly close together. Then over time that relationship changed. In that Taylor was no longer the father figure. Clough's personality, that dynamic, charismatic, firebrand kind of personality and Taylor, who was happier to sit back and not have the limelight on him but still incredibly insightful and driven as Clough – as two they locked together. They fitted together but all kind of resentments and dark moments crept into it."
"Jealousy and betrayal"
It's not an overstatement to say it's as complex as marriage. Clough's home life seems incredibly solid and secure. His wife Barbara gave him a stability, a solidity in his life. The family life, that was incredibly important to him. Even though he spent a lot of time away from them. All the fireworks seems to happen between him and Taylor"
Director Tom Hooper has the final word on how he expects the public to receive the film. "I think it's an intriguing study of one of Britain's great 20th century sporting icons. Anyone with interest in football is fascinated by Brian Clough. Anyone with no interest in football will have fascination with this great and complex man. I think it's a very moving story of friendship, jealousy and betrayal. Films exploring professional rivalry and professional jealousy are rare. But rivalry and jealousy are what everybody has to deal with in almost every job – it's a universal story."
HOW SHOULD LEEDS FANS TAKE IT? On the chin. Peace is no lover of Leeds United ('hateful, hateful place; spiteful, spiteful place'). His bitter depictions of genuinely loved players can grate. Johnny Giles took the publisher to court over his own role in the story. He won an apology and damages for the suggestion that he had been instrumental in Clough's sacking. The book is fairly unsympathetic on the football side too. But any team that boasted Giles and Eddie Gray as players can't have been all brawn and cynicism.
But taken as it should be – as a piece of fiction based on fact – there can be no denying Peace's achievement. Anyway, don't all football fans like a bit of extra legend and aura surrounding their football club? The Damned United will, like the wonderful football team it portrays, only add to the legacy of Leeds United.