North Yorkshire Water Park – Review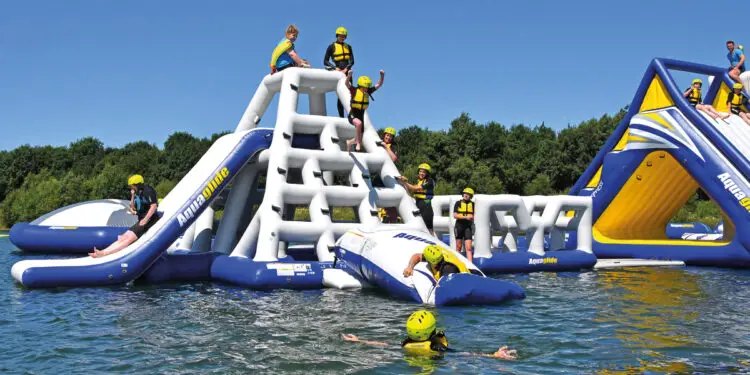 North Yorkshire Water Park is one of the largest natural, watersport lakes in Yorkshire. Located a short drive from Scarborough, the park covers 250 hectares and promises 'a range of fun-filled activities suitable for the whole family'. I decided to put this promise to the test and booked myself (45 years old), my husband (47), middle son (14) and daughter (10) in for a broad range of the activities on offer. We opted for wakeboarding, paddleboarding, the Aqua Park and the Ringo (at least two of which I had never even heard of before) from the possible list that also included pedaloes, kayaking and fishing.
It was with some degree of anticipation then, that my son and I approached the wakeboarding area and looked nervously around for the boat that I assumed would be dragging me, probably face-first and screaming, through the water. But no! No noisy, fuel-guzzling watercraft are required to pull a wakeboarder at NYWP. It is all done instead with a zip-wire across the lake. This is controlled by an instructor, who watches the wakeboarder like a hawk, and can speed up, slow down, start or stop the towing rope at the flick of a switch. Happily, this reduces the chances of being dragged face-first through the water to practically nothing, which came as welcome news!
"Whizzing across the lake"
Our instructor was a calm and fortunately very patient man named Jake, who put my son and I at ease immediately, fitting us up with our safety equipment and talking us through the techniques involved in skimming across the surface of the water at speed, feet strapped to a board. It is testament to his encouraging manner and his teaching ability that a) I got into the water to attempt it at all and b) that I actually managed to stand up.
After a few tries that ended in me taking an unceremonious dip in the lake (actually, very pleasant as the water was SO much warmer than the North Sea), I then started to get the hang of it and, to our astonishment, was soon whizzing across the lake. I can honestly say, it is the BEST fun; just the right amount of high excitement mixed with low danger! My son also got the hang of it within the session and, like me, is now desperate to get back there to do some more.
Next our kindly instructor hooked the towing line onto something called a Ringo, which is a large round inflatable vessel with very sturdy handles. We hopped on, held on for dear life and were then whooshed across the lake and back at the sort of speeds that produce enough adrenaline to last a good day or so. This is similarly an activity to be recommended for being a ridiculously enjoyable and also (for any other 45 year old mothers of teenagers out there) useful for reminding your children that you still have the capacity for adventure!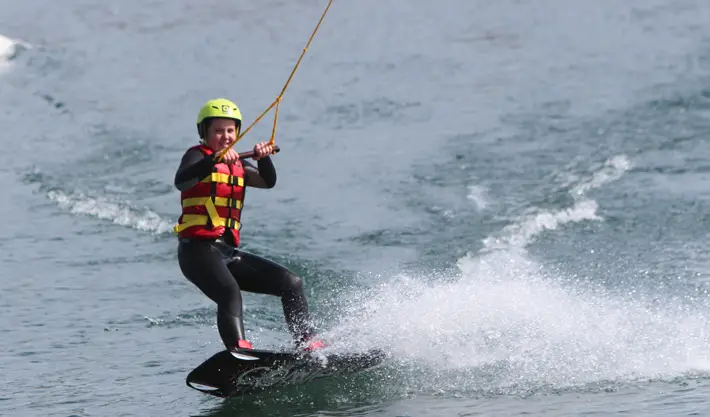 "Excellent fun"
Whilst my son and I were indulging in those high-octane pursuits, my daughter and husband enjoyed a much more sedate hour, paddleboarding on calm waters surrounded by birdsong, trees and even some damsel flies, flitting across the water.
After a break for lunch on one of the many lakeside benches, it was time to head over to the Aqua Park, a group of giant inflatables that includes various slides, monkey bars, obstacle race courses, a trampoline and a swing. After being fitted with our safety equipment and briefed about the activity, we were free to swim out to the course and start clambering around.
The added frisson of excitement is the realisation that at any point, you might (and absolutely will) fall off the equipment into the lake. It really is the most excellent fun and we all loved it. There are various designated rest points around the equipment so any group members who are getting tired during the hour-long session can have a break. It is surprisingly energetic and I can't deny that there may have been a few groans as I lifted anything heavy or climbed the stairs this week!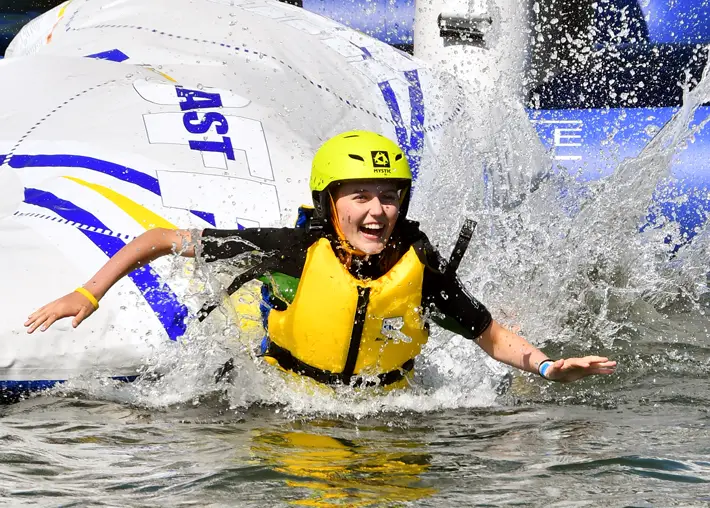 "Can-do atmosphere"
The changing facilities are clean and plentiful, and include rooms where families can change together, something I always appreciate. There is also a brand new lakeside café and I have it on very good authority that they do a splendid fry-up. The café and the 2.5 km all-terrain gravelled track around the lake can be enjoyed by strollers, cyclists and joggers, as well as anybody else wanting to make the most of the beautiful surroundings.
We had a wonderful day at NYWP; it felt like a holiday which, let's face it, we could all do with right now. The staff are helpful and enthusiastic, and there is a really positive, can-do atmosphere pervading the whole place.
I am also happy to confirm that there is indeed 'a range of fun-filled activities suitable for the whole family'! We each had a fantastic time (despite the variety in our ages and capacity for adventure) and we can't wait to return as soon as possible.
North Yorkshire Water Park, Wykeham Lakes, Long Causeway Road, Wykeham, Scarborough, YO13 9QU
Opening Times:
The Water Park is open daily 8am – 8pm. Activity times vary and are confirmed when booked.
01723 865 052
For the full range of prices visit: northyorkshirewaterpark.co.uk