Peschiera del Garda, Italy – Travel Review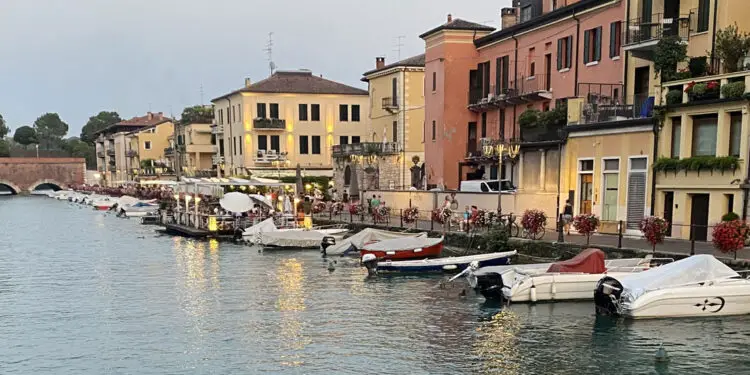 By Richard Jones
The smartly striped-clad gondolier team were in complete tandem (perfectly social distanced), elegantly poling their way along the clear waters of the Fiume Mincio. As hot sun set on our final night in Italy, the four of us toasted what had been a very special and, in many ways, unexpected, family holiday.
Since March, any planned breaks had been cancelled one by one, and we were resigned to not going on holiday, especially abroad, in 2020. However, a fortnight ago, my wife Rachel and I made one last desperate attempt to get away.
With everything going on, we thought it best to take out daughters Isla, 13, and Evelyn, nine, to a place we know well – Peschiera del Garda.
Back in the spring, Northern Italy was one of the areas hit hardest by Covid-19, but following a full-scale lockdown, it has thankfully recovered with tourism cautiously returning. But despite that, there was still some apprehension ahead of our trip.
"We found travelling simple and straightforward"
What was foreign travel like in the middle of a global pandemic? And would this postcard-perfect town on the shimmering shores of the lake be just as beautiful and relaxing, even with virus restrictions in place?
First, we had to fly to Verona, and although schedules to Italy are still running, we had a long drive south to Stansted before boarding a Ryanair plane. Once in the terminal, face masks are mandatory, but other than that we found travelling simple and straightforward.
The gates were quieter than you would normally expect, and when we boarded on the aircraft itself, we each had a row to ourselves. Passengers should be aware that various forms need to be completed before flying, so I'd strongly advise checking the FCO website for details.
Once we arrived in Verona (30 minutes ahead of schedule), we had pre-booked a taxi for about €50 to take us to our lodgings for the week. On our last visit to the Parc Hotel Paradiso resort five years ago, Evelyn was just a toddler, so we were looking forward to enjoying a much more active stay this time around.
"Second nature for Italians to wear face masks"
Paradiso's extensive grounds, which include a spa, golf course, football pitches, tennis courts and 10 swimming pools are amazing for sports enthusiasts. Food and drink-wise, most services are also back up and running – its Pizza & Pasta restaurant is open all day, and the bar at the Laguna Beach pool is also serving drinks and snacks.
Most main meals are served in the Leonardo da Vinci restaurant, which operates a buffet-style system, with friendly staff serving salads, pasta, meats and desserts from behind Perspex screens. It seems to be second nature for Italians to wear face masks indoors nowadays, and that includes walking around the restaurant before removing them to eat and drink.
Although the Paradiso resort was just as enchanting as we had remembered, we did have a few gripes – some down to virus restrictions, but others more avoidable. We were guests on a half-board basis, and with the on-site mini-market closed, it was a struggle getting hold of bottled water or snacks without paying through the nose at the bar. If you are offered their all-inclusive wristband option (which we weren't), snap it up and snap it on.
"Bustling with visitors"
In addition, teenager Isla is a competitive swimmer, and as UK authorities continue to drag their heels reopening pools, we had pinned our hopes on her doing some training during the trip. However, after we arrived, we were told that Verona's Serie A football team had block-booked the Sporting Center, making its 'Olympic' pool out of bounds.
The indoor pool at the Active Hotel was also closed, meaning Isla had to fit in her daily water-based routines around the sun-seeking holidaymakers in the leisure pools.
Finally, although our room was clean and comfortable, the air conditioning was switched off throughout the hotel, meaning hot and sticky nights in temperatures in excess of 30-degrees Celsius. A fan would have provided respite.
Halfway through the week, we got tickets for another place we know well – Caneva World water park – and again saw evidence that things were getting back to normal.
The popular park was bustling with visitors and it was a thrill taking the girls on white-knuckle water rides such as Typhoon, Frozen Bob and Stukas Boom – something I didn't think would be possible again in 2020.
"Elegant promenade"
To round off an amazing day at Caneva World, we stopped by at their new restaurant. Safari Pizza offers unlimited pizza delivered to your table and drinks for a bargain €18.99 (adults) and €8.99 (children), all within the setting of an African savannah surrounded by model animals, props and sound effects.
On most days during the week, we used the hotel's free shuttle bus to explore Peschiera, the fourth largest town dotted along the shores of the stunning lake. On market day, its cobbled lanes are flooded with shoppers, but with temperatures soaring, the pebbly beaches of Cappuccini, Bergamini and Fornaci along the elegant promenade were the place to be. For 10 euros you can book a pedalo with a slide for an hour, and have the refreshing deeper waters to yourself – aside from the odd duck or swan.
If you are feeling even more adventurous, the Navigazione Laghi ferry runs every couple of hours from Peschiera and is a great way to see the other stunning but very different towns and villages on the lake, whether it be wine-lovers' favourite Bardolino, or Malcesine, home of the famous medieval castle and tower.
On our previous visit to Peschiera, we dined at Vecchio Mulino Beach, a unique street food-style eatery owned by Fabio Gambini and his partner Pamela. The place rightly has a reputation as one of the best restaurants on the lake, and its success, tied in with the couple's thriving SUP business, has led them to open the upscale Raffilù in the town centre.
"A memorable week"
The attention to detail here is astounding – each meal begins with a slab of crusty Fortress bread made from a special military recipe dating back to the early 19th century. The four us sat down by the Fiume Mincio to enjoy Sound Spritz watermelon coolers and East Lago Fizz cocktails, Italian cold-cut meats, smoked olives, lakefish pasta Bolognese and slowly cooked beef tenderloin and duck.
The presentation and taste were exquisite, while the imagination on the dessert menu was something else. Isla and Evelyn devoured the chocolate mousse served in miniature bathtubs, while I joined in with tiramisu, served in a plant pot with chocolate 'soil'.
It was a marvellous end to what had been a memorable week in one of our favourite parts of the world.
For those looking to book a late foreign getaway this year, I'd recommend jetting off to Italy and staying on the shores of its largest lake. In these uncertain times, it was reassuring to see everything in the Garda is rosy.
To book a stay at the four-star Parc Hotel Paradiso and Golf Resort in Peschiera on Lake Garda, visit parchotelpeschiera.it.
For more information on Caneva World water park and Safari Pizza restaurant, see canevaworld.it.
Navigazione Laghi ferry times and prices can be found at navigazionelaghi.it.
To contact Raffilù and Vecchio Mulino Beach regarding restaurant reservations, as well as SUP tours and rentals, visit vecchiomulinobeach.com.