The Queens Hotel, Leeds – Review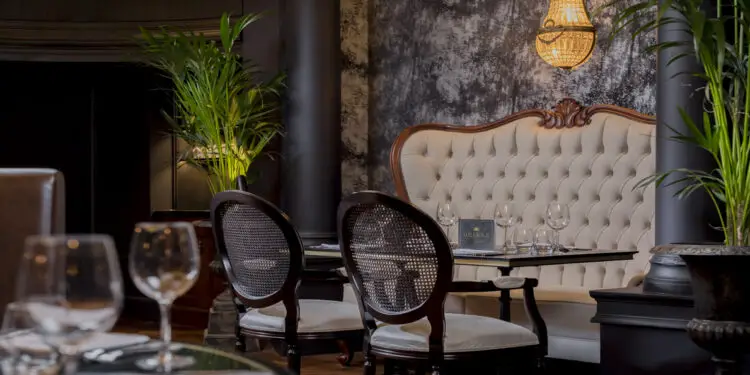 By Rachel Howard
Most cities have a flagship hotel – usually one that has been part of the cityscape for many years, is centrally located and is towards the upper end of the star-rating system. For Leeds, that hotel has always been The Queens, but when I last visited about seven years ago, I was disappointed to find standards had slipped. The decor was becoming tired, the food was hit-and-miss, and I really thought its days as a prominent landmark were numbered.
However, I was thrilled to learn of a recent £16million refurbishment, so I excitedly jump on a train and pop along to see how the money has been spent and if it is enough to get this establishment back into the top spot.
Situated right next to the train station, the hotel dates back to 1937 and has all the grandeur you would expect from a building of that time. The facade is currently disguised under a huge amount of scaffolding, but I have no doubt that once that's removed it will be an imposing yet welcoming sight for weary travellers and tourists alike.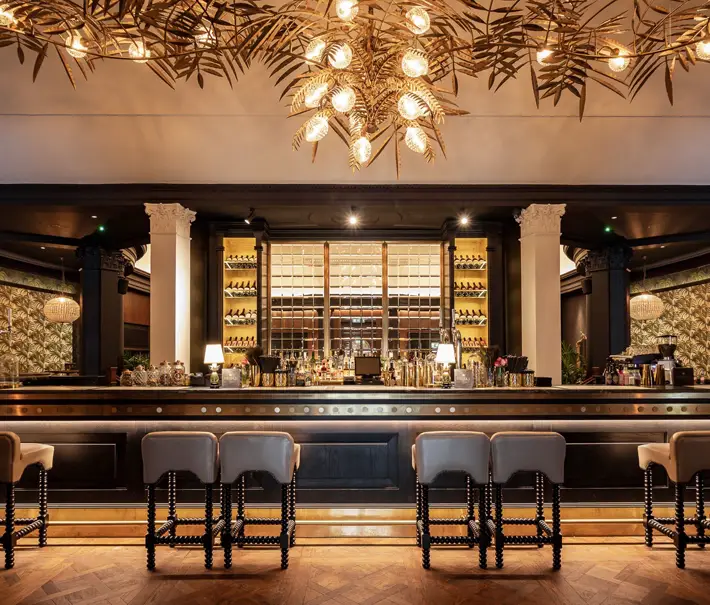 "Fantastic mix"
The Queens will forever be known for its Art Deco style interior, and I was concerned that this would have been lost in the refurb, but I needn't have worried. On arrival in the foyer, I am pleased to see that alongside the luxe and incredibly high-end design, there are fragments of the original Queens still intact – the famous red lifts being one.
I must admit, from the moment I walk in, I am staggered by the standard of this refurbishment. A fantastic mix of traditional and modern style greets customers as they walk in, accompanied by a heavenly spa-like scent that wafts through the hotel – if only you could bottle it!
We are welcomed to the Queens by one of the friendliest doormen I have encountered, who quickly makes us feel right at home and extra special. Even though we are early, our room is ready, so after a quick coffee in the hotel's reception area Cafe Pacific (full marks for not only a superb coffee but also excellent service), we head up to the 7th floor to our deluxe family room.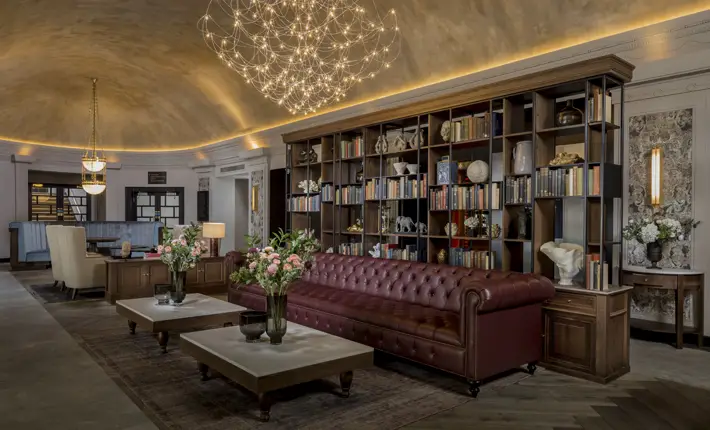 My friend Claire and I are in Leeds on a belated birthday getaway and this room fits us down to the ground. Two enormous double beds promise the perfect night's sleep, a large dressing table, Nespresso coffee machine, mini bar, robes and a fabulous Art Deco style bathroom with huge shower allow us to get ready for the day/night ahead in total luxury, and gives us all the space we could need. As well as catering for families, this room would also be perfect for four friends to share, which can be a rarity in many hotels. Being on the 7th floor, we have a great view of the city and over to the West Yorkshire hills in the distance. To say we're happy with our lot for the night would be an understatement.
Being centrally located, staying at the Queens means guests can walk to the Trinity Centre in just three minutes, Leeds Art Gallery in six minutes and even Leeds Arena is only about a 15min stroll. The city's numerous bars and restaurants are right on the doorstep so even in the depths of winter, everything is easily accessible. But let's face it, when a hotel is this good, it's incredibly tempting to stay put and enjoy the amenities on site.
Claire and I decide to drag ourselves away from the luxury of our room to have a wander around the shops and a few drinks in a couple of the many rooftop bars that are popping up around the city. The late summer sun is beating down and looking out over the city's beautiful buildings, with a cocktail in hand, really takes some beating.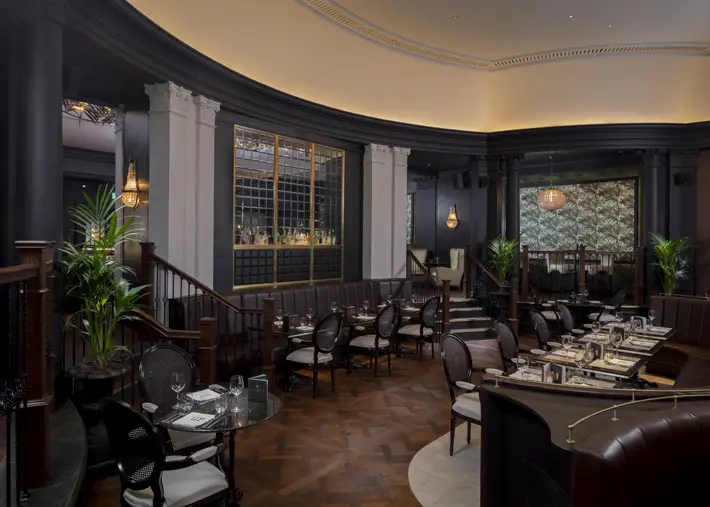 "Lively atmosphere"
But it's not long before we feel the pull of the Queens and decide to head back to try out the hotel's new Grand Pacific restaurant and bar. Designed to be an homage to the golden age of high society, the restaurant and bar area have been completely transformed into a sumptuous, exotic retreat from everyday life. Alongside the opulent, dark and mysterious decor, there is an Eastern twist that is reflected in the menu. There is a lively atmosphere in the restaurant, music plays in the background and we find ourselves settling in and soaking up the ambience. It's a place where you want to spend your whole evening – not just a dine and run.
As I am a meat/fish eater and Claire is a vegan, we are able to put the full menu to the test. In many establishments, we might be considered difficult to please, but not the Grand Pacific. No question is too much trouble and even when staff are not sure of the answer, they happily go to check, and are soon back with a smile.
Although the vegan options are not extensive, Claire happily opts for the wild mushroom and vegetable spring roll, served with shredded leek, chilli and ginger sauce (£5.95) followed by spiced roast cauliflower with chilli, garlic, cumin and spinach dahl (£13.50). After struggling to make a decision, I finally go for the smoked salmon fishcakes served with yuzu butter sauce and coriander (£7.50), followed by tempura Szechuan sea bass served with cucumber, sweet potato and miso (£17.95).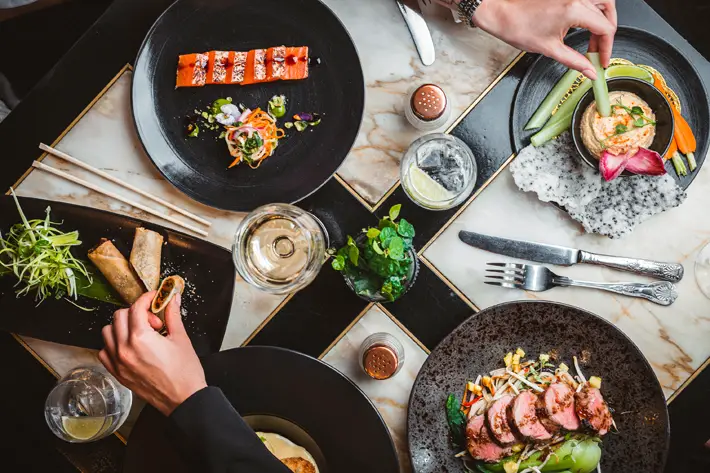 We are both seriously impressed with our dishes, they all pack a punch when it comes to flavour, and the portions are the perfect size. We are not overfaced at all, but we aren't talking tiny Michelin-style plates either. Thankfully, we both have room for dessert, with Claire choosing the vegan-friendly coconut panna cotta with exotic fruits and mango sorbet (£6.50). An impressive wobble accompanies a flavourful yet light dessert. I decide to really put the Grand Pacific to the test by choosing the chocolate fondant (£6.50). Many a restaurant has failed on a chocolate fondant – if there's no gooey, oozing chocolate sauce, I'm not a happy diner! But this one certainly passes the test – served alongside vanilla ice cream, salted caramel sauce, honeycomb and roasted peanuts, it's the perfect ending to a perfect meal. A bottle of Reisling (also vegan-friendly) goes beautifully with our chosen dishes.
The next morning we wake in our luxurious room with the only gripe of the trip – the room was incredibly hot and although there is an air-con system, the temperature had been automatically set to be far too high, with no instruction booklet available. It's a small issue in the grand scheme of things but hopefully this will be rectified for future guests, especially those staying during the summer months.
We head down to breakfast, which is located in the basement of the hotel. Again, this has benefitted from a full refurbishment and has a clean, fresh and modern, minimal feel. The service is again, great, delivered with a smile and no request too much. Although the vegan options weren't clearly listed on the breakfast menu, it turns out they have a wide selection available, allowing Claire to enjoy cereal with soy milk, a full English consisting of mushrooms, baked beans, vegan sausages, vegan hash browns, grilled tomatoes and avocado.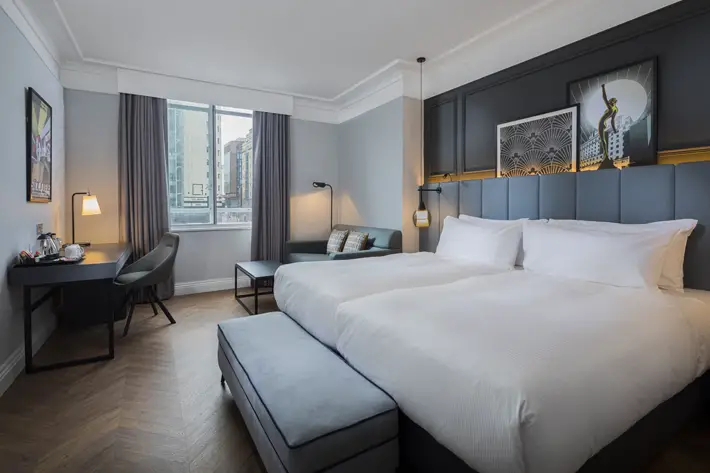 "Luxurious and sparkling"
I opt for the traditional full English – pork sausages, thick cut back bacon, grilled tomatoes, baked beans, scrambled eggs, mushrooms and hash browns. Alongside tea, coffee and toast, other options available include eggs Benedict, potato hash with poached egg, breakfast sourdough rolls, pastries, muffins, yogurt and fruit. If you can't find something to set you up for the day here, there's no hope for you!
Check out was quick and simple, and the same doorman made a point of heading over to us to ask about our stay and wish us a safe journey. You can jazz up a hotel all you like, but if the basic customer service is lacking, it won't last long.
I'm very happy to report that the Queens scores highly right across the board. £16million is certainly a lot of money, but it has definitely been money well spent here. This hotel has been transformed back to the luxurious and sparkling Queens of old. In fact, it's gone one better and has not only climbed right back into place as the city's flagship hotel, but could easily compete with some of the top hotels in London and further afield. I can't wait to return.
THE QUEENS, CITY SQUARE, LEEDS, LS1 1PJ
0113 243 1323
thequeensleeds.co.uk