Dracula: The Bloody Truth – Review – York Theatre Royal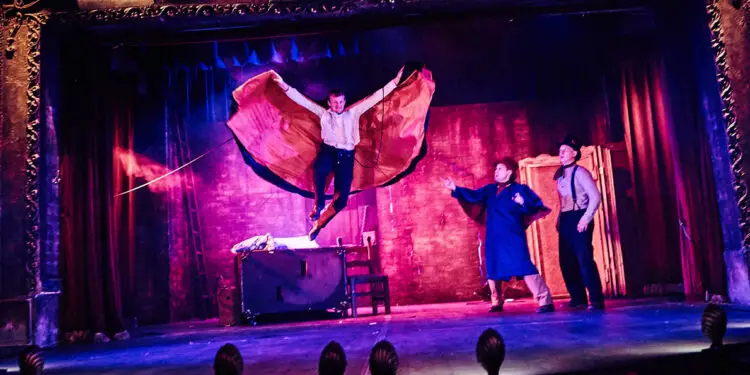 By @Roger Crow, September 2021
I'd never heard of Le Navet Bete, the so-called kings of comedy, before they brought their critically acclaimed show Dracula: The Bloody Truth to York Theatre Royal.
Since its debut in Exeter four years ago, the show has been seen by thousands around the UK.
And after being licensed worldwide, the Devon-born production has been seen in Boston, Canada, New Zealand… and now York.
Obviously as we're not that far from its spiritual home (and mine since I can't get enough of Whitby), DTBT feels part of the theatrical furniture in Yorkshire.
We, the audience, are taken on a journey across Europe, from the dark and sinister Transylvanian mountains to Whitby.
Along with Professor Abraham Van Helsing and his "three idiotic actors", they frantically try to expose the truth behind Bram Stoker's infamous novel and warn audiences about the real dangers of vampires.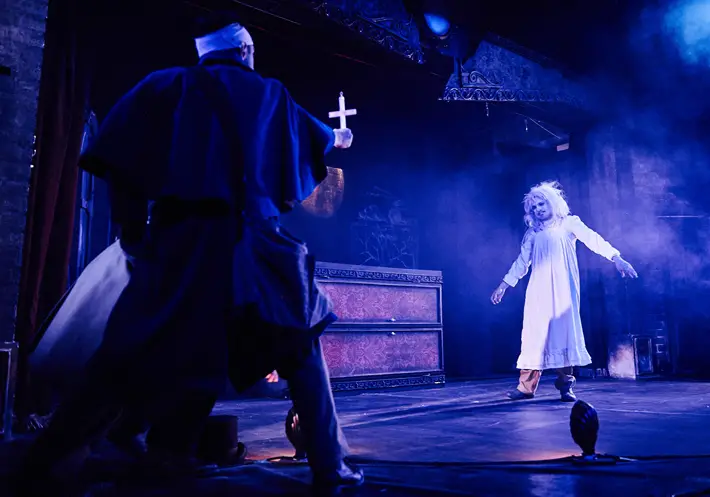 "Gloriously stupid"
So, that's the official line, but is it any good?
Well, I've probably rattled on before about GPM – gags per minute. Few films other than Airplane!, Naked Gun and select Python movies manage to generate more than a belly laugh for every minute of screen time. On stage it may be easier, but those that can achieve it, congratulations.
Safe to say the guys on stage manage it with ease as they give a fresh spin to that well-worn story. It felt like panto had come early as we settled in for an epic tale of a shape-shifting vampire, his nefarious deeds, Jonathan and Mina Harker, Van Helsing, Renfield and those characters many of us have seen interpreted countless times over the years.
As much as I love great drama on stage, and a foot-tapping musical, you can't beat a gloriously stupid comedy with pratfalls, double entendres and slapstick.
Though it is a comedy for all ages, some of the gags may fly over the heads of younger viewers. (The enunciation of Seward as C-word was the gag that kept on giving).
And kudos to the creatives for some impressive moments. When the proscenium arch on the actual stage falls apart, it's a masterpiece of destruction.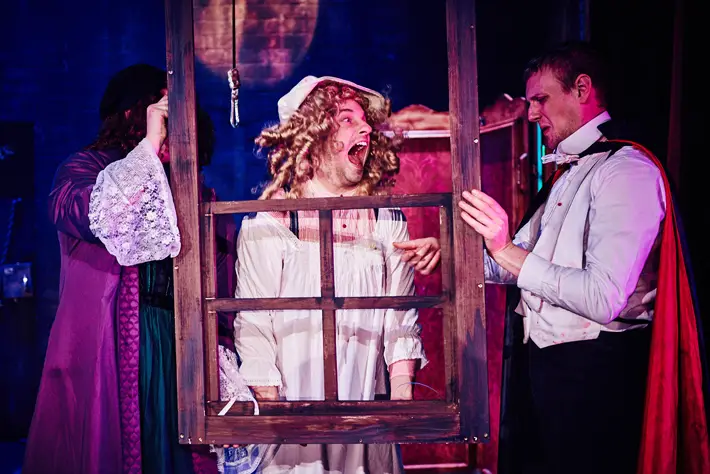 "Full-blooded"
There are achingly silly moments; an unforgettable Renfield, who's up there with the best of the stage performances (and that includes the lengthy am dram version I saw in Howden circa 1995), and the best use of a rocking horse in any stage version of Dracula.
A shame it's not in town longer because this full-blooded, laugh-a-minute Stokerfest deserves to be seen by everyone who loves sublimely stupid comedy.
Yes, there will be comparisons with the equally riotous The Play That Goes Wrong, but I probably laughed as much at this as I did at that other comedic masterpiece.
Some alleged spoofs can be a pain in the neck, but this will leave your ribs well and truly tickled.
In short: Bloody hilarious.