The Chester Residence, Edinburgh – Hotel Review
The Chester Residence, Edinburgh
Hotel Review
by Roger Crow
"A series of chic townhouse apartments set in Edinburgh's west end…" promises the blurb for The Chester Residence. It's my home for around 18 hours while I'm in the city catching up with friends, and though the photos and copy promises much, I'm so used to hotels not living up to the hype that I'm wary.
First, a little context. My partner and I have just walked a few miles on a fascinating Harry Potter tour of the city. (Sadly levitating broomsticks were not provided, though wands were). We then dragged our luggage a few more miles to the hotel on a gorgeous Saturday. With sore feet, tempers are more frayed than cut-off jeans, and we're expecting to be let down.
That said, a little exercise before crashing is one of those subconscious things. I like to earn my hotel. And we've certainly earned the right to stay at The Chester Residence for the night.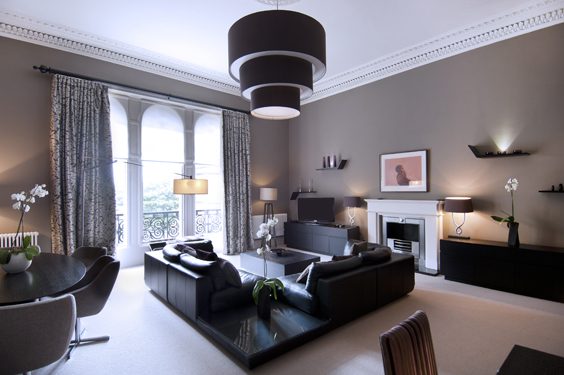 "Behind every door is a revelation"
The place does not disappoint. Megan, the excellent check-in clerk, ensures we're not kept waiting, and as she mentions there are several high end apartments in the vicinity, my heart sinks when I think we'll have to travel any further.
Thankfully our room is at the top of the stairs from reception, and it's extraordinary.
The hallway reveals a series of stylish but identical fire doors, so naturally they all close immediately for maximum safety. Needless to say first time visitors can lose their bearings instantly. 'Which is the kitchen, which is the lounge?' Could be any of them, but that's also half the joy, because behind every door is a revelation.
The stylish kitchen overlooks a charming courtyard. It boasts all mod cons, including a posh coffee maker, convection hob, microwave, dishwasher and fridge. All you need to rustle up a meal or just make a snack, and clean up after. It has everything AND the kitchen sink.
"A tribute to the interior designers"
The bedroom is also beautifully decorated, and the bed itself is a dream. Superbly comfortable, while shutters on the windows ensure we get a good night's sleep rather being woken by daylight at the crack of dawn. (It's so quiet there was no chance of being woken by noisy neighbours. Not that we had any).
Best of all is the huge living room: a stunning mix of comfy sofa, dining table, huge hi-def TV and the biggest overhead light shade I've ever seen. Just gazing at the gorgeous Victorian coving can send you into a trance over a cuppa.
It's all superbly done; nothing feels at odds with anything else. A tribute to the interior designers who worked their magic on the whole place.
After leaving a note on our door the night before, breakfast arrives dead on time the next morning, and it's also outstanding. Orange juice, cloche-covered plates of croissants, with artisan hams and cheeses ensure we feel like movie stars as we make full use of the dining table.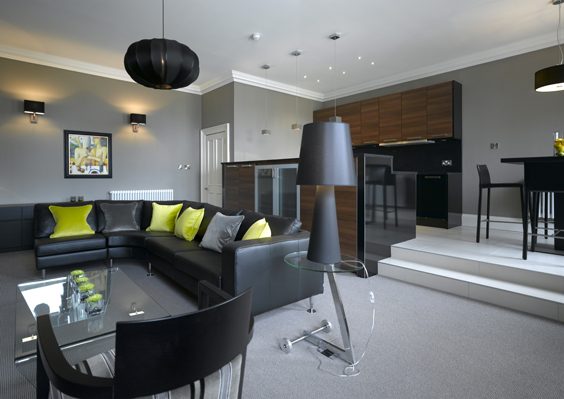 "An ache of wanting to return"
As Sunday mornings go, few things can top it.
Okay, parking can be a problem if you've not managed to secure a place outside. We parked at an NCP in town, which isn't cheap, but needs must. Next time we stay we'll ensure there's a parking space with the room.
The biggest problem is leaving so soon after we arrived. It's one of the most engaging apartments we've stayed in, and given the location, just pottering around the streets is a joy (if you're not lugging a case of course).
It's now a couple of days since we arrived back, and there's an ache of wanting to return for several days at least. It's the sort of place I'd happily rent for a few days to work on that next novel or just to chill out.
It's not exactly in the heart of the city, but that's half its charm. If you're on foot, reception will call you a taxi and for around £6-£7, you can be whisked into the key areas in no time.
Obviously prices vary on the time of year and days you stay, but given the value for money, facilities and location, it's worth every penny.
The Chester Residence, 9 Rothesay Place, Edinburgh, EH3 7SL
Apartments start from £239 per night.
0131 226 2075
chester-residence.com