Park Plaza London Waterloo – Hotel Review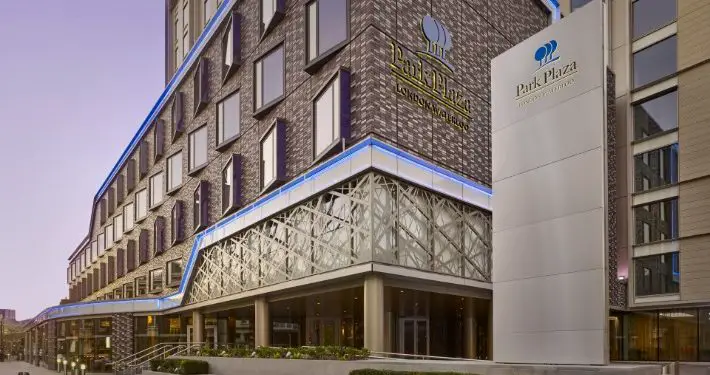 Recently, the Park Plaza hotel chain scooped the prestigious AA Large Hotel Group of the Year Award. They were recognised for constantly delighting their guests, and for a track record of delivering the very best levels of service, food and accommodation across its 11 hotels in the UK.
So when we were offered the chance to check the chain, I was looking forward to experiencing what they brought to the hotel table. And with that, my friend and I headed down to their Waterloo Bridge hotel to spend a Wednesday evening in London.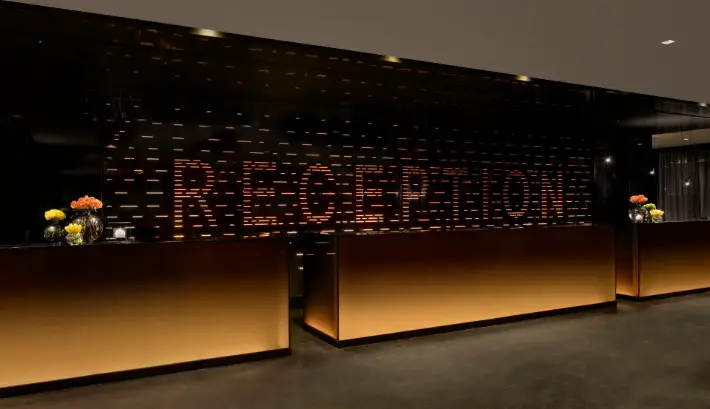 "Clean and shiny"
The Waterloo Bridge hotel is an imposing structure form the outside. You simply can't miss it, and it's a bit of a show-stopper to look at. But it was inside the place that really mattered, and reflecting that impressive exterior, the aesthetics on the inside are pretty special too. After having the door opened for you, you're in this large, very clean and shiny reception area.
The features both behind the desk and in the waiting areas are really pleasing to the eyes and straight away you know you've landed in a lovely hotel.
We'd been given a room up on the 10th floor, and thankfully there are plenty of lifts. They shift pretty quickly too, so you're unlikely to be halted on your journey up and down the building.  With lovely clean corridors, we were looking forward to seeing what was waiting for us behind the door. If it was anything like what we'd already seen, we were in for a treat.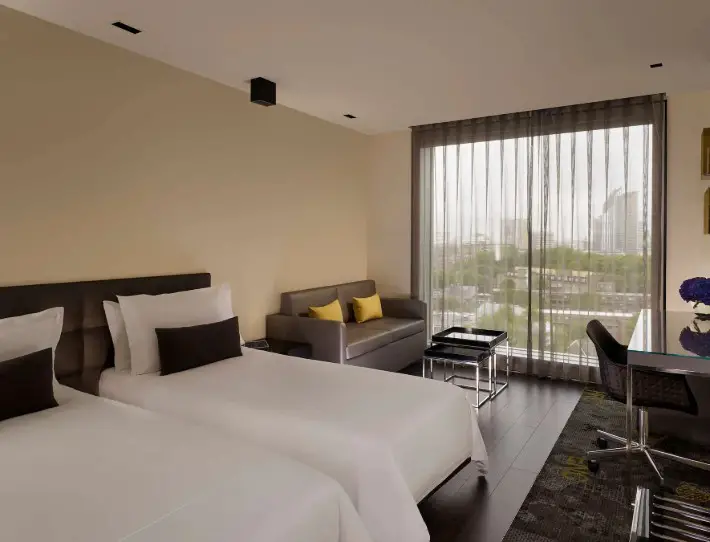 "Sophisticated modern"
And when we entered our Executive Studio, we weren't disappointed. This look they've got going on runs right the way through the hotel. Dark grey furniture, dark grey floor, white walls and white linen. Accents of yellow throughout, and this sophisticated modern vibe is nice.  The grey leather sofa was placed in the corner, to the side of the floor-to-ceiling window which offered us a great picture of the capital. You're higher up that you think, and our view out of that huge window let us just see The Shard to our left, and the skyline of London to our right.
Waiting for us was a slate of chocolate, fresh fruit and a bottle of rosé on ice. A nice touch, and a lovely welcome in to what was a luxurious base for the night. The bathroom was perfect too, with a semi open-plan feel and Elemis toiletries. A toothpaste set, a pair of dressing gowns and disposable slippers for us both made up the rest.
My friend and I couldn't lap up the comfort though. We needed to get back in to the thick of the capital, and unfortunately we needed to hurry.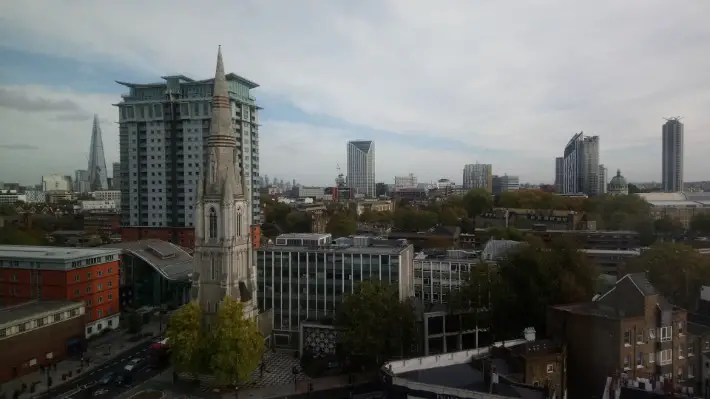 "Superb location"
The thing which didn't quite match the rest of this lovely hotel was our check-in, and its subsequent handling. We arrived at the Park Plaza, with a confirmed early check-in in hand. But unfortunately, when we got to the desk at 1pm, and despite reception speaking to housekeeping, we were dismissively told our room wasn't ready. We had to come back at 2pm. This was a disappointment, as I had made arrangements to be in Covent Garden at 2pm as a result of the confirmed early check-in. And as we were in need of showering and changing after the train ride, we needed slicker action. After a couple of conversations, differing messages and speaking to a manager, we received an apology and managed to enter our room at 1:40pm. Cue a mad-rush to get freshened up and out in to the smoke.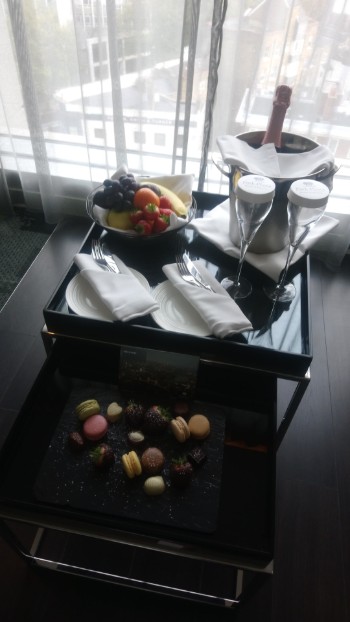 One thing that eased the check-in problem a little was the superb location we were in to access London Underground.  When you leave the Park Plaza you're less than a minute from Lambeth North tube station. Situated on the Bakerloo Line, it's a 25 minute journey from Kings Cross on arrival, and around 18 minutes to Covent Garden. So we showered (lovely shower), changed and got out to where we needed to be for about 2:45pm.
If you're here for the touristy thing though, you've got plenty on your doorstep. Big Ben, the Houses of Parliament, Imperial War Museum, National Portrait Gallery and Tate Modern are all within a mile of the door. Impressive.
"Excellent choice of accommodation"
Our day in London turned in to an evening too. We went for a lovely dinner in Covent Garden, and we headed back to the hotel briefly before we went out to the football in the evening. And it seemed like wherever we needed to go, we weren't far away. An excellent choice of accommodation.
We indulged in a few of the chocolates whilst we got ready to head out for the night, and we cracked open the rosé. It supplied us with a nice getting-ready-for-the-evening feeling, alongside some music on the TV on the wall.
Size-wise the room is decent, and a bit bigger than compact. And when two of you are getting ready or moving around, you don't bump in to each other or have to move out of each other's way.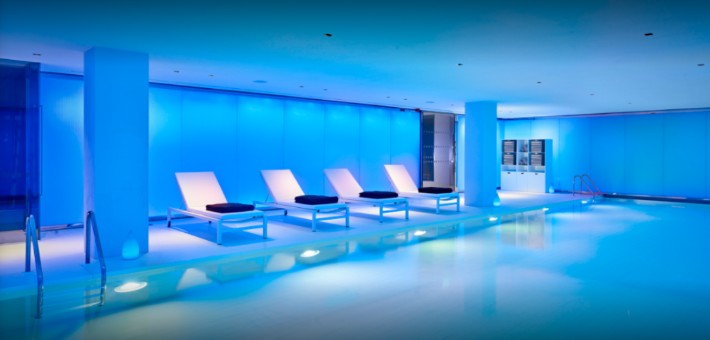 "The sleep factor? A winner"
We were out of the hotel again for a few hours, the doors always opened by the porter who was exceptionally friendly. But after a very successful football match, we said goodbye to our friends in South-West London and headed back on our 40 minute journey. We were looking forward to getting our heads down, and that was something that wasn't going to be a problem.
The sleep factor? A winner. Couldn't be better. We had twin beds, and the mattress, pillow and linen was of a really high standard. That gave us all we needed for a quality sleep. Blackout blinds helped too. I had one of my best sleeps this year.
Such a good bed can be dangerous though. Hit them when you just fancy a five minute rest and you could struggle to get back up again as you realise just what comfort you've landed on!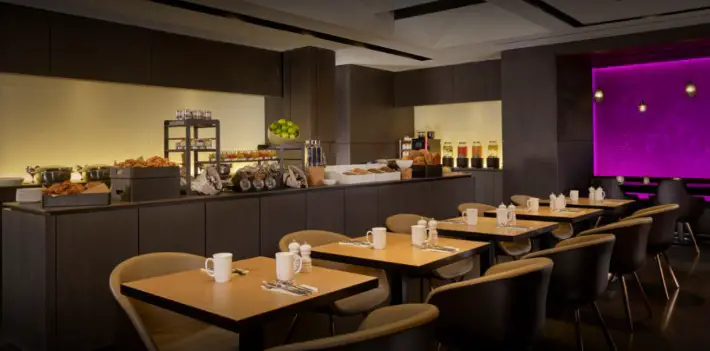 "A good, filling breakfast"
We weren't able to sample the leisure facilities of the hotel which was a shame. A one nighter away in the capital to spend with friends is always going to make a session in the gym, or a dip in the 15m pool difficult.
But we did head down for breakfast the following morning, and we were quite satisfied. The restaurant follows suit with the rest of the place in terms of look and feel, and the food on offer is a hot and cold buffet affair, with various additional paid-for options. Sausage, bacon, eggs, hash browns and beans made their way on to my plate. When I sat down to eat, the sausages were great and the hash-brown perfect. My friend took two eggs and a hash brown. It filled us nicely, and brought our stay to a nice end.
And with that, we had a bit of time to saunter back upstairs and leisurely get our things together. At Park Plaza you get a midday check out. So that gave us a lovely lie in, a good, filling breakfast, and some chill time. Just what we needed before we departed for our trains back up north. And check out was very speedy and smiley.
So, despite the check-in situation having a knock-on effect to the beginning of our trip, it didn't over-shadow a nice stay at Park Plaza London Waterloo.  A great hotel? Yes. Worthy of winning the award? Yes. Would I stay here again? Absolutely.
Park Plaza London Waterloo, Hercules House, 6 Hercules Rd, Lambeth, London SE1 7DP
The advance saver rate for the Executive Studio is £313.65 room only per night, or £335.75 with breakfast for 2 people
0333 500 6128
radissonhotels.com