High Force Hotel, Upper Teesdale – Review
By Kirsty Reid
Nestled within the North Pennines Area of Outstanding Natural Beauty lies High Force Hotel – a charming, dog-friendly country inn and the ideal spot for a rural retreat.
While friends and family faced airport chaos, my other half and I soaked up the British sun as we explored the delights of Upper Teesdale last weekend.
The hotel is part of the Raby Estate and is located a short distance from Raby Castle – the perfect pitstop to break up the two-and-a-half-hour drive from our Yorkshire home.
As we pull into the carpark we are in awe of the great fortress. Raby is referred to as 'one of England's finest medieval castles' – a statement that is hard to disagree with.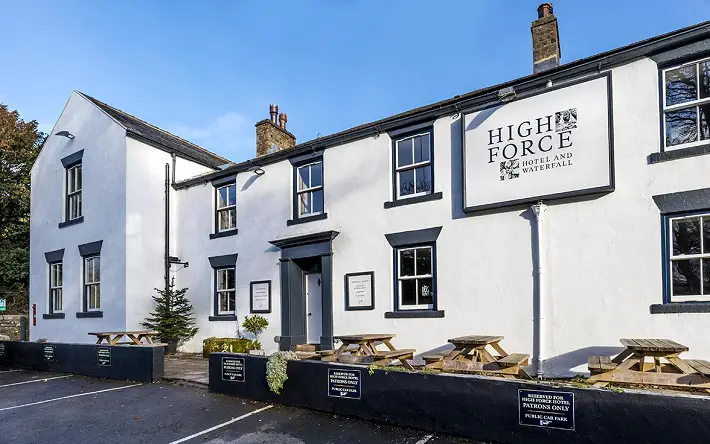 "Impressive"
Opting for Castle & Deer Park tickets (adult £10.50), we relish in the opportunity to tour the historic building. Boasting an impressive collection of paintings and artefacts, we learn about the castle's fascinating history from friendly, informative guides.
Outside is equally impressive, with 200 acres of green parkland surrounding the Grade I-listed building. After swotting up on our history, we amble around the grounds, where wild red and fallow deer roam. It's nice to be out and about in nature, and I delight in spotting an albino deer, which are apparently rare.
A quick visit to the Yurt Café for a sandwich and cream tea and we are on our way to the hotel.
High Force's website promises a 'warm welcome' and it doesn't disappoint. The inn oozes country charm and staff greet us with a smile.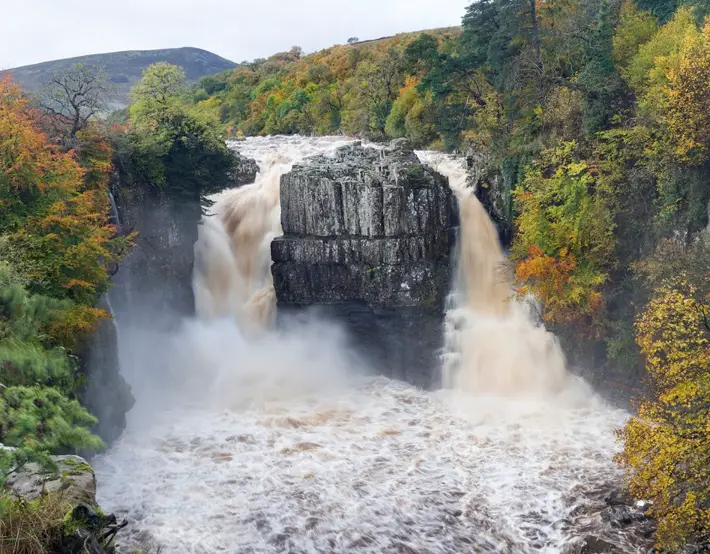 "Bedroom is a haven"
With the hotel carpark full, we're advised we can use the pay-and-display carpark free of charge. We're off to a good start!
Guests staying at the inn receive complimentary tickets to High Force Waterfall, from which the hotel takes its name. As we've arrived early, and our room isn't quite ready, we decide to check it out.
Previously named one of the Top 10 most Instagrammable locations in Durham, High Force Waterfall is located just a stone's throw from the hotel. A gently sloping path leads us to the awe-inspiring 21-metre drop waterfall. After taking a few pictures (for the 'gram, of course!), we follow the woodland trail and loop back towards the hotel.
We enjoy a tipple in the beer garden, before checking into our room – a deluxe king. The hotel has 10 individually designed en-suite bedrooms, and I imagine each are as stunning as ours. Flooded with natural light, the bedroom is a haven of calm as the scent of a Temple Spa diffuser fills the air. A panelled entrance leads to a classic en-suite, stocked with Temple Spa toiletries, then onto a plush bedroom.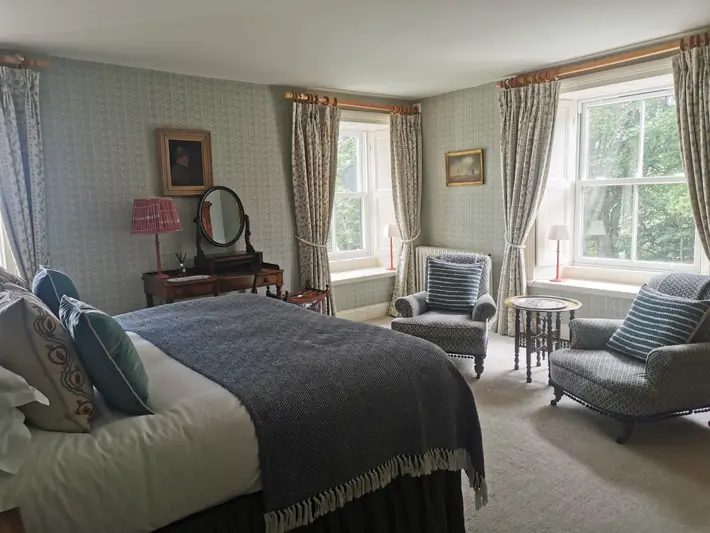 "Spoilt for choice"
In place of a ceiling light, lamps are dotted around the room to create a cosy ambience, while large windows offer a glimpse of the distant rolling countryside. It's clear that the interior design has been well-thought out, with carefully-chosen contemporary pieces complementing Victorian furniture.
With no TV or kettle in sight, you'd be forgiven for thinking this is a technology-free room. Instead, these – along with a hairdryer and coffee machine – are discreetly tucked away inside a Victorian wardrobe, so as not to tarnish the room's allure. Keen to see more of what the hotel has to offer, we head downstairs for dinner.
The inn has ample choice for dining – from the bar and restaurant to the snug. Taking our seats in the restaurant, we find ourselves spoilt for choice with the menu, and order drinks to buy us more time.
Dark panelling, rugs and mood lighting are in keeping with the hotel's traditional style. The fact that Lady Barnard, the current custodian of Raby Castle with Lord Barnard, was involved in the restaurant's interior design speaks volumes.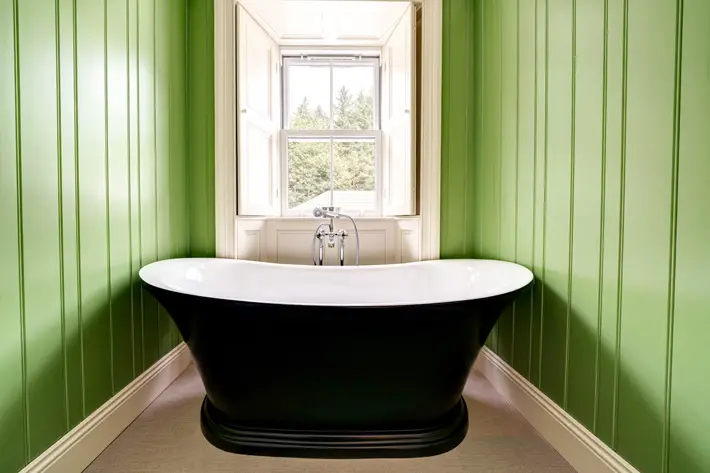 "Scrumptious"
After much deliberation, I opt for the Goats' Cheese Salad (£9), served with peas, mint and cous cous (in place of pearl barley). It's a decent-size portion for a starter, and tastes delicious. I especially liked the addition of the mint – that's not something I've ever had with goats' cheese. My Griddled Chicken Burger (£16) came with skin-on fries, red cabbage 'slaw and chipotle mayo. Cooked to perfection, the chicken was supple and flavoursome, and the 'slaw complemented it well.
My partner sampled the Soup of the Day (£8) – which was pea and tomato. It's an unusual combination, but it works. Thick and creamy, it's served with warm, crusty bread. Just the fuel you need after a day of exploring.
For his main, he decides on Roast Chicken and Forest Mushroom Pie (£17), which came with hand-cut chips, seasonal vegetables and gravy. Another faultless meal, the hand-cut chips in particular were a big hit.
Though full from our mains, we had to sample the scrumptious-sounding desserts, it'd be rude not to!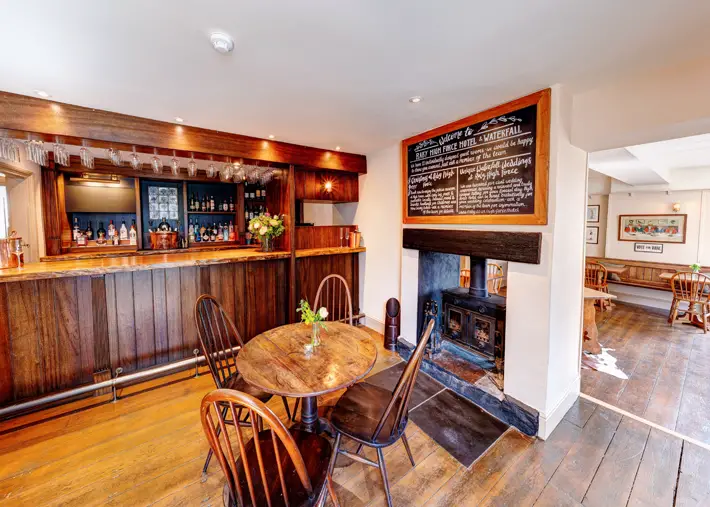 "Perfection"
I'm torn between Sticky Toffee Pudding, Strawberry Cheesecake and Raspberry Posset, but eventually settle on the Strawberry Cheesecake (£6.50), while my other half opts for Ice Cream Sundae (£8), with vanilla, strawberry and salted caramel ice cream, topped with whipped cream, syrup and a wafer biscuit. Both are divine!
Breakfast the next day is just as enjoyable. Whether you fancy continental or a full-English, there's plenty on offer. We both opt for poached egg on toast, the eggs are cooked to perfection.
Well rested and well fed, we're ready to venture on home, albeit with a heavy heart!
With home-cooked food, friendly staff and a country charm, High Force Hotel is a hidden gem and the perfect base from which to explore. We'll certainly be returning in the not-too-distant future to see what else the county has to offer – and sample more of High Force's delicious desserts!
Prices: From £119 for a cosy double and £157 for a classic double
Address: High Force Hotel, Alston Rd, Forest-in-Teesdale, Co. Durham, DL12 0XH
Contact: 01833 622336 or highforcehotel@raby.co.uk
Dogs are welcome
raby.co.uk/high-force