Along For The Ryde – Enjoying Golf in Italy and Much More
By Richard Jones
As well as being renowned for its rich history, vibrant culture and breathtaking landscapes, Italy is also becoming an increasingly popular destination for golfing holidays.
Its mild climate makes it possible to play all year round, while it is also home to world-class golf courses, including some designed by the likes of Jack Nicklaus, Arnold Palmer and Robert Trent Jones.
Less crowded with very acceptable green fees, they are also within easy reach of major cities, meaning travellers can enjoy the best of both worlds – golf and rich culture.
If the Ryder Cup inspires you to book an Italian golfing holiday, prepare well at tell me more golf, then take a look these six hotspots.
The Marco Simone Golf and Country Club
Located in the captivating region of Guidonia Montecelio, just outside Rome, the host venue for the 44th Ryder Cup is no stranger to hosting prestigious golf events, having previously staged the Italian Open. With its meticulously designed fairways, challenging greens and breathtaking views, this stunning 27-hole championship course provides the perfect setting for a golfing spectacle, and it is an exceptional destination for both golf aficionados and those seeking a tranquil retreat. They say Rome wasn't built in a day, and it can barely be seen in a week. But a short city break to the Eternal City will give you enough time to see its highlights, including must-see mega-attractions including the Colosseum, the Sistine Chapel and the Trevi Fountain.
Arzaga Golf
Situated in the breathtaking Lombardy region of Italy, Arzaga Golf harmonises natural beauty with exceptional golfing facilities. This prestigious resort features two championship courses designed by renowned architects Jack Nicklaus II and Gary Player, nestled amid rolling hills, picturesque lakes, and lush greenery. And the resort's amenities extend beyond golf, with luxurious accommodations, a spa, a fitness centre and gourmet dining options. While you're in the heart of Lombardy, head to Milan, the trendsetting city that continues to be in fashion. Start out by admiring the spectacular Gothic Duomo cathedral, before feasting your eyes on DaVinci's Last Supper at the Pinacoteca di Brera and witnessing a shopping arcade on a grand scale at the Galleria Vittorio Emanuele II, known as 'Milan's drawing room'.
Castello di Spessa Golf & Country Resort
Nestled amidst the enchanting landscape of Friuli Venezia Giulia in northeastern Italy, Castello di Spessa Golf & Country Club showcases a magnificent 13th-century castle, and is surrounded by lush vineyards and rolling hills. The meticulously designed 18-hole golf course, crafted by renowned architect Michael Hurdzan, challenges players with its strategic layout and breathtaking vistas. After a round of golf, guests can indulge in the region's culinary delights at the club's exquisite restaurant. During a day trip to Venice, forget the map and get lost down the side streets and find a quaint trattoria where you can dine on cicchetti with the Venetians. St Mark's Square with its terracotta clock tower, Basilica and Doge's Palace is a bucket-list must.
Golf Club Biella Le Betulle
With the awe-inspiring Biella Alps as its backdrop, this club in the Piedmont region provides golf enthusiasts with an unparalleled experience amid picturesque rolling hills, lush foliage and sweeping vistas. The carefully crafted 18-hole course, designed by Robert Trent Jones Sr, presents players with strategic challenges and following a fulfilling round, visitors can unwind and indulge in the delectable regional specialties at the club's restaurant. Just an hour's drive from the French border, the city of Turin was the hometown of the former Italian royal family and still has a regal atmosphere with its grand boulevards, sophisticated shops and museums. Architect Le Corbusier once claimed that Turin was 'the city with the most beautiful natural location in the world', and many consider it to be the home of Baroque.
Verona Golf Club
Surrounded by the rolling hills and vineyards of the Valpolicella wine region, this 18-hole course provides a serene and picturesque backdrop for golf enthusiasts. Designed by Jack Nicklaus II, it boasts strategic layouts, challenging fairways and immaculate greens, catering to players of all skill levels. Verona Golf Club is an ideal destination for both locals and visitors seeking a memorable golfing experience in the beautiful Italian city, and while you're there, explore its cobbled paths, colourful markets and amazing cafés. Verona was, of course, the inspiration and setting for not one, but three of Shakespeare's most famous plays, and it's easy to see why the Bard fell in love with the place.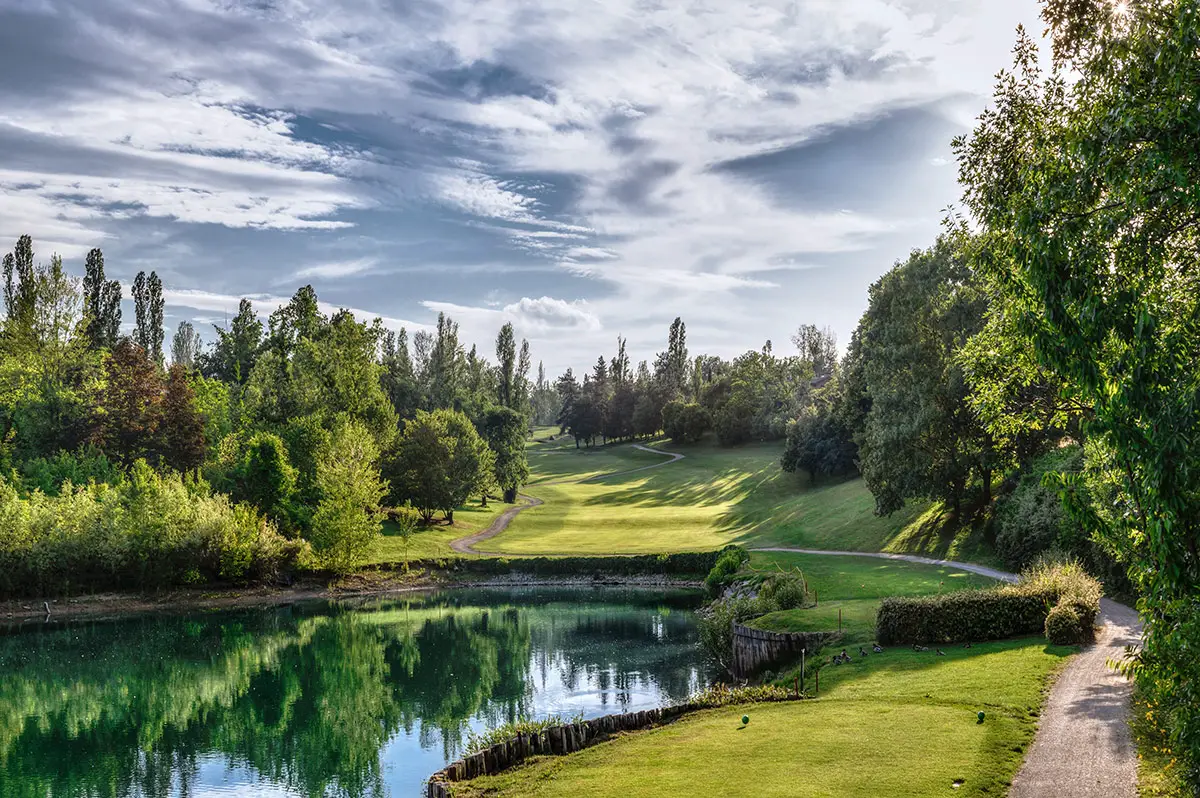 Bologna Golf Club
A combination of a classic Italian 18-hole course, established in 1959, and a picturesque retreat nestled amid breathtaking rolling countryside, Bologna Golf Club has hosted a number of prestigious events. The elegant clubhouse provides an ideal setting to savour the refined cuisine of the club's restaurant, which has earned a spot among Italy's top 10 club restaurants. Additional amenities include a summer swimming pool, a golf school, pro shop, bar and restaurant. Bologna is one of Italy's most exciting cities. Among the weaving porticoes and medieval towers, you will find spirited markets and bustling arcades. Plus, the surrounding area is the birthplace of both Ferrari and Lamborghini sports cars, as well as motorcycle makers Ducati and Maserati.
For more information on golfing holidays in Italy, go to: italia.it
Flights to Rome, Turin, Venice, Verona, Naples and Pisa, Italy, from many major UK airports available with Jet2.com