Learn More About Vegan Friendly Perfume
If you a patron and believe in the ethical treatment of animals, then you have most likely sought after cruelty-free and vegan friendly perfumes. Although sometimes underrated, vegan-friendly perfumes in fact smell just as good and are healthy for your skin.
Yet, before we claim to only use vegan-friendly perfumes, it is a good idea to fully understand their concept and to really know how to identify one. For example, just because a brand advertises not to perform animal testing, it doesn't necessarily mean that its end product is a vegan friendly perfume. Read below to further understand this concept.
What is Vegan Friendly Perfume?
A vegan friendly perfume is defined as a perfume that is made with no animal-derived ingredients. Many of these perfumes also don't integrate any animal related practices (be it cruel or non-cruel) from their production to distribution. Yet, unlike vegetarian perfumes, vegan perfumes are hardcore animal friendly. A perfume that includes honey, for example, is vegetarian but not vegan.
What Are The Common Animal Ingredients In Perfume?
There are common ingredients that easily allow you to identify perfumes that use animal ingredients. These include items such as ambergris and musk. Ambergris is a substance that is derived from whale digestive secretions. It is commonly used on both natural and artificial perfumes.
However, it is not favoured by conservationists and animal lovers because it involves the process of killing the whales to extract it. However, over recent years, alternative ways have been devised to collect ambergris through ocean waste rather than by killing the actual whales.
Musk comes from the male musk deer. It is extracted by removing their glands. It is used as a fragrance note and fixative. Civet is also extracted from animals, particularly a cat-like African animal. These animals are normally held in captivity, in a cage, for the sole purpose of extracting their secretions for perfume making.
African stone extraction is cruelty-free. Yet, because it contains products from animals, it is not considered vegan friendly. Musk is also extracted from beavers, previously killed for this purpose. Many vegans still seek animal-product-free perfumes even though their extraction process has become less cruel whilst others have been completely eradicated.
For the most part, manufacturers synthesise artificial scents to mimic those from animals to cater to a wider range of consumers, including vegans. Other manufacturers simply don't disclose the ingredients leaving an ambiguity of whether the perfume is vegan friendly or not. Thus, if you are vegan, it is always a good idea to go for well known vegan brands that are certified and disclose their ingredients.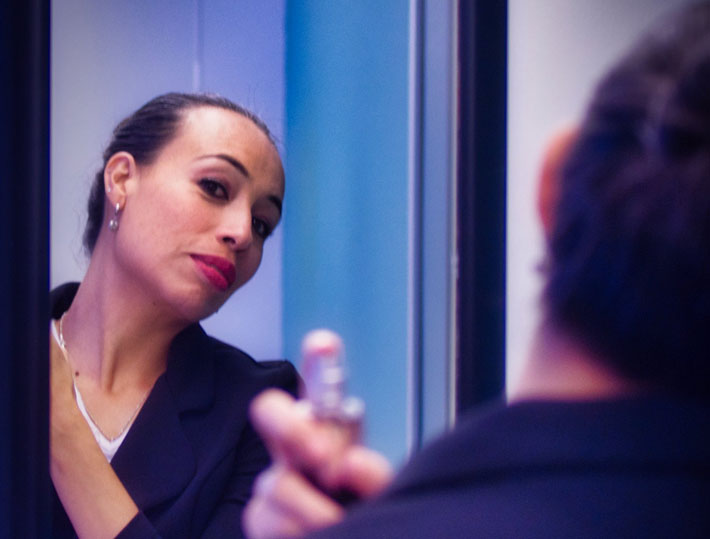 How Do I Find Vegan Friendly Perfumes?
It is not easy to identify a legitimate 100% vegan friendly perfume brand due to underlying issues of diverging information. However, some well known hardcore brands have been confirmed to be vegan friendly. Whilst some brands price only a portion of vegan friendly fragrances, others have adopted it as its policy.
The easiest way to identify a vegan friendly perfume is by first looking at its brand certifications. If it is certified by a prominent organisation such as PETA and/or Learning Bunny, then, it is most likely to be authentically vegan friendly. Look for their transparency policy on labelling and ingredients, this should also tell you a lot about the brand. Some of the common vegan friendly perfume brands include Lush, Pacifica, Terra Nova, Stella McCartney, Next and The Body shop.
Lush
The Lush brand is a celebrity on its own right when it comes to cruelty-free perfumes. The brand incorporates three key safety practices: it produces cruelty-free perfumes, it doesn't test on animal and it never purchases raw materials from companies that test on animals. The brand features a cross-section of perfumes with funky names and attractive scents ranging from floral lavender fragrances to fruity and citrusy tangerine scents.
Pacifica
Pacifica boasts a wide range of fragrance oils, sprays, mists and hair perfumes. It boasts just the right scents and packaging designs for the summer and holidays. Pacifica uses plant-based alcohol whilst their scents are derived from non-toxic, potent free ingredients. You can get anything from Indian coconut nectar to vanilla, French lilac, and creamy vetiver.
Terra Nova
The Terra Nova fragrances reflect the brand's purpose in enhancing natural beauty. The perfumes are premium plant-based, eco friendly and sustainable, all the way to their recyclable packaging. It's a conservationist's dream world. The perfume packaged in a minimalist designed bottle boasts scents ranging from Chinese lilies to white moss and clean musk.
Stella McCartney
Stella McCartney herself is a staunch vegan. She is known for animal cruelty-free practices including the exclusion of leather or fur in her fashion. So it is only natural that her brand reflects this belief. The Stella McCartney brand has a range of cruelty free and vegan friendly perfumes. The POP Bluebell housed in its bold and clean glass bottle with a purple lid is an excellent example. And it's proof that beauty doesn't have to come at the expense of the well being of other species.
CopyCat Fragrances
Copycat is a relatively new company when you compare it with the others listed here, but they're committed to not only providing vegan-friendly perfumes, but they also don't break the bank.
Next
Even the high street retailer Next has joined the movement. The retail store carries a range of its brand's own cruelty-free and vegan friendly perfumes. The best thing about their fragrance is the low cost. These budget-friendly perfumes come in a cross-section of scents ranging from floral rose and jasmine to citrusy and fruity notes of mandarin and lemon.
The Body Shop
The list is never complete without The Body Shop. A leader in vegan friendly products, it has its mists, Eau de toilettes, Eau de parfum, fragranced oils, fragranced lotions, shower gels, and other perfumed products. The brand stands to its beliefs meaning that it doesn't associate whatsoever with anything to do with animal cruelty.
The brand doesn't even sell in countries such as Mainland China that mandate animal testing before fragrances enter their markets. And the best part about them is that they have a wide range of fragrance signature scents ranging from natural coconut to jasmine and Japanese cherry blossom.