Finding The Right Playground Tower For Your School
A playground tower is a great idea for a school, providing an attractive aesthetic feature to look at, and an exciting piece of equipment that encourages your kids to get their recommended 60 minutes of exercise in every day.
Of course, it's not a small investment, even with the most reasonably priced companies, and as a school, you have to watch the pennies extremely closely too. With that in mind, it makes sense to do your research to ensure you get the perfect playground tower for your school. To help you, here are some quick and easy tips to help you find the right product for your outdoor space:
How Big Is The Available Space?
Playground towers can be as compact as a mini-bridge, and as extensive as a complete climbing frame, so there's something to suit every outdoor playground space. One thing to bear in mind is not only the size of the item you're considering, but the space needed around it to make it safe. There should be ample room for the appropriate flooring to be placed under and around the product.
If it is installed it may require a certain amount of room for concrete to be spread under the supporting sections. It should also be far enough away from fencing, buildings, or other constructions to ensure further safety levels for the children using it.
Freestanding Or Installed?
Some pieces of playground equipment are placed and are weighted and balanced to remain sturdy and safe for the children using them as long as they are used as directed. Some pieces of playground equipment require installation to ensure they are safe to use.
Both types have their pros and cons, but it is something to discuss with your play equipment provider. It needs to be discussed because it may mean your playground requires some adjustment, or preparation, before the equipment can be placed, increasing the time to completion and the potential cost, too.
How Many Children Is It For?
Some equipment is designed to accommodate a class full of children, whilst some are designed for just a handful of children. Depending on the amount of children who will be allowed to play with the tower at any one time, you'll need to choose a piece of equipment that safely accommodates those children, or consider adding more than one tower to your outdoor space.
What Age Are The Children Using The Equipment?
When it comes to usability, safety and appeal, playground equipment is designed differently depending on the age of the children.
Very young children will gain from products that are lower to the ground, such as a Dragonheart Fortress or Troll Bridge. Children who are slightly older and more developed can then enjoy larger climbing frames, leading on to full-size climbing frames and towers.
If you cater to multiple age ranges, and it is a shared playground, it is worth considering split zones for different ages (and two sets of age appropriate equipment). Alternatively, there are some pieces of equipment that work well for a wide range of children overall.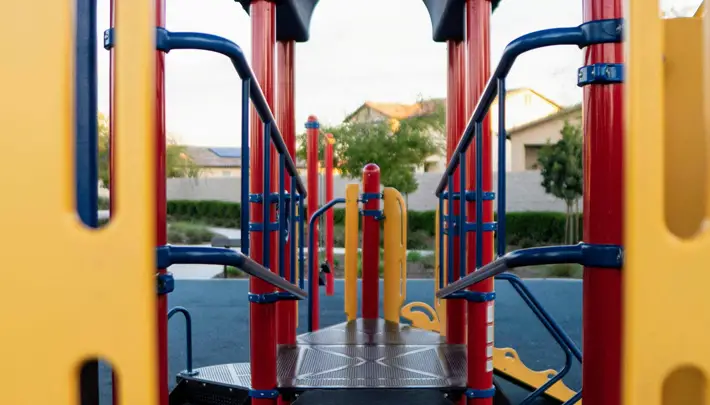 Which Design Suits Your Playground Best?
If you have a particular design in your outdoor space it is worth considering whether or not the equipment you want to buy suits that aesthetic. Usually, neutral, beautiful plain wood is the main 'look' of children's outdoor playground equipment. This is so that it goes with a wide range of outdoor spaces. Splashes of bright colour may also appear in the swings, slides and other extras on the apparatus.
Some units are more themed along the lines of pirate ships, medieval castles, forts and even Geographical locations so if you want to inspire the imagination of your pupils, this could be a great way to do it.
Durability
There are no two ways about it – this product has to last. It has to be durable and made to earn back the money spent on it. You can get an idea of its durability by enquiring about any warranty details that come with it. The length of warranty can indicate how confident the company is that the product will last.
It is also worth using a trusted and experienced playground equipment company who happily shares testimonials and other information as a matter of pride. This is a further indication that they work hard to create phenomenal products designed to last and provide pupils year after year with many break times full of fun.
Safety
Safety is paramount when it comes to any playground equipment, but particularly those that involve physical activity and height. The right playground equipment company will happily supply you with all the relevant information that lets you know they have met any relevant industry regulations and laws. This is also important when it comes to your own school health and safety compliance.
Your Pupils Are One Step Closer To Total Tower Fun!
There are many different types of playground towers for schools, including one that will be just right for your needs. Researching playground towers is the right thing to do so that you make an informed choice, and/ or to support funding applications.
Soon enough, with the above tips and further considerations, your pupils will be playing, climbing and having fun on their break times with the addition of a beautiful, exciting new playground tower.