Here are the Best Yellow Diamond Necklaces, and Why You NEED One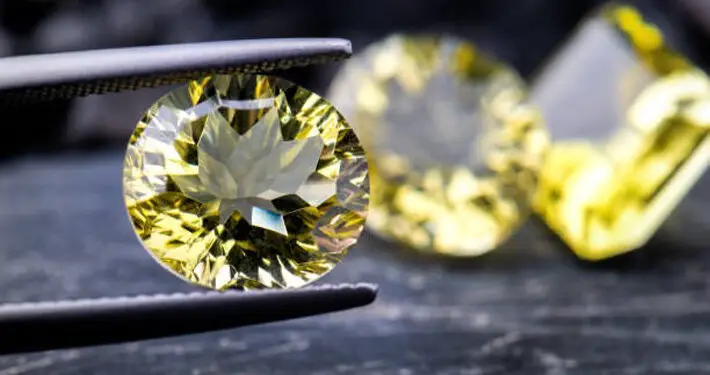 When buying jewellery, there are always so many different options and choices available for you and it can be difficult knowing where to spend your money. Of course, for the best jewellery, you always want something that is worth it.
Yellow diamonds and specifically yellow diamond necklaces are a precious jewellery piece for anyone. Yellow diamonds represent love, happiness, and optimism, making them a special addition to everyone's jewellery box, especially when it's an Astteria yellow diamond necklace.
What is a Yellow Diamond?
Yellow diamonds are one of many kinds of fancy coloured diamonds that exist, produced both naturally and man-made. While diamonds are most often clear and colourless, fancy colours, such as yellow diamonds, provide an interesting and alluring alternative for jewellery.
They get their beautiful yellow colour thanks to a small part of nitrogen that's contained in their structure. However, yellow diamonds can have shades of other colours present as well, such as orange or brown.
The most desirable and valuable yellow diamonds are those with a pure, intense yellow colour. These pure yellow diamonds are often referred to as Canary Diamonds or Canary Yellow Diamond because their shade resembles that of a canary bird.
The Scale of Yellow Diamonds in Jewellery
The strength of yellow diamonds varies depending on how much nitrogen is released in the stone. The range that you will come across when shopping for yellow diamond necklaces are:
● Fancy Light
● Fancy
● Fancy Intense
● Fancy Dark
● Fancy Deep
● Fancy Vivid
How to Evaluate a Piece of Yellow Diamond Jewellery
Obtaining proof of the authenticity of yellow diamond necklaces is vital, especially when you take into account how expensive they can be. The last thing you want to do is splurge on a fake diamond! But there are a few ways to ensure your yellow diamond jewellery is authentic.
The following resources are a great place to start:
1. Retailer Lookup
2. Gem Encyclopedia
3. Gem Report Check
4. Research Analysis and Stone Grading Report
These resources can offer you insights and tips in regard to authenticating your yellow diamond necklace!
Where to Buy the Best
Yellow diamond necklaces are available from a range of jewellers around the world and range in price depending on the type of yellow diamond it contains. However, for both the best quality, affordable yellow diamond necklaces there is no better choice than that of Astteria.
Don't believe us? Take a look at some of our favourite pieces!
Fancy Light Yellow Diamond Necklace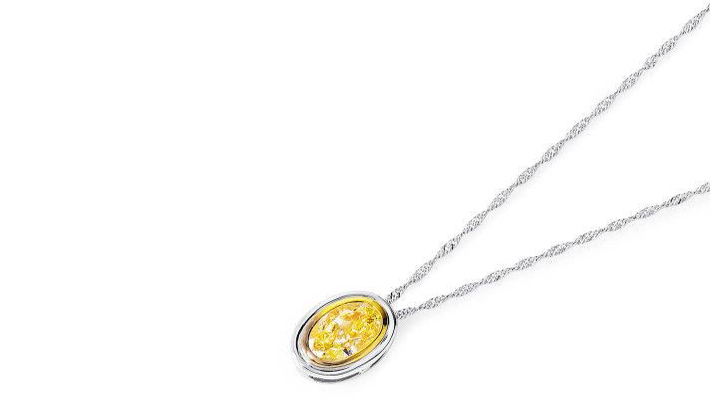 The first on our favourites list is this incredible 1.01 carat fancy light yellow natural diamond set in 18K gold pendant in an oval shape, and just like any of Astteria's jewellery, it comes with its GIA certificate to verify authenticity. So you know this gorgeous yellow diamond necklace is worth the money!
Fancy Intense Greenish Yellow Diamond Necklace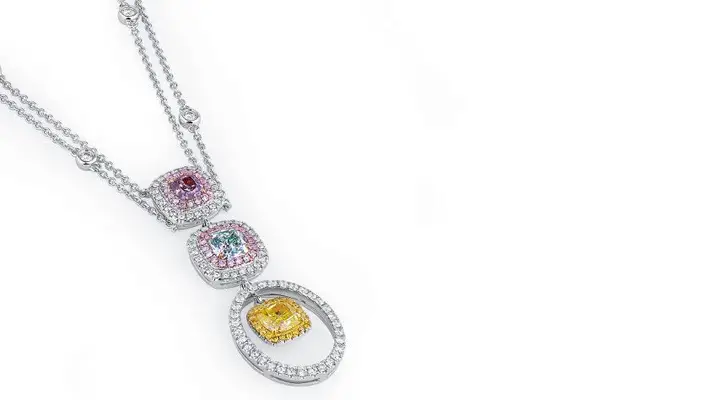 This beautiful multi-coloured necklace is set in 18K gold and features a 1.01 carat fancy intense greenish-yellow natural diamond in a cushion-cut, a 0.71 carat very light green natural diamond in a cushion-cut and a 0.41 carat fancy brownish purple-pink natural diamond. All of which are GIA certified for your peace of mind!
Fancy Brownish Yellow Diamond Necklace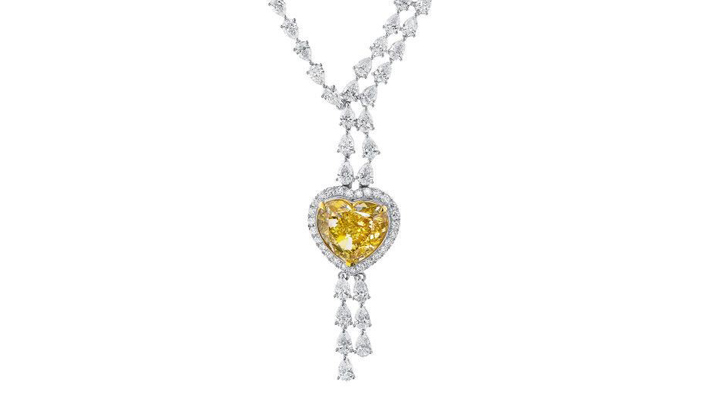 The centre stone for this absolutely beautiful bright yellow heart shape necklace is 10.03 carat and it has 38 pear-shaped diamonds which totals 8.20 carat for the whole necklace. It's on the more expensive end of yellow diamond necklaces but you can see it is clearly worth it, especially as Astteria's necklaces come with their appraisal!
Fancy Vivid Yellow Diamond Necklace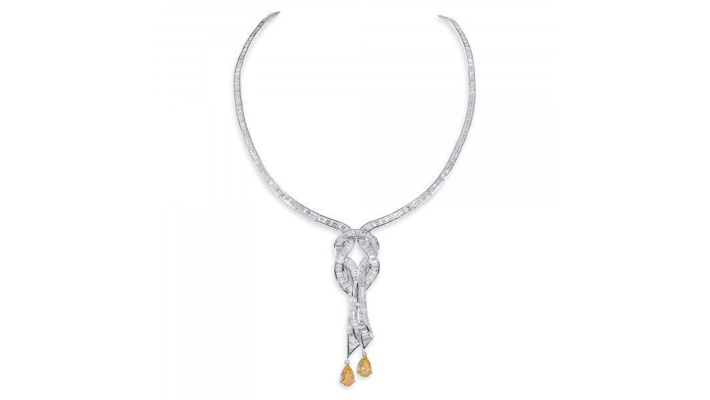 This gorgeous fancy vivid yellow diamond necklace has two main stones cut into pear shapes and weighing 3.08 carats, with side stones weighing a total of 25.08 carats. This particular necklace is the most expensive of Astteria's yellow diamond necklaces, and you can see why. Just like each of the others, this necklace is GIA certified as well so you feel safer to splurge!
To understand the value of a yellow diamond necklace you must take the opportunity to visit Astteria and shop all of their different shades and cuts and to experience the true beauty that comes with the fancy coloured diamond!
You will not find anything as beautiful, or authentic, as an Astteria yellow diamond necklace.