By Liam Bird
I'm as partial to a cuppa as much as anyone, especially if it comes with a biscuit (or three). But what I'm not so fond of is the whole ceremony that sometimes comes with it; teapot, tray, cup and saucer, an extra pot of hot water you're clearly never supposed to pick up because it's so hot it'll instantly take your skin off… Stick a bag in a mug, add boiling water, and brew. Splash of milk, done. Or at least that's how it should be done. Builder's tea or perhaps in my case, Engineer's, is the elixir. Don't ever let that the tea bag touch the milk. And whatever you do, don't put the milk in first!
Perhaps it's that appreciation of things that are made properly that drew my eye towards the JetBoil Flash. Designed to boil half a litre of water in just 100 seconds it's surely the perfect companion for someone who enjoys a quick brew – or a bowl of soup, porridge, or noodles – more often than not when there isn't enough time or space to make all the unnecessary fuss.
Weighing in at just 371g (teabags, milk, and chocolate gingers not included) the JetBoil Flash consists of a 100g isobutane-propane gas canister, burner, folding three-legged stand, mug/integrated cooking pot – complete with lid and very funky thermochromatic cosy – and an all-important bowl-cum-measuring cup that also doubles as a protective cover. The Flash also benefits from a push button ignition system – no windy day match striking dramas here – and it all packs down within itself so it's as compact as it can possibly be when you're not using it. Handy that, when you're stuffing a rucksack.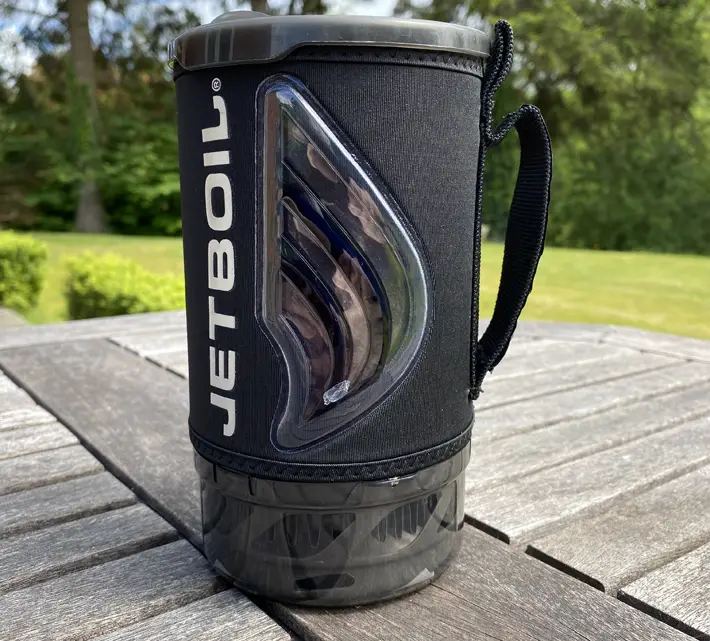 "Adjustable systems"
Or in our case, packing a camper van.
Yes, I know there's a twin gas burner on board a many a motorhome. Nevertheless, carrying the JetBoil with us during a few days away meant we didn't have the hassle of connecting and disconnecting the van's gas bottle every time we stopped for a tea break; you're not allowed to drive with the gas connected, and sometimes it's a right palaver to so do so. Whereas it takes seconds to assemble the Flash, and once lit, there's barely time to find the mugs before that cosy has turned red to tell you the Jet has, well… boiled. That chameleonic cosy, together with the corrugated heat exchanger that helps protect the burner from the wind, also helps you save fuel, and it stops you boiling anything over. It also allows you to handle the pot while it's hot. Clever.
What perhaps isn't so clever is that the Flash's regulator can be a tad all-or-nothing. If you're intending to use it for more advanced cooking duties you might find it's difficult to find a gentle simmer setting. Jetboil offer other similar albeit more adjustable systems for the more creative outdoor chef. Clipping the stand to the gas canister takes a bit of practice too.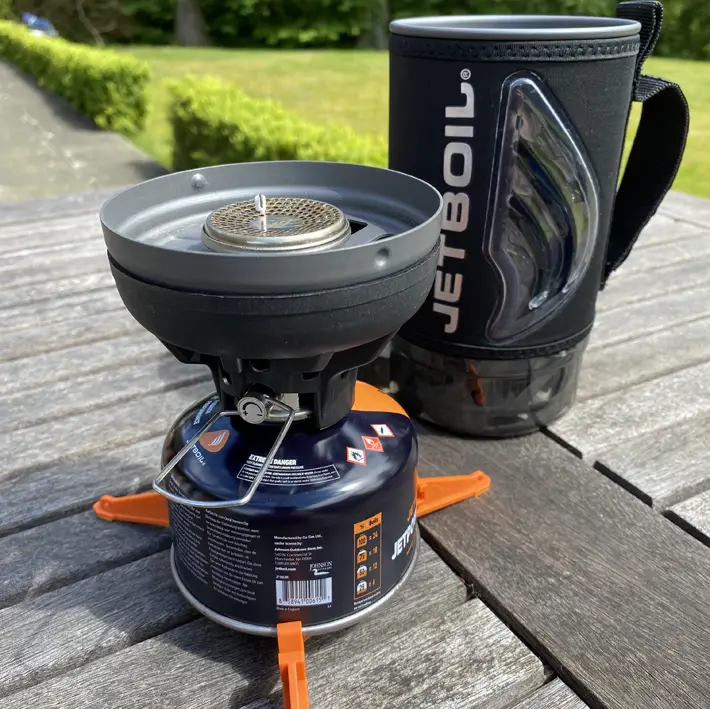 "Indispenable"
That said, the Flash really has proved itself invaluable recently, (They were charging £7 a cuppa at Hay Festival!). It's well made, brilliantly intuitive to use and assemble, and being more than a bit of a neat freak, I love the way everything has been designed to pack away inside itself without rattling around. I like the noise it makes when it's lit too; like a jet engine. Instant hot chocolate has never sounded so good.
You can pick-up a JetBoil Flash for around £90. It feels like it'll last a lifetime, and in certain circumstances it may prove indispenable. Chocolate gingers, the nice ones, are about £1.50. In my company, a whole pack usually lasts about three minutes.
For more info visit: jetboil.com