A Q&A with Picnic Lightning
Dark, desert punks do Texas gothic psych – here's Thomas from Picnic Lightning…
What's the title of your latest release, and what does it mean to you?
'Over My Head' originates from a poem written by Thomas at the guest services desk of a declining mall. The song is about how we all find bigger meaning – god, etc – in odd, singular places. It explores how we can find that same meaning in pleasure of sound, and a place where, as the lyrics mention, "me and the Holy Ghost are fuc*ing around." The forthcoming singles explore related themes – meaning, death, reflection, connection – places we feel at home.
What was the hardest part about putting this release together, and why?
COVID. Not to rehash the thing we're all tired of, but it's hard to describe exactly how it interrupted the creative process in so many ways. It stopped all the momentum so suddenly, but we're starting to feel it running again, not just for us, but for the wider music community. Outside of that, it took us some time to figure out the art direction we wanted to go in. We previously had a heavy illustration focus but decided to take a different approach and work with photos of us for once. It still feels new but now that we've found it, it feels "right."
Who produced the release – what did they bring to it?
It was a collaboration of the four of us and Taylor Tatsch of Audiostyles. Taylor really understood the assignment. He was able to capture the big open sound we were going for: that swimming dreamy tone that surrounds the song, especially in the back half. He's not on this track, but he also added some keys on a few upcoming singles, and identified some areas for additional percussion.
What do you want the listener to take away from listening to your music?
We hope that they have found a piece of art that captures a feeling that feels familiar but is still new. It would be great if they listened and felt some connection with the sounds, tones, lyrical content, anything: "these gentlemen get me." We'd also prefer they listen again.
How does a track normally come together? Can you tell us something about the process?
We have a collaborative approach to songwriting, with some songs starting as a guitar riff, some as a (way too long) jam, one of Thomas' poems, or even a drumbeat. We try to stay fairly judicious with the songwriting process, trimming as much fat as possible, and not shoehorning individual ideas just because we like them. We're also open to rewriting songs we've played for years. Overall, we stick to our mantra: let no one suffer.
What band/artists have influenced you the most since you started this project, and why?
Musically, most directly, it would be Radiohead, Arcade Fire, Ty Segall, The National and Queens of the Stone Age. From there, you can start following various threads through the annals of rock. We're also each artists and creatives beyond music and have a variety of non-musical influences: Rene Magritte, Alex Ross, Francis Bacon, Harold Pinter, Roberto Bolaño, Arthur C Clarke, Rainier Maria Rilke, and David Lynch.
What countries would you like to tour? Are there any standout venues you'd like to play in?
A European tour would be great, and a Mexico/South America run would be a great time, too. We all enjoy travelling. It would be fun to play Red Rocks and similar outdoor venues. That kind of setting where you're reminded of the vastness of the earth would work well for us.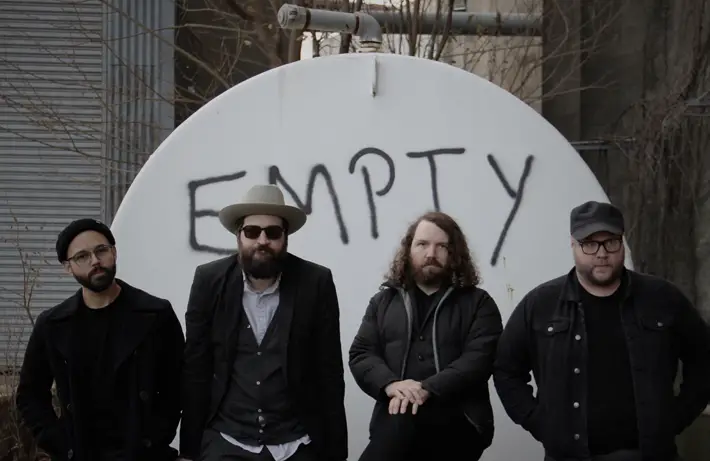 If you could pick one track for our readers to listen to in order to get a taste of your music, what would you pick, and why?
It would have to be our newest track, 'Over My Head'. It's got that psych influence while still being a tight three minutes. Thematically, it's representative of the next few singles coming out soon. And it's a good indication of where our heads are at for what's next.
What ambitions do you have for the band/your career?
We are all creatives and we have fun creating together. We hope to keep doing that in whatever form that life allows. Tours, recording, labels, etc are all great and we're excited to make the most of any and all opportunities that come our way.
Finally, as you leave the stage, what are your parting words?
Thanks for the time and for reading. We hope you enjoy the music. Be good to each other.
For more info visit: picniclightning.net